Puglia is in the very South of Italy forming the heel of Italy's boot. When I started my travel research for Italy I saw some amazing land- and seascape photos of Puglia and decided to head there for a photography trip. I found some fantastic photos spots to watch a breathtaking Puglia sunset, discovered a natural bridge in the middle of nowhere and located the best places to visit in Puglia.
THE PUGLIA PRE-TRAVEL GUIDE:
When and how to get there?
Puglia has the Mediterranean climate, so it's never getting too cold. The best time, however, is late Spring or early Fall – you will be rewarded with lovely weather and not too touristy. I would not recommend going in July and August because it is super crowded and quite pricey.
The most convenient way is to take a flight to Bari or Brindisi. You might want to see different places rather staying in one so you should get a rental car to get around. The distances are not too far and the landscape is beautiful even if your daily trip takes a few hours of driving.
What to pack?
Comfy clothes and shoes to walk around and beachwear. That's pretty much it. You don't really need a lot of fancy stuff and heels down there although the Italian women dress up in the evenings. You can bring casual clothes and pimp with accessories. If you go in late Spring or Fall a light jacket or sweater is enough. It can be a bit windy on the coast and when you go for landscape photos, it might get a bit chilly for sunrise or sunset. I brought a light windbreaker with me and it was just perfect.
These are 7 awesome photo spots in Puglia:
1 – Monumento a Domenico Modugno
The first three photo spots are located in Polignano a Mare, a small town south of Bari, about a 30 minutes drive. Right behind the beach of the town, you will find the Monument of Demonico Modugno. Walk down the stairs onto the rocks and you will have an amazing view on Polignano where you can capture stunning images for your travel photo gallery. The best time to go is in the morning for the sunset when the city slowly awakens and the lights go on. There are a few local fishermen, but hardly any tourists. You will have the platform for yourself and can look out for the best spot to capture the sunrise or in my case the cityscape. I brought my wide lens and the tripod with me. Later when it became quite bright I took a few shots using the ND filter. The first one below however is without. The second image below is a sunset capture from the same spot but to the other direction. Polignano a Mare belongs to the best places of Puglia to me.
Where to stay? B&B Minerva* is a very good choice in Polignano a Mare.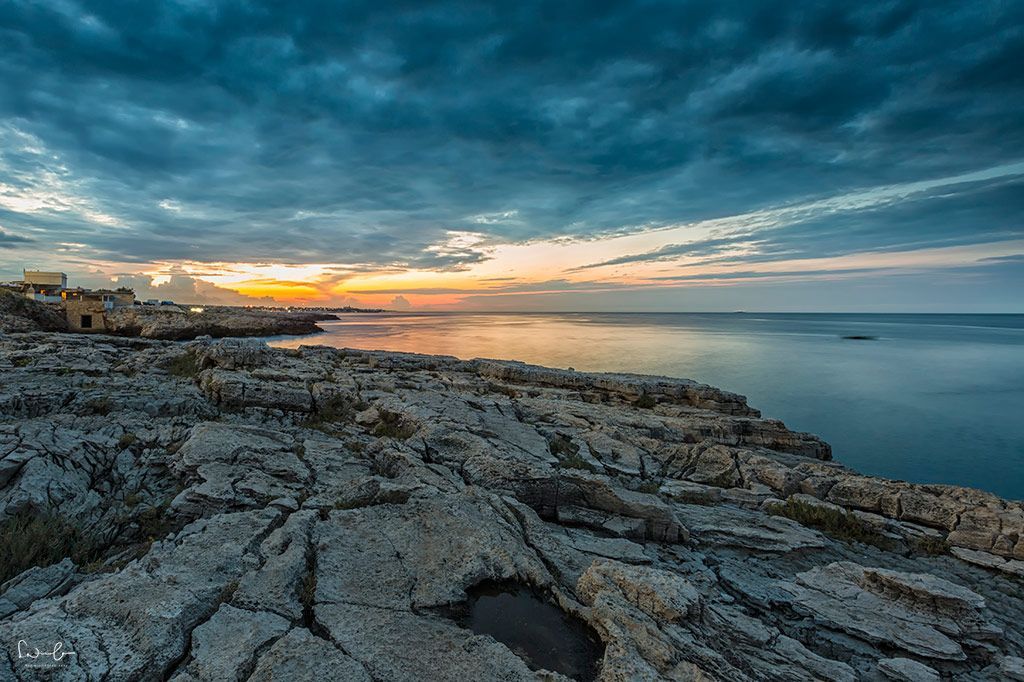 2 – Lama Monachile
Lama Monachile is the beach of Polignano a Mare. It is very small and mostly crowded and the kind of beach you would not want to spend your day. The colours of the rocks and the buildings built on the huge rocks, however, are stunning during sunset. Again, a tripod is a must and ideally an ND filter if you've got one in order to capture a very long exposure shot like the one here. If you do a really long exposure, cover the viewfinder to avoid any light coming in.
3 – Natural bridge at Grotta di Sella
This photo spot is a bit tricky to reach and it's definitely off the beaten path. I found it during my research before I went to Puglia and when I asked some locals they did not even know the place existed. I rented a bike downtown Polignano a Mare and drove along Via Parco del Lauro, further into Via Luigi Pirandello. The road is getting a crushed stone road and I drove all the way until the very end. I left the bike there and walked along the rocky coast passing Grotta dei Colombi and Grotta dei Passeri. The further you walk, the fewer people you meet. After a 30 – 40 minutes walk I finally arrived at the natural bridge of Grotta di Sella. Although I ruined my sneakers because of the sharp-edged stones I was totally happy to see this natural arch traversing the Grotta. I set up my tripod and added the ND filter to capture a long exposure shot with the blurred fisherman on the arch.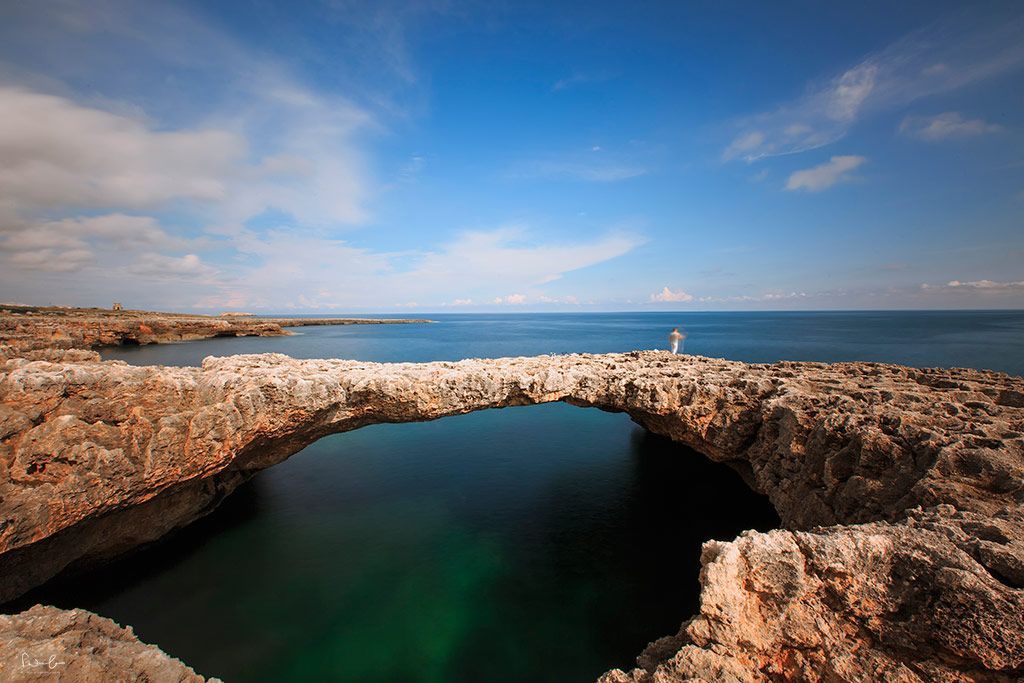 4 – Grotta della Poesia
Further down South in Salento between Roca Vecchia and Sant' Andrea you will find another natural beauty, Grotta della Poesia or the caves of poetry. It is a huge sinkhole with crystal clear water and you can jump off the cliff into the refreshing sea and swim through an underground sea cave out to the sea. Bring your swimsuit with you and have a swim. If you're a solo traveller like I am, just ask a group of people to watch your belongings. There's always a risk of course, but I've never had any bad experience so far (fingers crossed…).
Where to stay in this area? Otranto is a good place to do your daily trips from. I recommend the Vittoria Hotel*.

5 – Faro di Torre Sant' Andrea
This was definitely one of my favourite spots and I returned another two times during my road trip through Puglia. It is located just a few minutes drive from Grotta della Poesia on the way to Otranto. The rock formations reminded me a little bit of the 12 Apostles in Australia or the Algarve in Portugal. Take your time and look, watch the clouds and look for the best spot to capture a stunning photo. Long exposure shots with ND filter are highly recommended, but not a must. If you can return for a wonderful Puglia sunset, you won't regret it.
6 – Torre Minervino
A 20 minutes drive from Otranto along the coast in the southern direction you will reach Torre Minervino, a fortified tower which was built late 400 or 500 to protect the coastline from the Saracen raids.
7 – Capo d'Otranto
The lighthouse of Capo d'Otranto is Italy's most eastern point located in Otranto. It marks the point where the Adriatic and the Ionian Sea meet. Use google maps to find the exact spot where you can park your car. A small path leads you down to the lighthouse and you can make several stops on the way there to find your perfect shot. Mine was on the final straight with a bit of a distance to the object. The handrail should guide you right into the lighthouse. I was there during sunset and the colours of the sky were just amazing. The second image was taken from above. The plus: there's a restaurant to dine after you finished your photo shooting.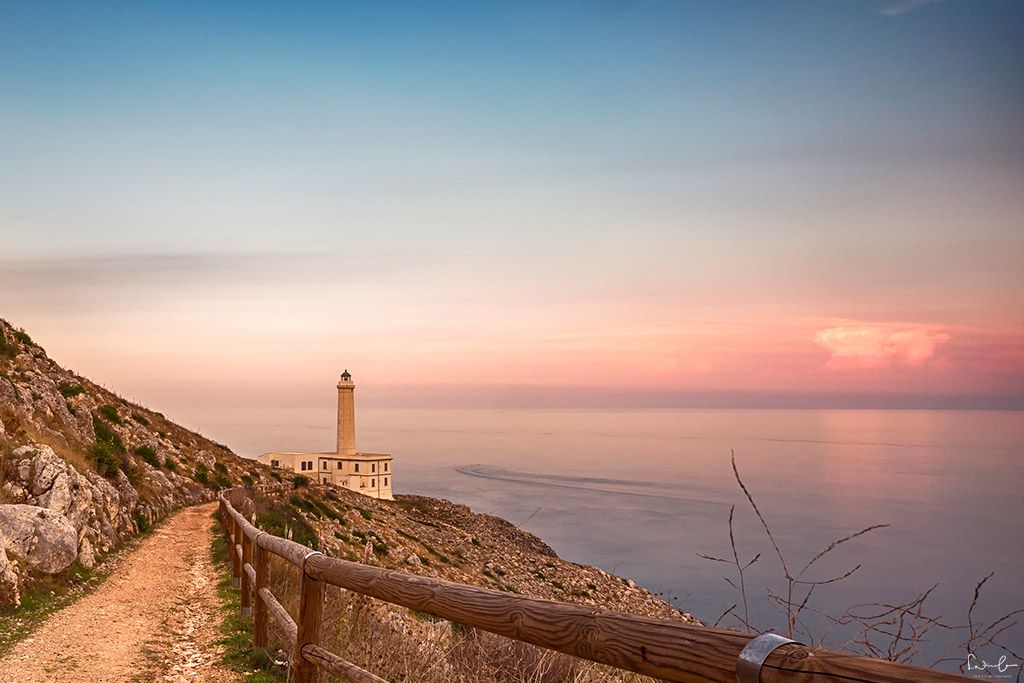 Have you been to Puglia and willing to share your favourite spot? I'd like to hear it.
If you liked what you saw so far you might want to see this about covering 5 cute little cites.
Disclaimer: This article contains affiliate links marked with *. It means I will get a small commission if you book/buy via my link. This is at no extra cost for you.
MerkenMerken
MerkenMerken