Yangon was my last stop of my Myanmar trip. Once known as Rangoon, it is the largest city in Myanmar and it's booming. New restaurants, bars and shops open daily and old buildings are being spruced up.
The hotel I was booked in was the Merchant Art Residence Hotel. Well…the photos on the website or on any of the booking sites look great, but the reality looks a bit different. The photographer did a great job there ;-). I haven't seen any other rooms, but mine did not look like the ones on the booking sites. It had a window, but I faced straight the wall of the house behind the hotel, which made me kept the curtains closed all the time. The worst thing, however, was the noise not only from outside but also from within the hotel. You could hear every single thing that happened in the corridor or next door. The good thing, however, was the rooftop with a great view of the Shwedagon Pagoda and the location of the hotel itself.
Unfortunately, I only had two days in Yangon, which was a bit too tight for my bucket list. If you've got the chance, stay there three days. And here's what you can do in Yangon in 3 days:
The first thing I did when I arrived in Yangon was to look for a Café. I would not call myself a coffee junkie, but I'm dying for a proper cappuccino once a day. And I haven't had one my entire Myanmar journey so far. I could not believe when I saw Gusto Café in the Dhammazedi Road, very close to my hotel. I was in heaven when I got my cappuccino and a cheesecake. What an awesome meal.
After that I went straight to Shwedagon Pagoda. The size of this structure is simply imposing. You can reach the platform via four entrances, each leading up a bunch of stairs. The entrance fee is 8000 Kyat. Thousands of tourists, locals and monks are bustling around the huge golden stupa. Don't forget your camera, because you will find many sceneries to shoot. Especially in the late afternoon, when the light is beautiful, the place is very crowded and you can take a lot of beautiful travel photos. Check out a corner to sit down and just watch the people and their rituals. There's a lot to see.
Have a close look and you will find different corners according to the days. If you know what day you are born, go to the corner, water the Buddha and make a wish. I did so, but my wish has not yet become true. I guess I need to be a bit more patient…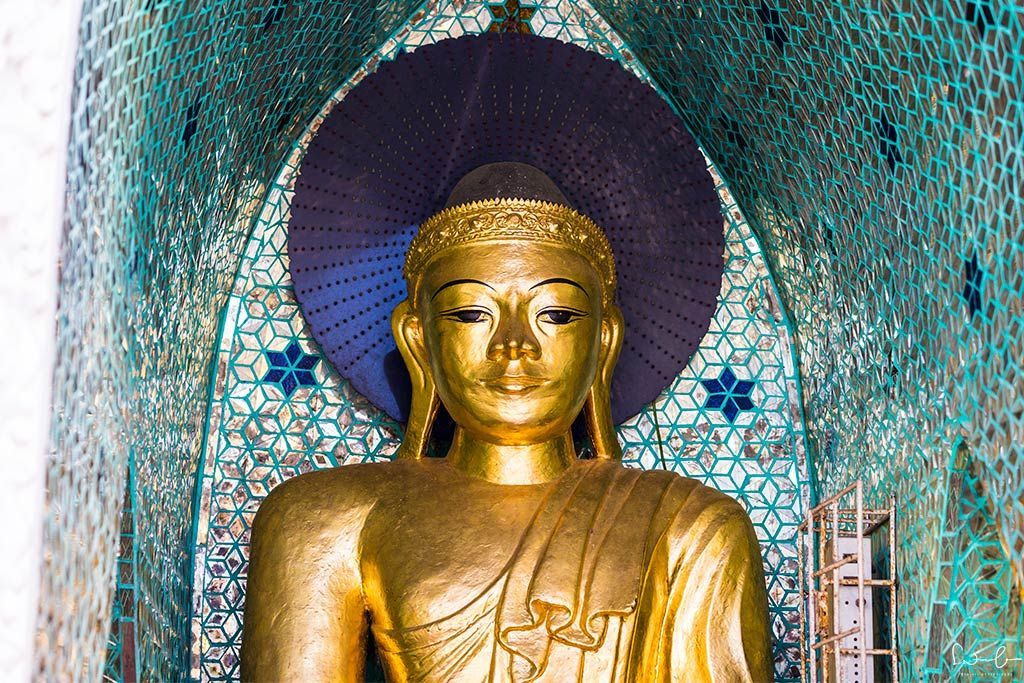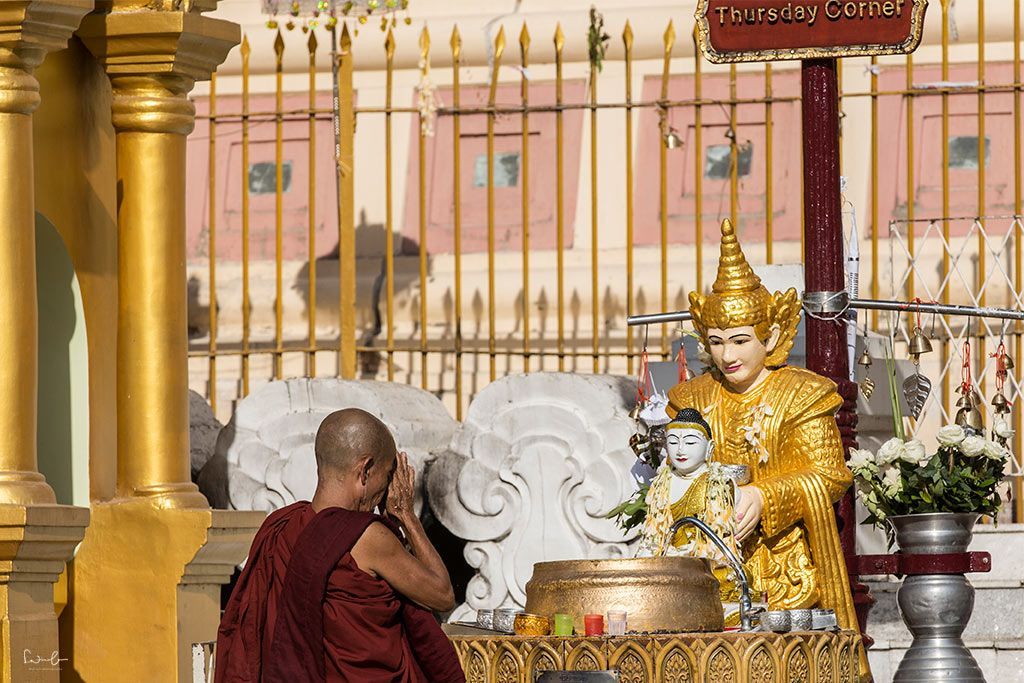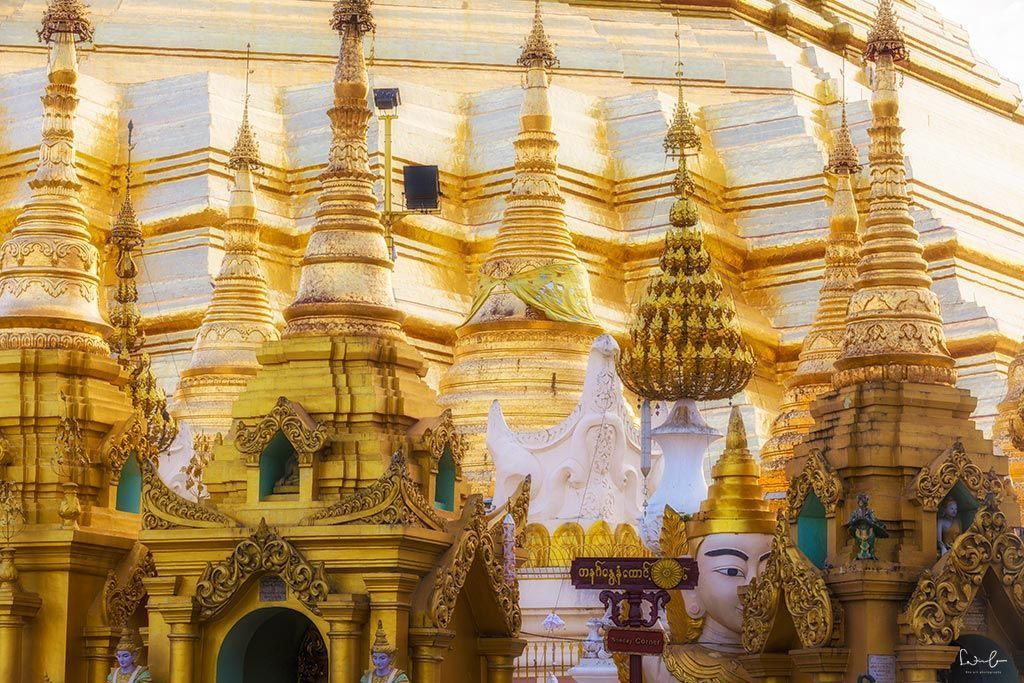 If you want to talk to monks, this is the place where you find chatty ones who love talking to foreigners and practice their english. I met Su Saitta, a 26-year-old monk and we talked for hours about his life, my life and the world. Sometimes I had trouble understanding him, but overall it was a great experience. If you haven't managed to talk to a monk in Myanmar so far, here's your chance.
If you have your tripod with you, you can catch the Swedagon Pagoda during the blue hour. It's not that easy, but doable if you have a wide angle lens. It will look great in your travel photo gallery.
The next morning I headed south to the Strand Hotel by taxi and strolled around to view the mixture of structures and styles from the colonial era. I didn't have a plan where to go and you actually don't need one. Just walk around with your camera and you will find plenty of things to capture. If you wonder about the brownish spots everywhere on the streets…well, this is the leftover from the local stimulant and aphrodisiac betel nut. You can buy it for very little money on each corner. I haven't tried it myself but read a blog post from another traveler and he was quite a bit drugged after trying it. The betel nut is also the reason why the locals have brown teeth.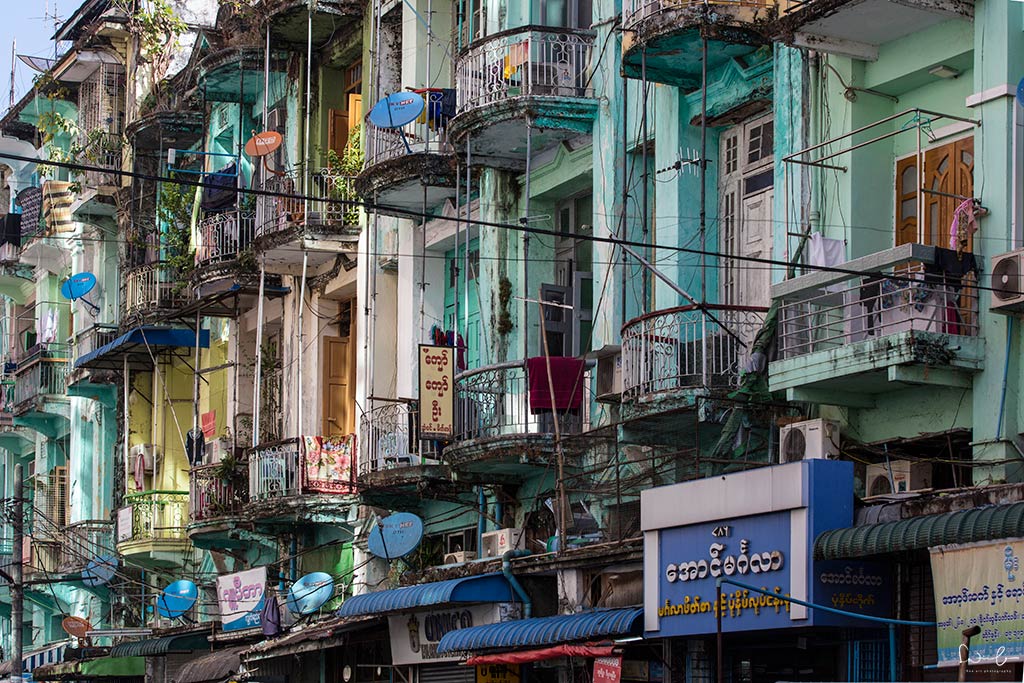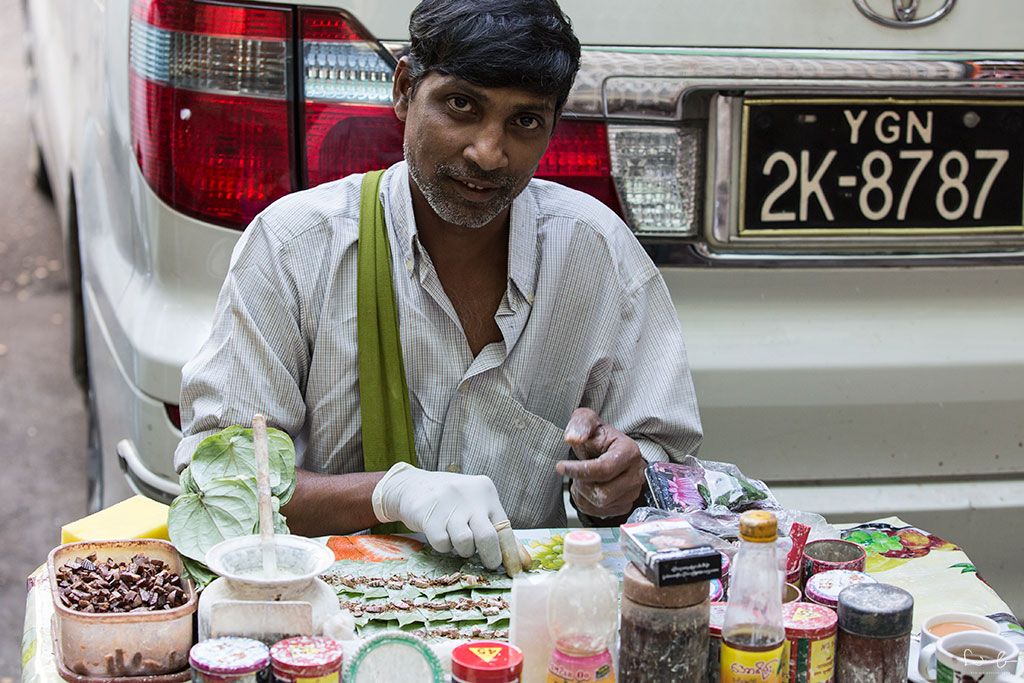 My favorite spot in Yangon is Bahan market, especially in the morning. Just find a corner and watch the people, monks and novices. It is a great place for street photography. I met Dha. Maparala, the head of Aung Pan Kyaung Tike monastery in Yangon. He started talking to me, showed me around and invited me to his monastery. Unfortunately, it was only a brief encounter, because I had to leave to the airport just one hour before we met. But he will be happy to host foreigners and talk to them. If you plan to go to Yangon, visit him.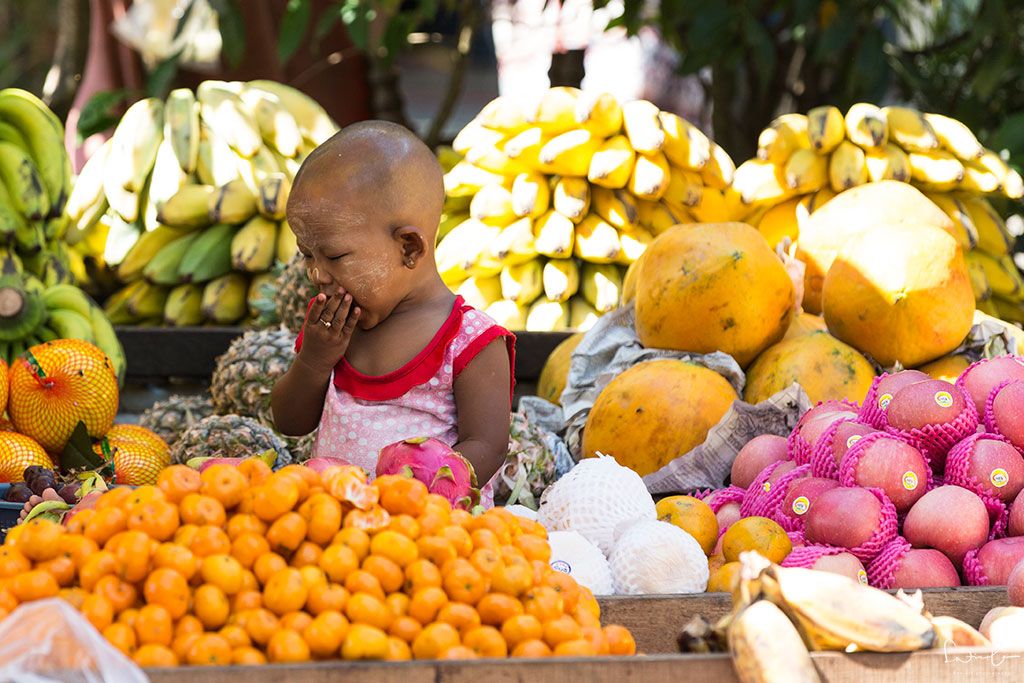 My time in Yangon was a bit too short. I would have loved to take the circle line leading around Yangon. It is a train and you can hop on and off wherever you want. I heard from other travelers that you can capture great images of everyday life in Myanmar when you take this trip.
If you fancy a relaxing massage, call Inya Day Spa. It is quite a nice Day Spa to relax and get your stiff muscles massaged.
Well, that was my journey through Myanmar. If you asked me what my personal highlights were, I would say definitely Bagan, the monasteries and the local people. Even though they do not own a lot, but they give so much warmth and friendliness to foreigners. If you ever have the chance to travel to Myanmar, do it. Maybe you will join me on a photo vacation soon?
MerkenMerken