Have you ever fell in love with a city? If yes, then you exactly know the feeling, the warmth, the happy moment, the I-just-want-to-stay-here-forever thoughts when you walk through a city you absolutely adore. I fell in love a lot. To Rome, Barcelona, New York, Lisbon and much more. But the real OMG-you're-so-lovely feeling came up when I first visited these little cities in Puglia, Italy.
1 – Locorotondo
My absolute favorite. My summer love 2016. Locorotondo is very small, it is not even a city, but a town in the Valle d'Itria which is a countryside famous because of its whitewashed cone-roofed Trulli houses. In Locorotondo you do not really find these houses, instead, you will discover a maze of narrow alleyways between white houses, historic buildings and churches. It is located on a hill and the historic part is circular. Loco means a place (locus) and rotondo means round (rotundos). The town is very clean and the fawnish pavement reflects the sunlight beautifully. Clotheslines with the resident's laundry hanging in front of the charming houses that are decorated with so much love and taste.
What to do in Locorotondo?
There is no specific attraction because the highlight is the town itself. I loved walking around, hanging out in a café and capture this place with the camera. You can enjoy a great panoramic view over the valley on top of the hill.
How to get there?
The easiest way is to take a rental car. You will find designated parking areas very close to the historic part of the city. The alternative is to take the regional railway train line operated by FSE. The railway station is only a short walk away from the heart of Locorotondo.

2 – Cisternino
This town is even smaller than Locorotondo but spreading so much of Italy's charm. When you walk through the historic part you will be reminded of its sister Locorotondo: whitewashed houses, narrow alleyways, clotheslines and a central Piazza with a panoramic view on the Valle d'Itria and the rolling hills. Cistornino is spreading some magic in the evening when the restaurants fill up with people and the locals walk around in their city.
Try to get a table in the restaurant Zio Petro (Via Duca D'Aosta, 3). It is a cozy little restaurant where you can choose your meat yourself. Cisternino, by the way, is famous for its barbecuing butchers.
Again, the best option to reach Cisternino is a rental car, but the train is the alternative just like going to Locorotondo.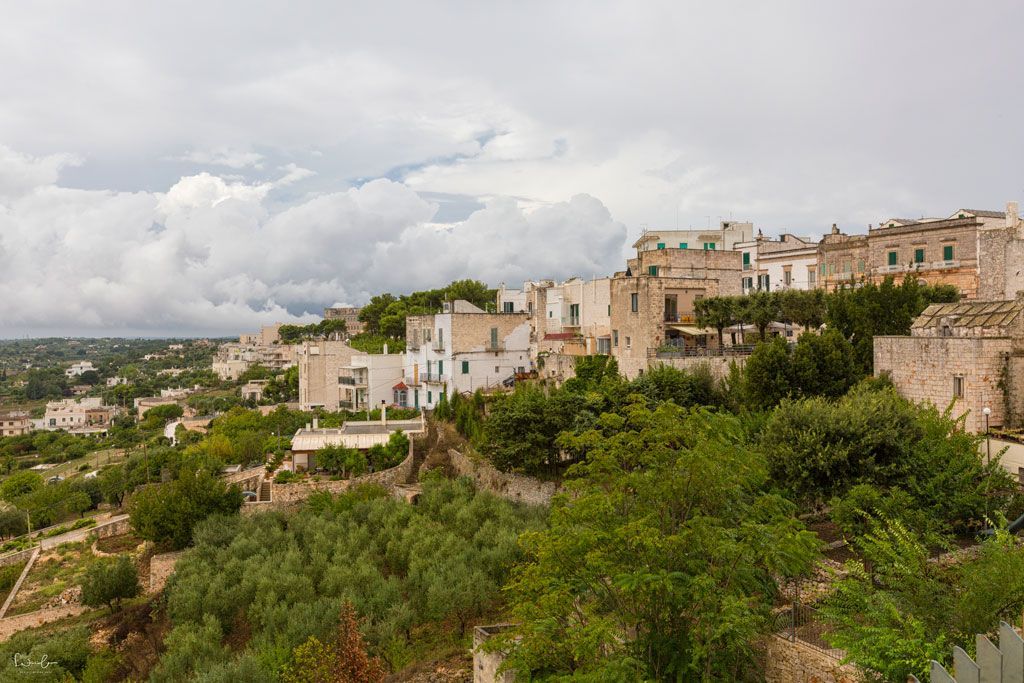 3 – Alberobello
There's no option to visit Puglia without a walk through Alberobello. This is the real Trulli home base and also UNESCO World Heritage Site. A Trullo is a small shack with dry-stone walls and a conical roof. The place has a very special charm with the narrow streets, little shops selling local products, shops where you can taste local food and some beautiful Trattorias to pop in for lunch. Since it is such a famous place you can imagine that it is getting very crowded during the day. There is a platform just above the public parking where you have a great view of the village, but this place is full of tourists taking pictures. Make sure you squeeze yourself to the very front of the platform and be quick to take your photo 😉 A fun experience is to book a Trullo for your overnight stay (for example Trulli Holiday Resort).

4 – Ostuni
This little beauty is located close to the Salento coast and it's a bit busier with tourists than Locorotondo and Cisternino. Its center is built on three hills with a beautiful few on the olive groves. The most important attraction in Ostuni is – like the other places I'm writing about in this article – the historic city center itself. Its surname is città biancha – the white city. Guess why? Yes…typical whitewashed buildings in a maze of little alleyways and many arches that connect the houses. The center of Ostuni is formed by Piazza della Libertà with the town hall which used to be a monastery. You can just wander around or if you fancy broad your mind with some Italian culture. I preferred Italian food and coffee culture instead. Here's how to order coffee in Italy.
I stayed in the Monte Sarago hotel, which offers a great view of Ostuni from the pool. You can find many beautiful Trulls and B&Bs in Ostuni to stay in.

5 – Matera
Matera is a very unusual town famous for its Sassi, the cave-dwellings of Sassi di Matera. The caves have been inhabited for centuries until the residents have been moved to residential buildings in the 1950s. Some of the caves have been converted to modern B&Bs, hotels and restaurants with its own charm and fascination.
If you drive along the Strada Statale 7 Via Appia and turn left on Contrada Murgia Timone you will reach a viewpoint at the very end of the road. This spot was one of the filming locations for "The Passion of the Christ" with Mel Gibson. There is an old local guy sitting there waiting for tourists to show them around. When I arrived at the spot I was the only tourist and this man guided me down to some caves. Since I didn't understand him properly, I wasn't aware of what he's gonna show me until I realized he wanted to show me some caves. I thought it was probably not very clever to accompany a man to some dark caves, but in the end, he was just trying to be friendly and wanted to show his pride in his hometown.
The oldest part of the town is built on the edge of a plateau and it's pretty much a typical Italian center with its small alleys. You can stroll through town, have a coffee or visit some churches and museums if you're interested in some cultural experience.
You can use the train if you want to visit Matera for a day from Bari. If you're doing a round trip, the best option is a rental car. Matera, however, is a bit tricky with parking and you might need to walk into the city center from a parking lot.
By the way: Matera is located in Basilicata, not in Puglia but you can visit the city on your Puglia journey.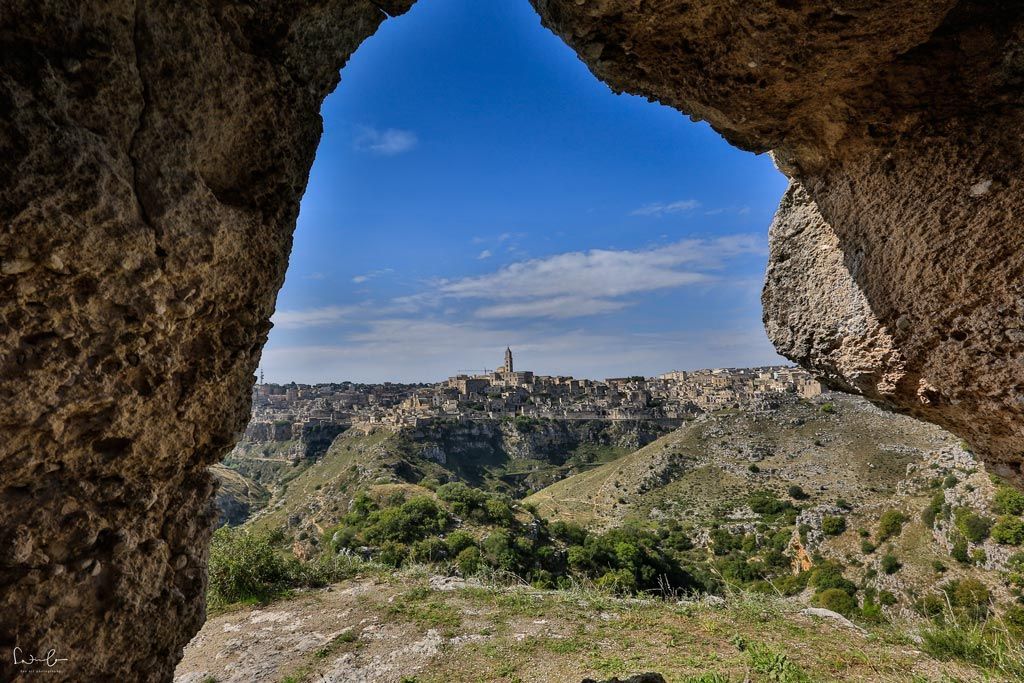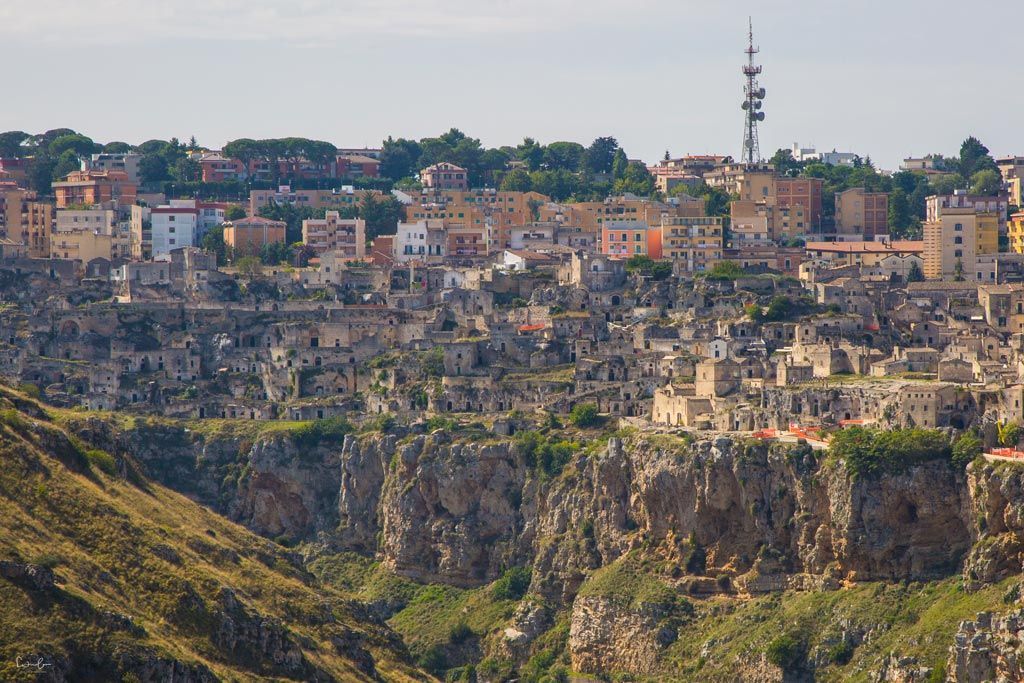 Locorotondo, Cisternino and Ostuni are quite similar from the outside, but still, each city spreads its own flair and charm and I am glad I've seen them all. Elena from Passion from Hospitality has written a great article about the lesser known Puglia.
Have you visited one of these little cites in Puglia? I'd love to hear your thoughts and if you ever fell in love with a city and if yes, which one was it?
How about some Eat-Pray-Love vibes in Puglia? Here's a great yoga retreat covering trips to some of these wonderful cities.
MerkenMerken
MerkenMerken
MerkenMerken