Are you dreaming of a Tuscany road trip but don't know where to start? Here's my Tuscany itinerary for one week covering beautiful landscape spotting, the best places to visit in Tuscany, wine, lovely food and pure Tuscan atmosphere. Sounds like your kind of fun?
Follow my one week in Tuscany itinerary and you will get all of that. To me, the amazing landscape was my number one motivation to go. The rolling hills with the cypresses just got me. I wanted to have a good mix of little Tuscan hill towns, some adventure, good food & wine and the typical landscape of Tuscany.
The Mediterranean climate invites you to visit Tuscany nearly all year long, but the most beautiful periods are most definitely spring and fall. I've chosen early September for my 1 week trip, which is quite a good period. However, fall is moving in the country and the very dry summer with no rain for three months left its traces and the rolling hills were not a saturated green, but brownish. Although this is not the scenery you see from the beautiful Tuscany galleries, the dry meadows do have its own dramatic look.
Tuscany is a huge region and you would need weeks and months to see all of it. After intense research based on my priorities I came up with this Tuscany trip itinerary for one week flying in and out Pisa covering the best things to do and to photograph:
Lucca – 2 nights
Massa Marittima – 1 night
Val d'Orcia – 2 nights 
Chianti region – 2 nights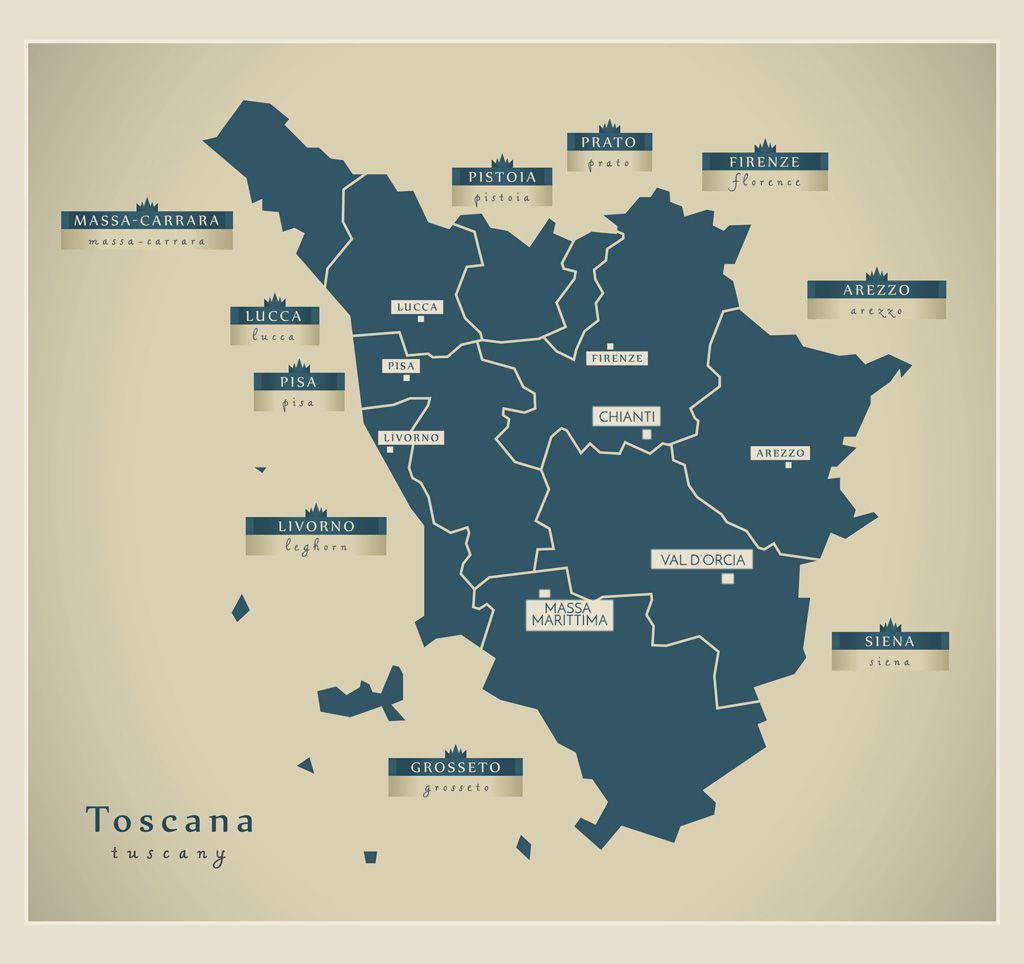 Lucca – 2 nights
This little medieval city close to Pisa is an absolute must for Tuscany visitors and to me, much more appealing than Pisa. A fortress wall is encircling Lucca which you can enter through four gates. Lucca is also called the city of 99 churches. I stayed in B&B Dolce Sosta in Capannori, a very nice little Bed and Breakfast with private parking, a beautiful garden and bikes to rent. It takes you a 10-minute drive by car to one of the gates of Lucca. Two nights in Lucca give you enough time to explore the town and the surroundings of Lucca. Find my comprehensive guide to Lucca here.
Massa Marittima – 1 night
From Lucca, I left to Massa Marittima. I took the route along the seaside passing beautiful Castiglioncello where I stopped for a coffee towards Massa Marittima. The Tuscan hill town is really small with less than 10k inhabitants, but it is a lovely place and just perfect for a stroll through the picturesque alleys. You have seen pretty much everything within one day. I booked a room in Residence Massa Alta, a charming Bed and Breakfast on top of the hill with private parking. Here's what you can do in Massa Marittima.

Val d'Orcia – 2 nights
I do not have any words to describe the beauty of this valley. If the road would have allowed, I would have stopped every 2 minutes to capture the landscape and indulge the breathtaking views. Even though the meadows were brown and very dry due to the heat of the last months and lack of rain, the unique scenery is absolutely stunning. My base was the adorable B&B Antico Borgo in Seggiano, a town with less than 1000 inhabitants. Seggiano is located on a hill with steep, very narrow roads and a challenging parking situation. San Quirico, the heart of Val d'Orcia can be reached in half an hour by car. I didn't mind the driving and really enjoyed the hospitality of the Antico Borgo staff and the local people meeting up in the Osteria of the B&B. Val d'Orcia has a lot of beautiful photo spots and charming little cities to visit and you should definitely drive through this valley during your week in Tuscany. It surely belongs to the best places to visit in Tuscany – make sure to add Val d'Orcia on your tour.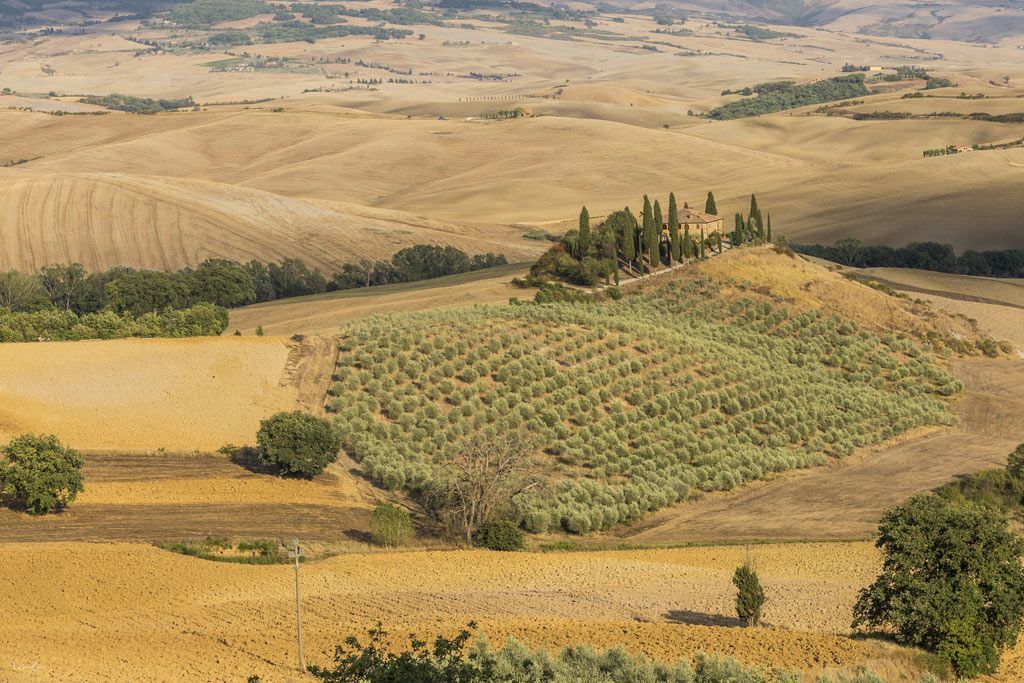 Chianti region – 2 nights
The landscape from Val d'Orcia to the Chianti region changes. From brownish meadows and beautifully arranged cypress roads, you reach a green landscape surrounded by vineyards. The "Strada del Vino e dell'Olio" or also called the Chianti Classico road is full of vineyards, olive groves and small towns. If you're into wine tasting, this is your place to be. I stayed in Villa Vittoria in the small town of Gaiole in Chianti. The Bed & Breakfast belongs to Lorenzo, the local butcher with a tradition since 1682. Gaiole is the perfect place to start your Chianti exploration tour. If you're a solo traveler, you are warmly greeted and welcomed in Gaiole.
If you have some time left you can head to Siena or San Gimignano on your way back to the airport.  If you're still not sure whether you should go to Florence, you might get inspired by these photos.
Some essential Tuscany travel tips for you:
The best way to see Tuscany:
I do a lot of research prior to a trip, however, you can't plan a vacation in every detail in advance. You need to have some flexibility to explore places that come up when you talk to locals. Often these places are very hard to reach by public transportation. That's why I prefer to choose a rental car for most of my trips. Rental cars in Italy are quite affordable. I paid 70 Euro for a Fiat 500 for one week including all insurances. That's a good deal, right? I strongly recommend you to discover the towns in Tuscany by car in order to see the immense variety and beauty of the region. I avoided highways in order to see as much as possible when driving from one spot to the other.
Rent a small car. The roads in the cities and towns are narrow and parking might be tricky with a huge SUV.
Make sure you've got an all-inclusive insurance package. Italians park like crazy and it is very probable that your car ends up with small damage. No one cares and you won't find a piece of paper with the contact details behind the windscreen wiper. I speak from experience 😉
Parking
I had a Fiat 500, the smallest available car and I was so glad I had it. In some areas, parking is easy to find and easy to manage. In others, I had my challenges even with the 500. The white lines indicate free parking, the blue lines mean you have to pay. Always carry enough coins with you. The parking machines only take coins, no paper, no cards.
Google maps…
…is my best friend on the road. Even if I didn't always have a plan where I'm going, I absolutely needed Google maps to find my way back to my base. And you can save your favorite spots to look them up later. Make sure to have access to Google maps during your Tuscany road trip.

What to pack for a week in Tuscany?
Let's assume you do your trip in spring or fall, these are your ultimate must-pack items:
Even with minus degrees in Winter, I usually keep my bedroom window open and I never get cold. However, the bedsheets in Tuscany are very thin and it really happened that I was freezing at night. Pack something to wear at night in case the sheets don't do their job.
Talking about getting cold. Bring a pair of warm socks. There's nothing worse than having cold feet.
You're never wrong with a wind and rain jacket. Especially in the morning and evening it might get a bit chilly or you're facing a rainy day – you'll be happy to find it in your suitcase.
Earplugs! All the B&Bs I stayed in were lovely and charming, however, I suffered a bit from the noise from other guests or residents. There are always people who come back late and are not considerate of other guests or children screaming or there's music playing somewhere.
Enjoy this stunning part of lovely Italy and leave some room for improvisation and flexibility.
Disclaimer: This article contains affiliate links which means I will earn a small commission if you purchase/book through my links. This is without extra costs for you but it helps me to keep this blog afloat. Thank you for your support.
MerkenMerken
MerkenMerken
MerkenMerken