Lovely Lucca is one of Tuscany's true gems. This little medieval city is located very close to Pisa and to me much more attractive and charming. You enter the historic town via one of the four gates in the city wall encircling Lucca. If you're planning your trip to Tuscany, you should not miss this place. Here is your travel guide with the top-rated things to do in Lucca.
The major part of the old town is not accessible by car, but you can find parking everywhere nearby the wall or in and outside of the gates. Always keep coins with you, because the parking machines only accept coins. Maybe you're lucky and find parking within a white line where you don't have to pay.
The narrow, cobblestone alleys are picturesque and charming. I loved to wander through the streets and soak up the Italian atmosphere, have a coffee here or a glass of white wine there. Lucca is also called the city of 99 churches. You will find impressive big ones and cute little ones. I have not visited all of them 😉
I stayed two nights in the beautiful B&B Dolce Sosta in Capannori, which is very close to Lucca. The B&B is clean with a beautiful garden and you can rent a bike from the host Stefano.
Two nights gave me enough time to discover the city, capture some beautiful photos and explore other activities in the area. Visit Lucca and check out these things to do:
1 – Capture Lucca from above
230 steps up Torre Giunigi, the tower with the plants, separate you from a breathtaking view over Lucca. The view, particularly before sunset, is amazing. The light shines beautifully on Piazza dell' Anfiteatro and the 360° vista is stunning. It is definitely one of the must things to do in Lucca. Try to be there 30-45 minutes before closing. Entrance fee is 4 €.

2 – Pizza dell' Anfiteatro

This piazza is – as its name explains – built on a former Anfiteatro, amphitheater. It is a busy spot full of restaurants, osterias and pizzerias. Yes, it is a spot, where mainly visitors go, but we're all travelers after all, right? After walking around all day I was quite tired to look for a hidden local spot and decided to have dinner on Piazza dell' Anfiteatro. The prices are moderate and the food is good. I love the yellow houses with the laundry outside of the windows.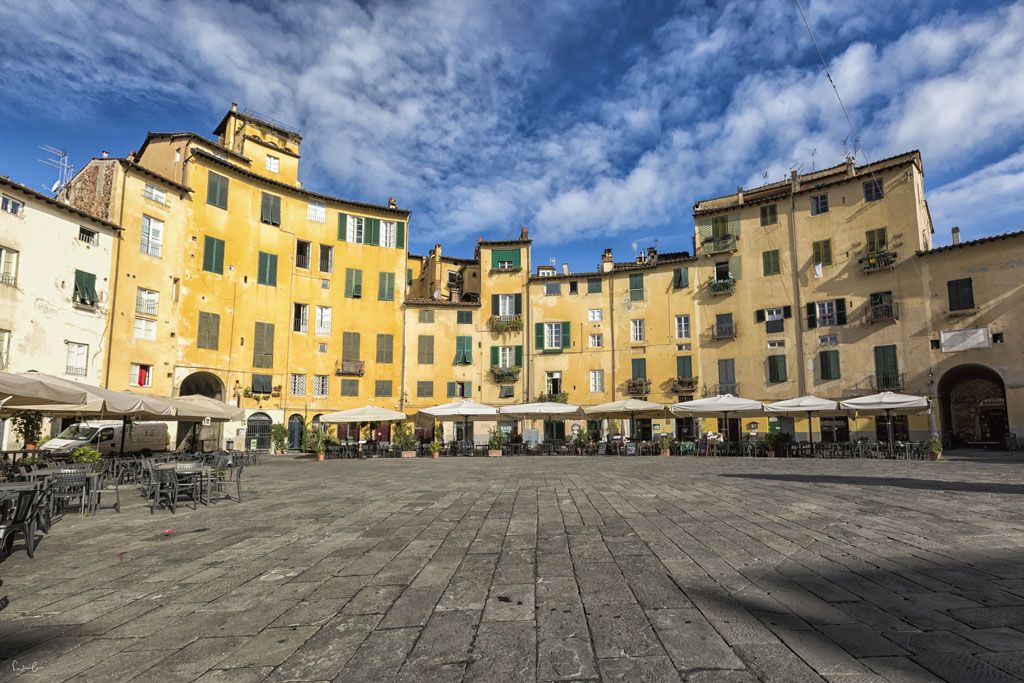 3 – Ride along the city wall

If you're a regular reader of my travel stories, you know that I love to rent a bike when I visit a city. The fortress wall with its 4-kilometer lengths is just a perfect bike lane and I promise you're not the only one with the same idea. In the evening you will meet the locals who are running on the wall, cyclists, and lovers who are enjoying the slight evening breeze and the quietness there. Due to its height of 12 meters, you can capture beautiful photos from the old town.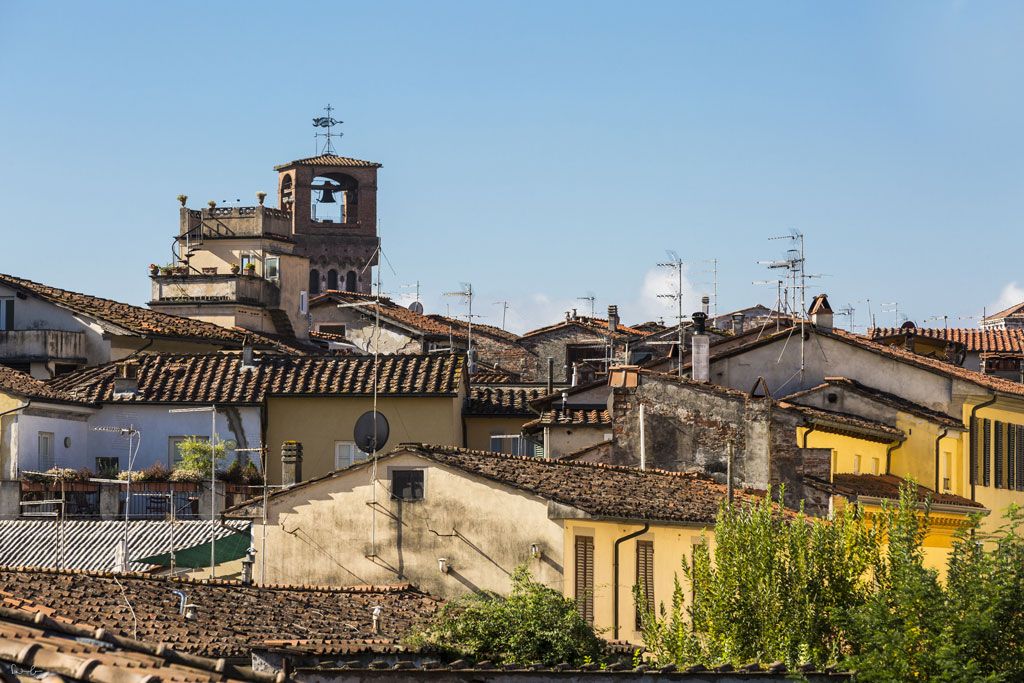 4 – Diner & Art

Are you an art lover? Fancy combining food with art? Then Olio su Tavola is the place you should go. The art gallery houses a bar and restaurant. You can choose to have an Aperitivo, which is served with some prosciutto and bread, a full dinner or just enjoy a drink at the bar with cool music. There is a beautiful garden with some hanging sculptures that look very interesting and fancy.
5 – Aperitivo Italian style

Do not miss the Italian style Aperitivo. You order a drink and get some prosciutto and crackers for free. It is a ceremony, rather than only having a drink. Caffé del Mercato on the frequented Piazza San Michele is the perfect place for that. You sit outside with a view on the Piazza and Chiesa di San Michele, a glass of chilled white wine and some little bites. It doesn't sound too bad, does it? That's your thing to do in Lucca.

6 – Café and dolce
The price of a coffee in Italy is unbeatable. 1 Euro for an espresso or 1,30 for a Cappuccino – where else in Europe do you get that? Adding some dolce (pastry) makes your wallet for another 1 Euro lighter. Isn't that a great deal? Not only is it the price, but the coffee and the pastries taste awesome. I had coffee and dolce for breakfast and in the afternoon. Calories? Who cares… 😉
Bar L'Aurora right behind Saint Maria Gate has a delicious variety of dolce you've got to try.
7 – Visit a church

Lucca is the city of 99 churches. So it's quite obvious to look at some at least, right? There is Chiesa di San Michele in Foro, the huge cathedral in the heart of the city and the smaller, but impressive San Frediano near Piazza dell' Anfiteatro.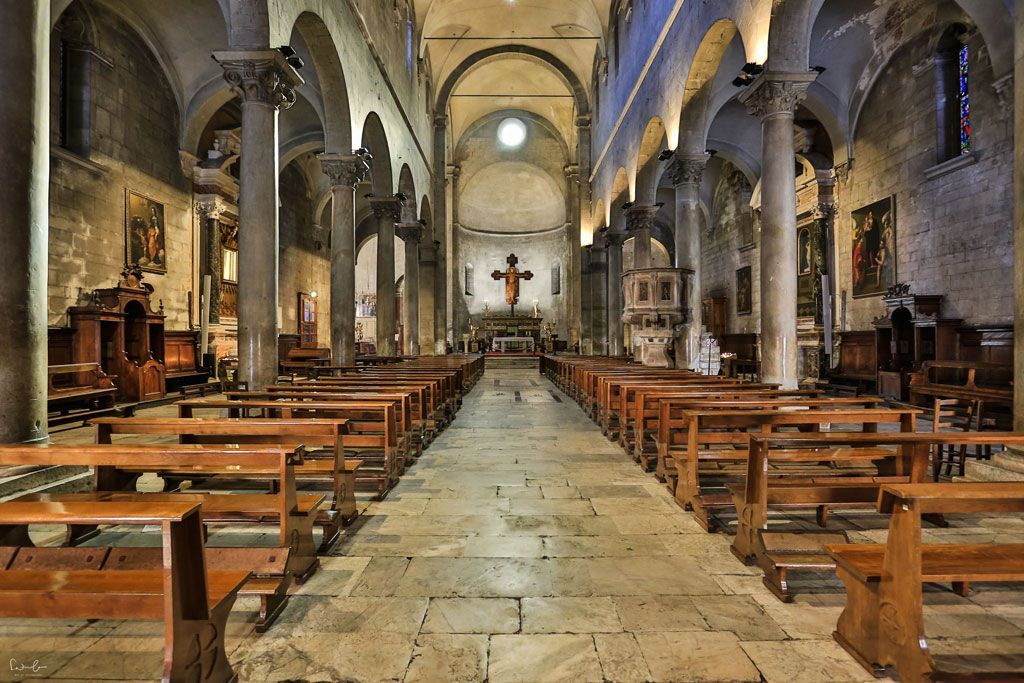 Lucca is a lovely medieval city, but you might want to explore the region around the city. Here's what else you can do around Lucca:
1 – Visit the Leaning Tower of Pisa

I have never seen the Leaning Tower of Pisa before, so I decided to put it on my list of sights. It would be a pity being in the area and not visiting it, right? Well, I can say, been there, done that. I admit, the tower is charming and the park around it is beautiful, however, the crowds of people trying to capture funny pictures were just too much for me. I was there at 7.30 pm and it was still packed. It's probably much better if you go there early in the morning, but in the end, I skipped this idea. I'm not a morning person…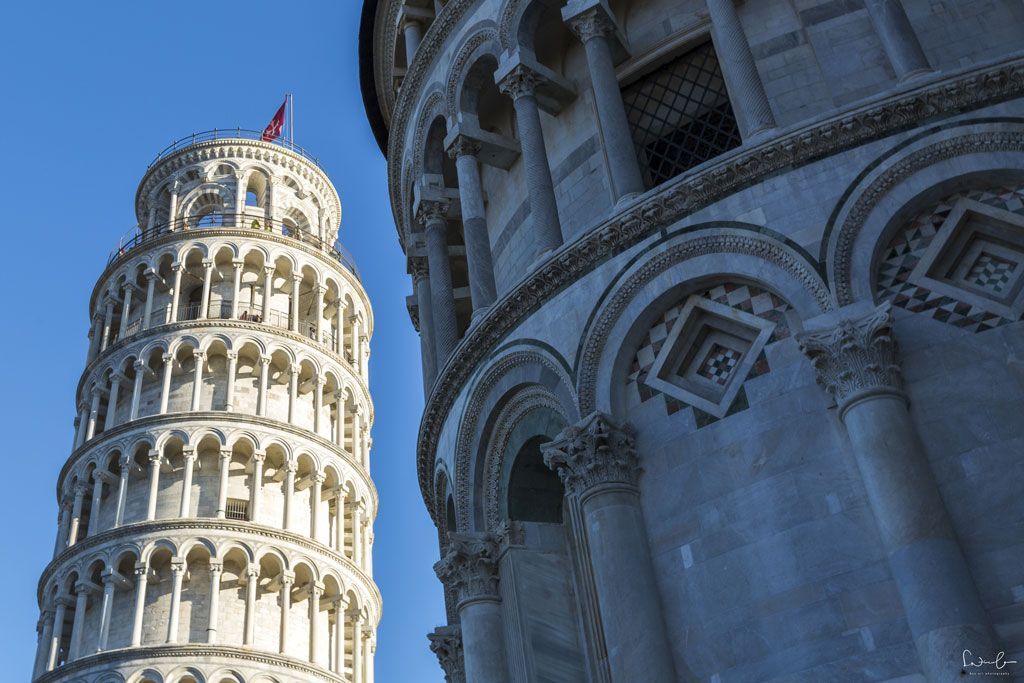 2 – Maddalena bridge
This bridge located in Borgo a Monzano, a 30 minutes drive from Lucca, is a fascinating photo spot. You can park right by the bridge and walk over it. The bridge of Mary Magdalene is a stunning medieval construction over the Serchio river and a remarkable photo spot, especially the reflection of the bridge on the water is striking.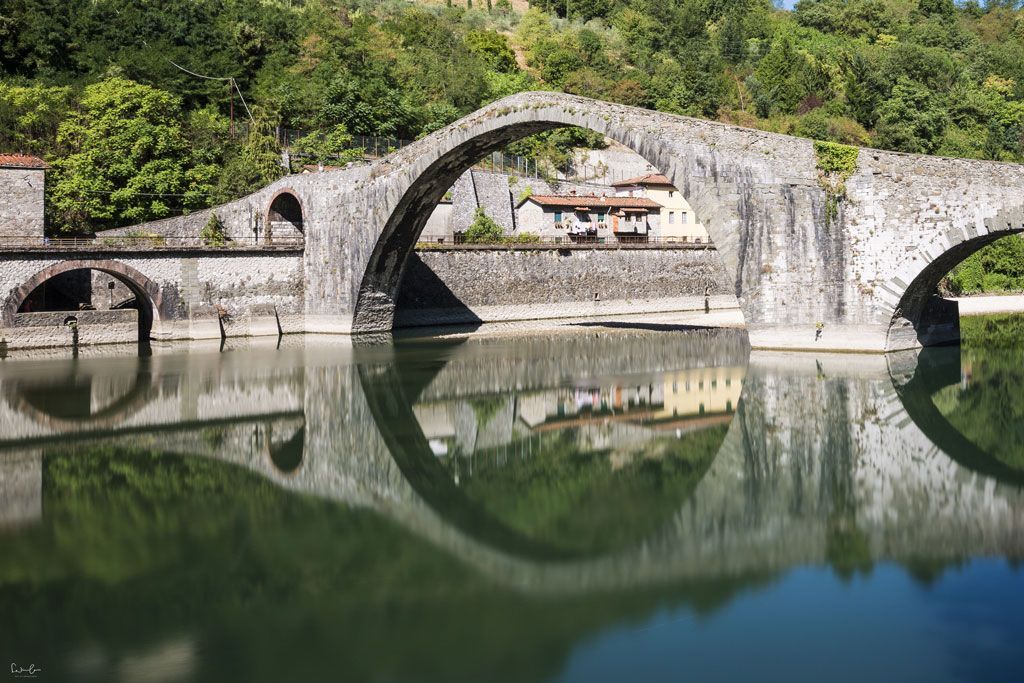 3 – Canyon Tour
Want some adventure combined with capturing stunning waterfall pictures? Then head to Riserva State Orrido di Botri, it's about 50 minutes from Maddalena bridge. There are 4 stations you reach within 2 hours. If you're a good hiker, you can do it within 1 1/2. For 2 Euros entrance fee, you get a helmet and a map. The first three stops are quite nice, but nothing in comparison with the last station "Piscina", a beautiful pond with a waterfall. Long exposure shots is a must there! It is not a dangerous tour, however, you should be careful, because the rocks can be slippery. Wear sports shoes and shorts. Be aware that you have to wade through water from time to time. You can and should take your camera, but pay attention and take it slow. I saw one guy who wanted to climb along a rock instead of using the path next to it and he fell into the pond with his camera around his neck…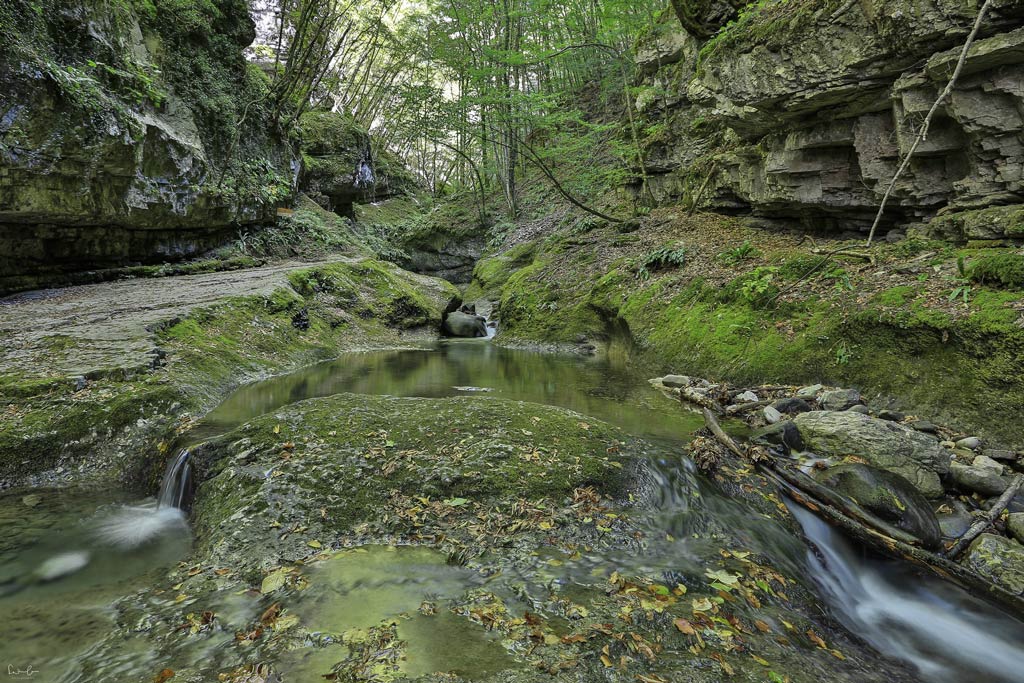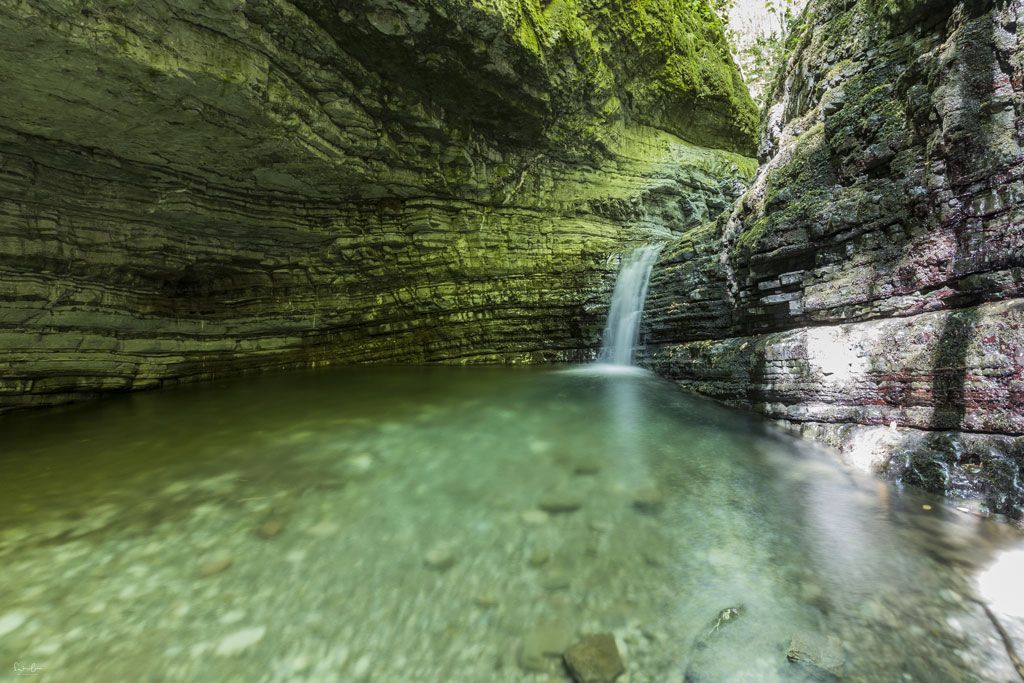 You may want to read my post about my Tuscany itinerary for 1 week recommending a Tuscany route showing the most beautiful spots and must-see places.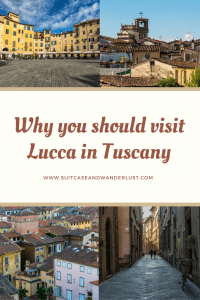 Disclaimer: This article contains affiliate links. This means I will get a small commission when you book/purchase via this link. This is at no extra cost to you.
MerkenMerken
MerkenMerken
MerkenMerken
MerkenMerken
MerkenMerken