Everyone agrees: Tuscany is a true gem and full of beautiful routes. The most scenic drives in Tuscany can be found in Val d'Orcia. The valley is stunningly gorgeous with its cypress roads and endless landscape views. Its little medieval cities and towns in Val d'Orcia are charming and worth visiting. These best drives in Tuscany are riddled with photo spots. One after the other.
I started a 1-week-Tuscany Tour in Pisa when Val d'Orcia was my third stop. My base was the adorable B&B Antico Borgo* in Seggiano, a very small hill-top town about 30 minutes from San Quirico. I enjoyed the hospitality of the Antico Borgo staff, my beautiful, large room and the local people meeting up in the Osteria of the B&B. My favorite dish was the Pici al Ragù di Chianina, a homemade pasta with ragù sauce of the Chianina beef.
By driving around Val d'Orcia I discovered the most scenic drives in Tuscany with the most beautiful photo spots in Val d'Orcia. These are my 3 favorite photographic routes:
1
San Quirico d'Orcia – Montecchiello – Pienza 
The heart of Val d'Orcia is San Quirico and often the gateway for the scenic Tuscany routes. The first tour starts in San Quirico. You take the SR2 towards south to the first stop Poggio Covili, a farmhouse with a cypress tree lined the road leading to the house. I wouldn't mind living there, would you?
From the farmhouse take your route towards Monticchiello and make several stops along the Val d'Orcia scenic drive. You will find plenty of beautiful sceneries and you won't stop pressing the shutter of your camera. Before you stop in Monticchiello for a quick coffee, look back on the amazing landscape you will see behind you.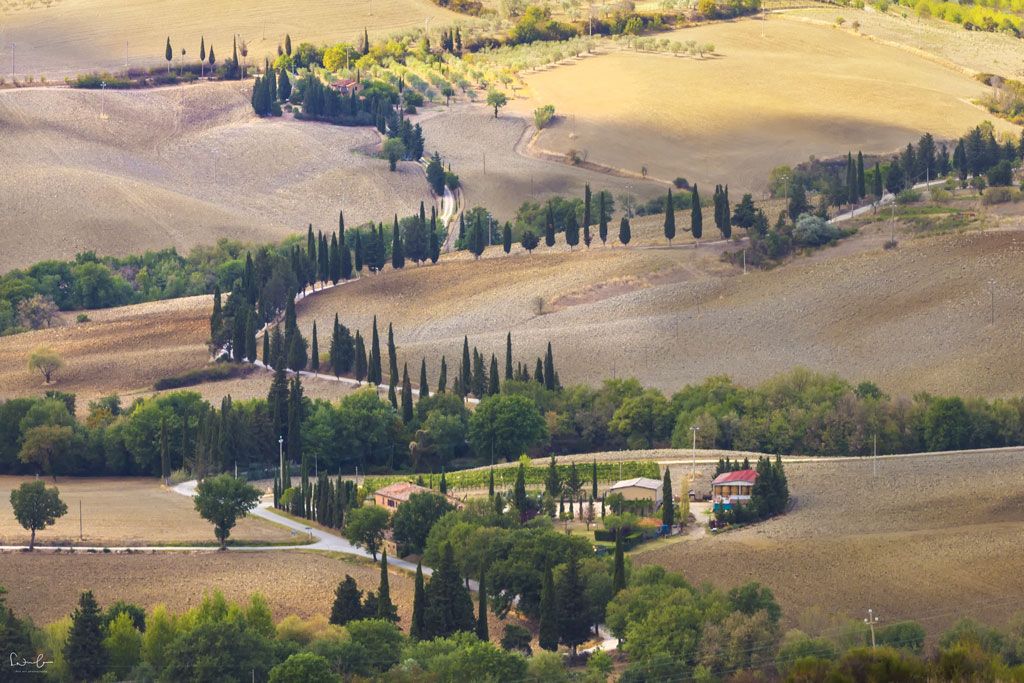 Monticchiello is an ancient, very small town built on a hill. There is free parking in a visitor's parking space right below the village. Take a stroll through the narrow streets, have a coffee and enjoy the stunning view of Tuscany's landscape.
The next stop is Pienza, a village, also built on a hilltop with free parking right below the city wall. It is a bit bigger than Monticchiello, but still tiny. Pienza is well known for its Pecorino – a tasty cheese made of sheep's milk. The town is full of beautifully decorated shops and restaurants serving local food. If you fancy some art and culture, visit Palazzo Piccolomini right in the middle of Pienza, you cannot miss it. The main hall is an amazing architectural creation and from the Loggia you have a nice panoramic view.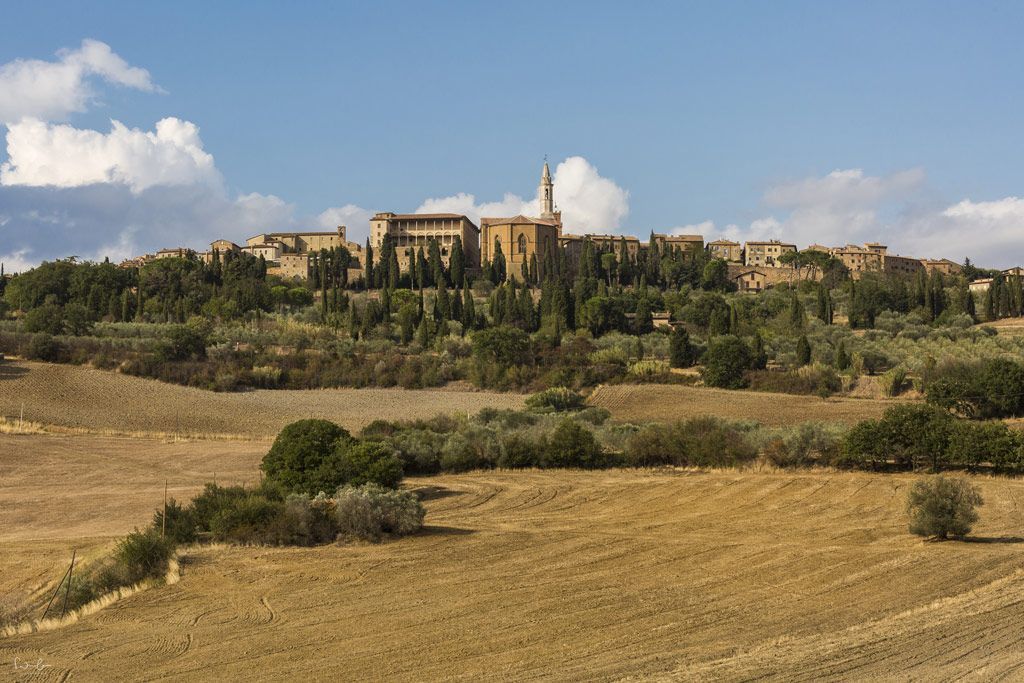 Before you leave Pienza, walk a view steps down the main road and you will find a vantage point where you can set up your camera gear and shoot a beautiful landscape image. You can use both a wide angle and a telelens, although I preferred to use the telelens. The landscape seems to be endless and with the telephoto lens, you can capture some details, even in the distance.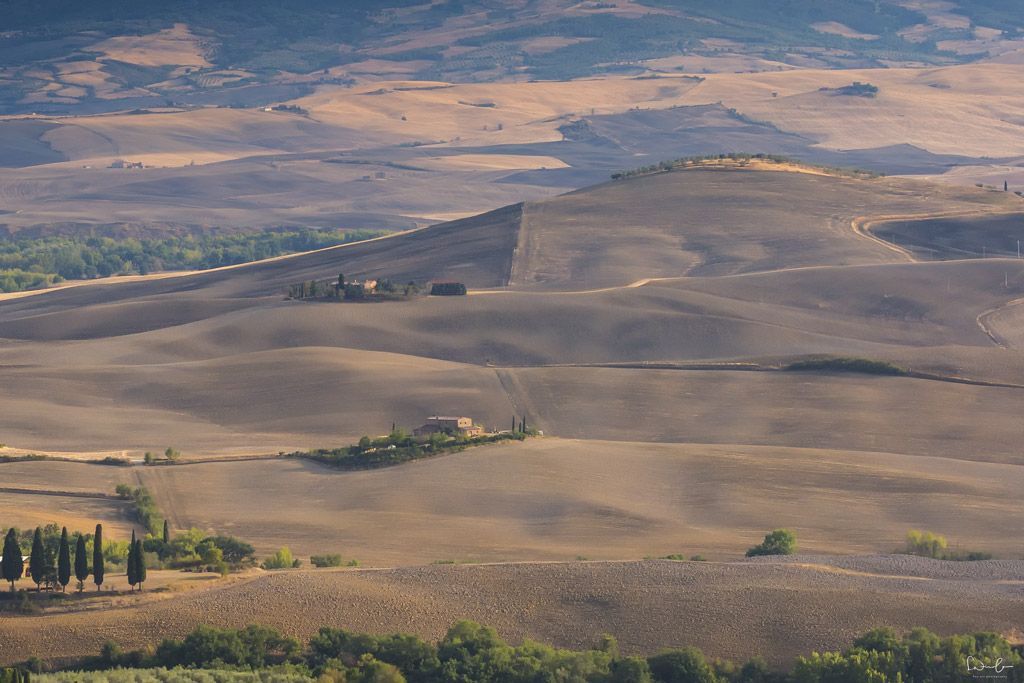 Need some help with landscape photography? I've got you covered. You can download a comprehensive guide for landscape photography for free here.
2
San Quirico – Torrenieri – Montalcino
The second scenic drive in Tuscany is a bit shorter but full of awesome photo spots. We start in San Quirico and take the SP146 where we've got three spots in a very short distance. The first one is the famous Podere Belvedere*, one of the movie locations of "Gladiator" and also an excellent place to stay during your Tuscany holiday. The best time to catch a photo of Podere Belvedere is at sunrise. I know….getting up so early isn't fun but I promise it is so worth it.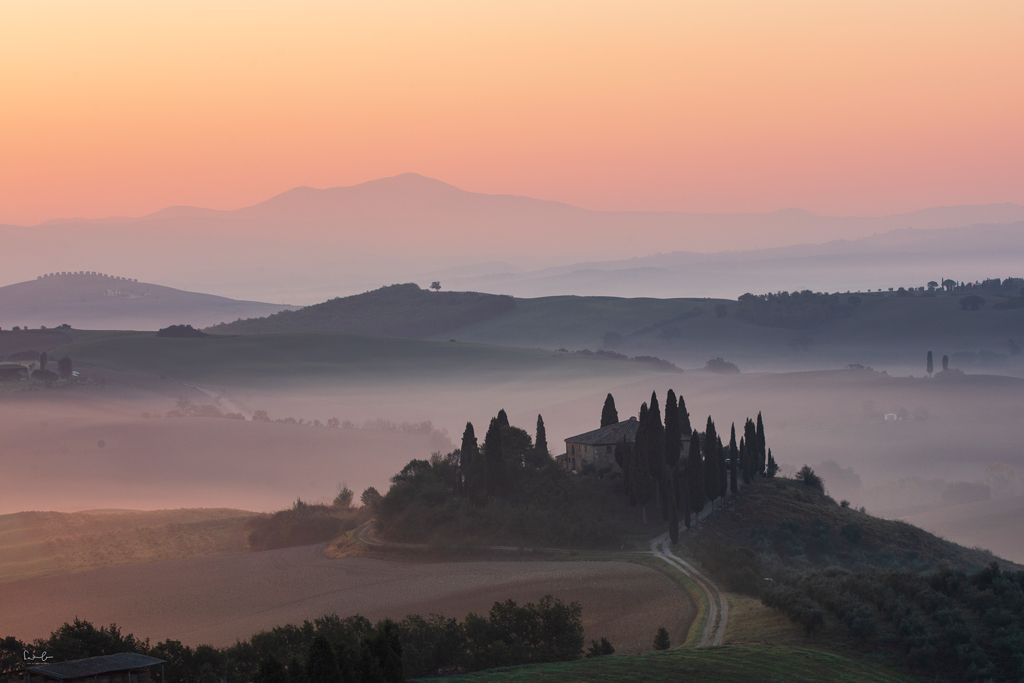 Just a few minutes along the main road there is another beautiful farmhouse "Genna Borborini Maria Eva". It is a private house, so be respectful when you take pictures. You might be able to capture the cypress road to the building through the locked gate or you'll be creative 😉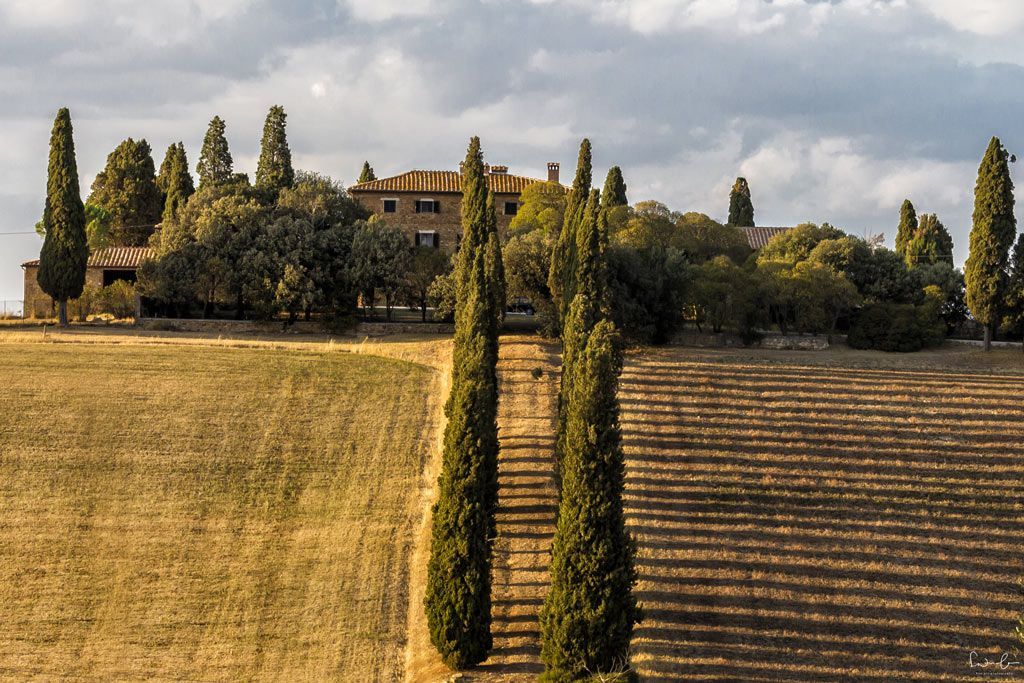 Follow the main road for a few minutes and you will see a space right next to the road where you can stop. From there you've got a beautiful view on Cappella di Vitaleta. If you don't have a telelens, you should check on Google maps how to get there and take your photographs right from there. It is worth it.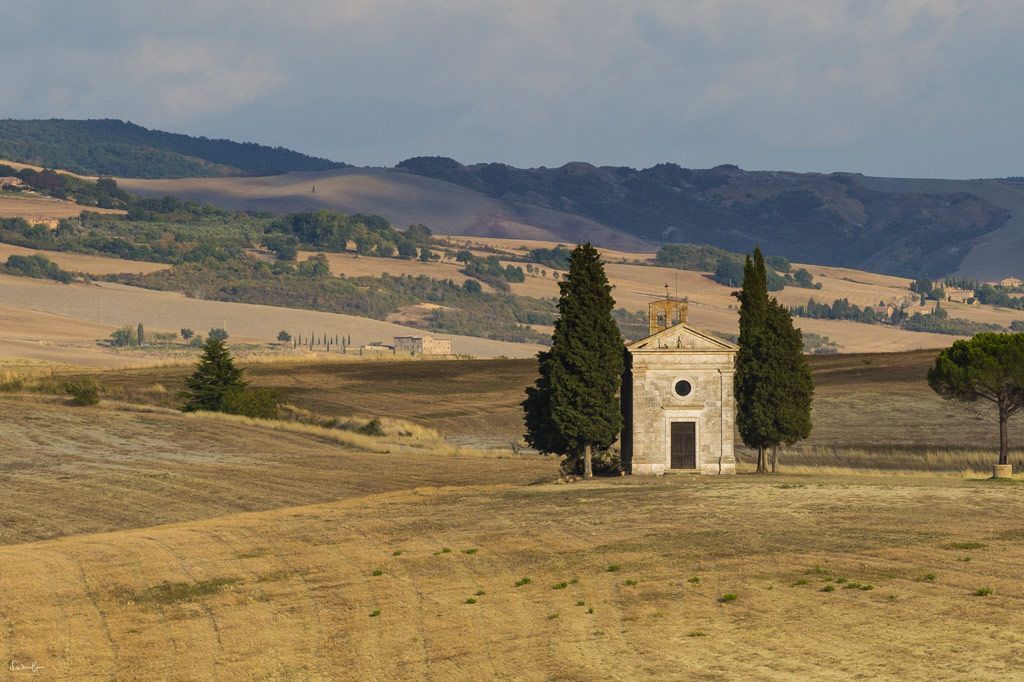 On the other side of the valley you've got this fantastic view. It was late afternoon when I took this shot in the golden light showing the layers of the landscape.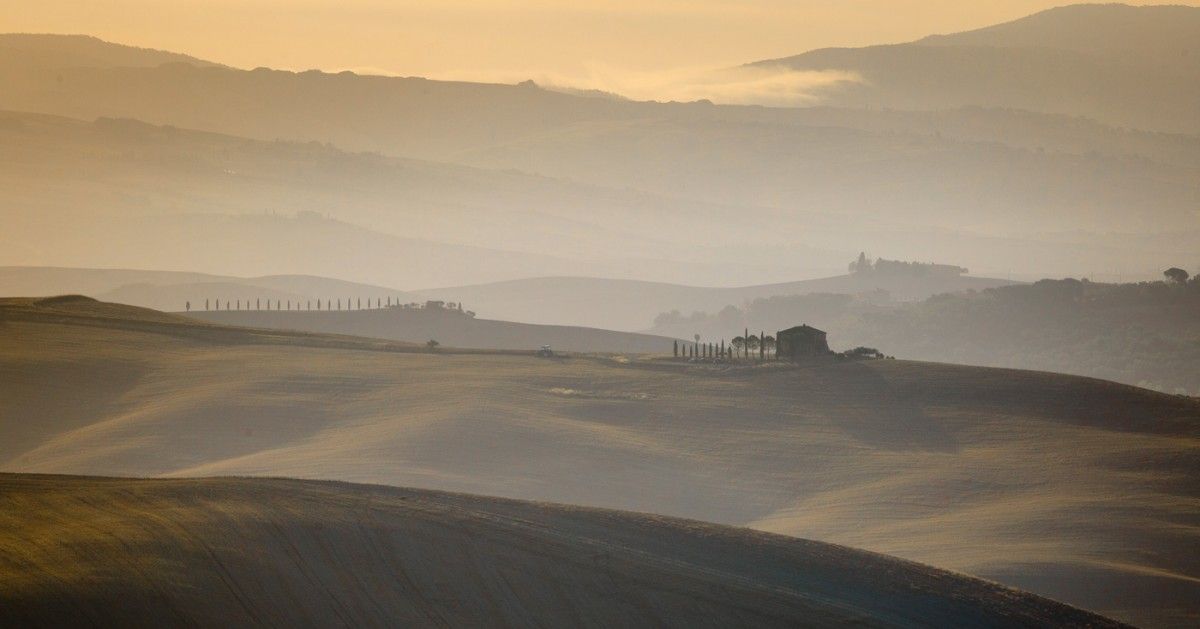 If you follow the same road further, you would end up in Pienza. Since we've been there already with scenic Tuscany drive 1, we go back to San Quirico and take the main road (SR2) following the direction to Siena. After about 6 kilometers, you will find the famous cypresses of San Quirico on your left side. There is a small parking space. If you google cypresses of San Quirico, you will see stunning photos. Well, I'm not gonna heap praise on mine… 😉
From the beautiful cypresses, kept driving on the main road SR2 until Torrenieri. From there I took a small graveled road to Montalcino. Don't ask me how I found it. Somehow I did. Be aware that the road is not a good one. There were points where I was afraid to have a flat tire sooner a later. But no, the Fiat 500 did a great job. You are not able to drive fast on this road but there is no traffic, which gives you plenty of time to watch the landscape and look for your perfect photo spot. You might spot some athletic Italians jogging, too 😉 At the end of the road, you will reach Montalcino, where a Montalcino wine tour could await you.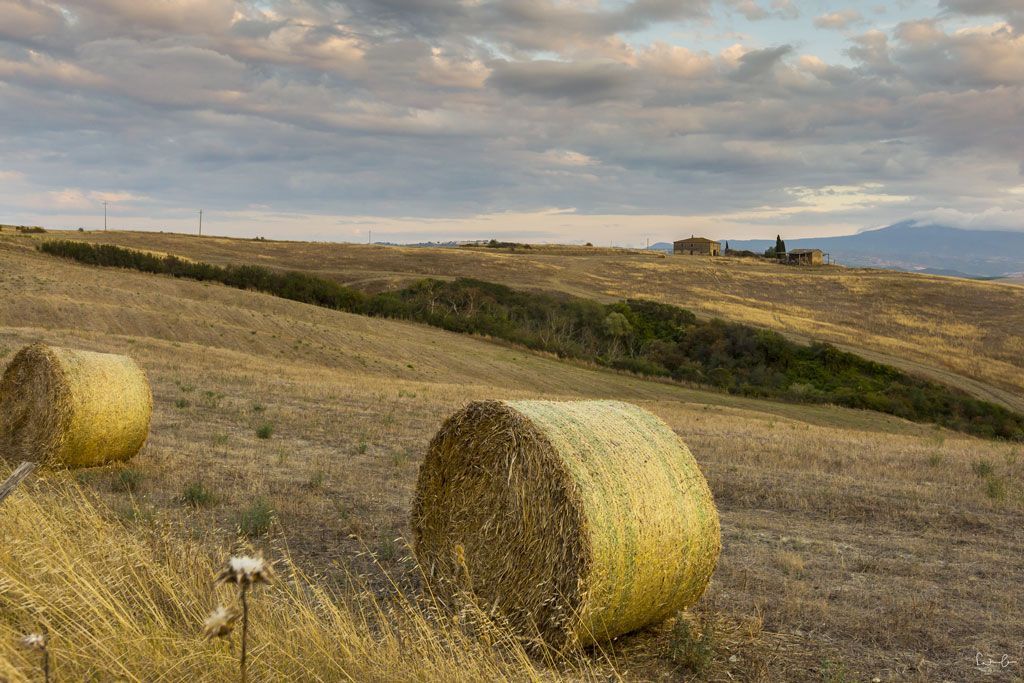 3
Buonconvento – Abbazia di Monte Oliveto Maggiore – Asciano – San Giovanni d'Asso – San Quirico
The last Val d'Orcia driving route is pretty much a round trip with beautiful spots and one particular highlight. I started in Buonconvento and took the side road SP451 all the way towards Asciano, passing Abbazia di Monte Oliveto Maggiore. The road is narrow, but the traffic is low and you can take your time and stop whenever you see something you like.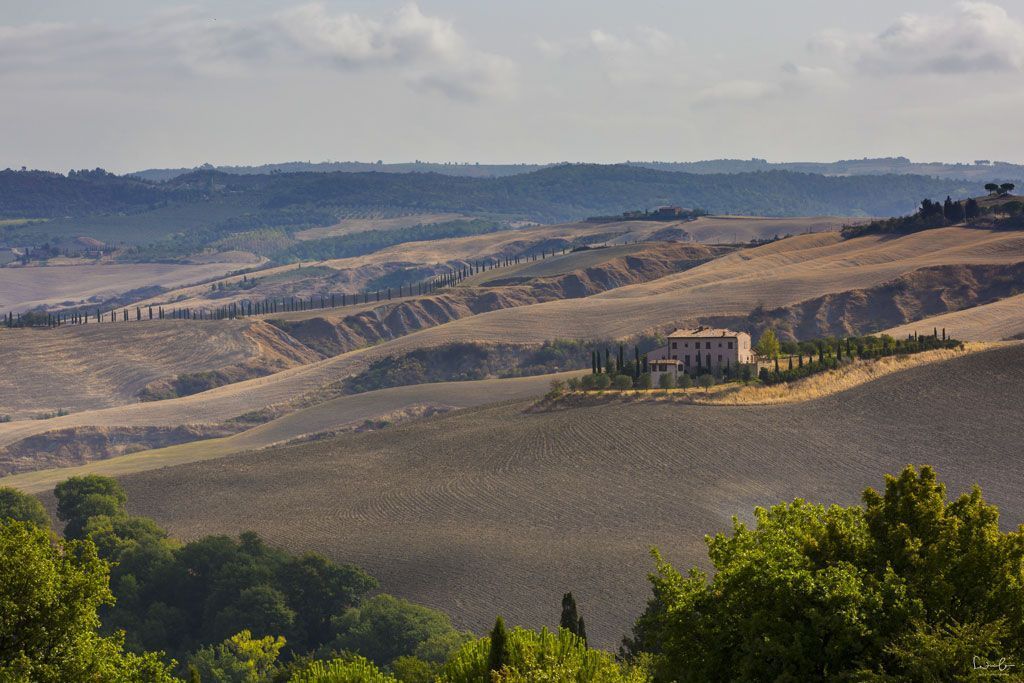 I suggest you have a coffee or some snack in Asciano before you head to the highlight of the tour: Baccoleno. From Asciano follow Strada A Gramsci and then Strada Provinciale del Pecorile until you reach Baccoleno. There is some space to park the car and a small path towards the photo spot. I know the path and the meadow there very, very well, because I lost the car key in the middle of the field and I only realized that my key was gone when I was about to open the car. Can you imagine my face? Bathed in sweat I started with a systematic search and after I walked to the car for the fifth time, I found it :). Anyway, this is the view from the edge of the meadow towards Baccoleno. It is not only a great photo spot but also a marvelous place to stay*.

The road leads you back to Torrenieri and San Quirico with some more stops along the third scenic drive in Tuscany's Val d'Orcia.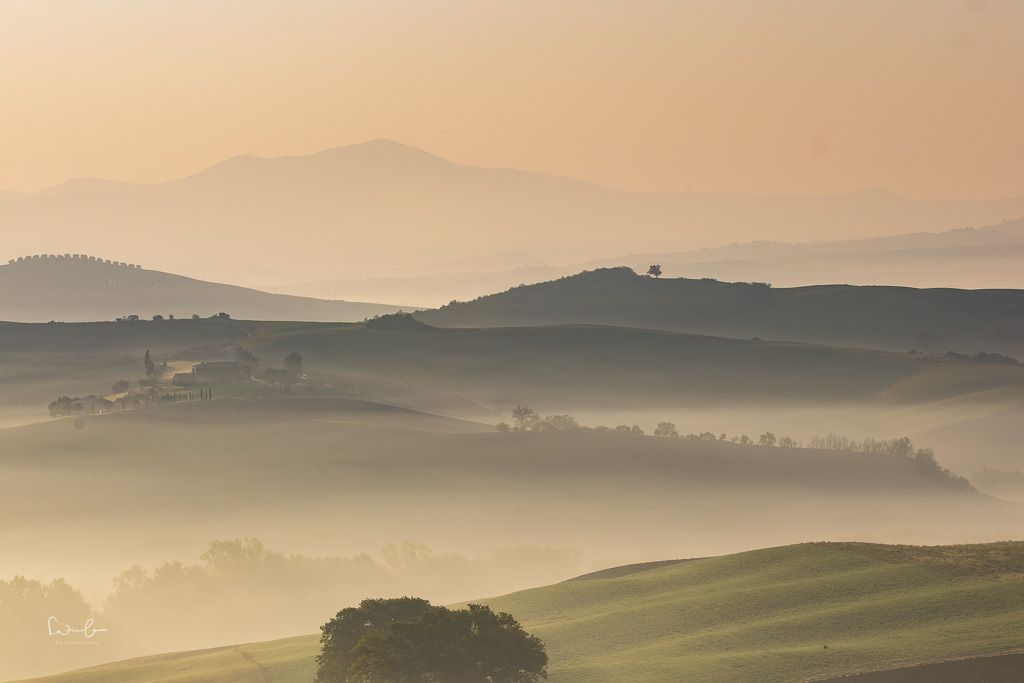 Do you have a favorite? I know, it is a difficult choice. But the good news is, you can do all of these Tuscany driving routes in 2 to 3 days.
If you're a landscape lover and on top of that landscape photography is your kind of fun, you do not want to miss Val d'Orcia with its beautiful countryside and charming towns and medieval cities. Don't miss to check out my Tuscany 7 day itinerary.
Disclaimer: This article contains affiliate links* which means I will earn a small commission if you purchase/book through my links. This is without extra costs for you but it helps me to keep this blog afloat. Thank you for your support.
MerkenMerken
MerkenMerken
MerkenMerken
MerkenMerken
MerkenMerken
MerkenMerken
MerkenMerken
MerkenMerkenMerkenMerken