Describing Tokyo is a tough task. You might expect a typical Asian exotic city but instead, encounter a modern metropolis. If I'd had 10 words to describe Tokyo, I'd use clean, vibrant, crazy, huge, dazzling, packed, awesome, friendly, safe and diverse. Have you planned to visit Tokyo, but don't know where to start? I'm gonna help you with my Tokyo itinerary for 4 days, especially if you are a first-timer.
Approximately 13 million people live in Tokyo and not surprisingly everything is packed in this concrete jungle: The streets, the sidewalks, the subways, the stores, the restaurants. However, unlike other cities, this doesn't translate into an unbearable noise or chaos. Everything seems so organized and quiet. Even the busiest crossing in Shibuya is civilized when thousands of people cross the street at the same time. I was standing in the middle of the crossing with my tripod and no one was bumping into me. Can you imagine that? If I'd do this in Vienna I'd get at least a few very nasty looks and for sure some snark. The people in Tokyo are quiet. Unlike other major cities, there is no noise created by humans. No one is talking loudly, no one is screaming and no one is rushing through the city like in Manhattan. The only sounds that can be quite disturbing after a while are coming from the huge screens and speakers in Shibuya and Shinjuku. After a few hours in the heart of these two districts, I had to escape into a park or the subway to give my ears and nerves a little break.
Before I do some research on a city I haven't been, I have to look at the map to get an idea of the directions and where is what. If you're the same, have a look at the map of Tokyo showing the districts and most important sights: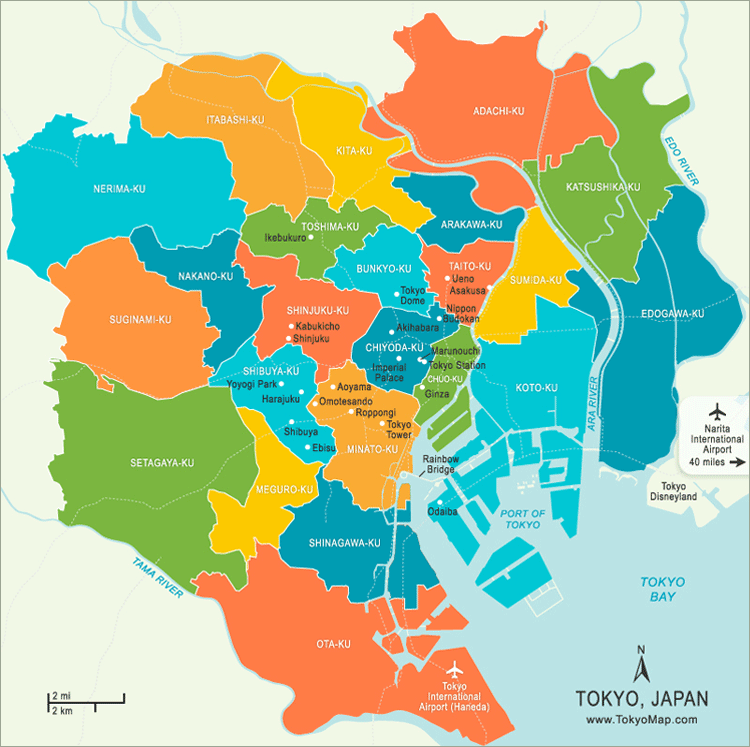 "The overriding sense of Tokyo is, that it is a city devoted to the new, sped up in a subtle but profound way: a postmodern science-fiction story set ten minutes in the future."
I tried to explore Tokyo in 4 days. Within these days I got quite a good overview of what's happening where in the city and where I find some amazing photo spots. But of course, to get to know such a metropolis, it takes weeks and months. If it's your first visit, you might find this itinerary helpful because it shows you what to do in Tokyo in 4 days.
Day 1 – Shibuya & Asakusa
The first thing I did after arriving in Tokyo, I headed to Shibuya crossing right outside Shibuya train and subway station. I wanted to see the busiest crossing in the world myself. You can watch the hustle and bustle from the first floor of an American coffee house and take pretty good photos from there. During rush hour as many as 2500 people cross the street every time the light changes. That's a scary number, isn't it? But don't worry, there is no pushing and shoving. Shibuya crossing is perfect for shots in the evening or at night, too. If your time allows, it's worth to come back.
Shibuya is a vibrant district with lots of shopping opportunities and famous for fashion shopping. After your Shibuya crossing experience, you can stroll through the streets and check out the latest Japanese trends or search for souvenirs for your beloved ones at home. If you want some tranquility, you should visit Meiji Jingu Shrine.
Shibuya can be reached with the subway Hanzomon (Z) line, the Fukutoshin (F) line and the Ginza (G) line.
From Shibuya, I made my way to Asakusa which is famous for the Senso-ji temple. It is a busy area and packed with people, but it gets really quiet in the evening. It's worth waiting until it's dark when the temples are beautifully illuminated and the crowds leave. Senso-ji temple is an ancient Buddhist temple and Tokyo's oldest. There's Hozomon gate with its huge paper lantern, the five-storied pagoda Gojunoto and the main hall. On the way from the subway station Asakusa to the temple grounds, you will find hundreds of shops and market stalls to explore.
While you're waiting until the sun sets and the lights go on, you can go for a marvelous Ramen at Asakusa Raman Yoroiya restaurant.
Tip: The area around the temple has a charming atmosphere of an old town. When the stores are closed and the shutters down, walk through the streets and capture the amazing paintings on the roller shutters. It is a great place to play with the camera and get some cool shots with people and cyclists.
Asakusa Station can be reached with Ginza (G) or Asakusa (A) line.
Day 2 – Fishmarket and Ginza
One of the top-rated things to do in Tokyo is to visit Tsukiji Market, the famous fish market. Everyone tells you to attend the tuna auction which starts at 5.25 and 5.50 am. The Tokyo tuna auction is the world's biggest fish wholesale market and people are allowed to watch this spectacle for free. However, the downside is, you need to be there really early. Like 3 am or even before. Only 60 people are allowed to enter each set of auction and Tokyo is full of tourists. Although I'm pretty sure it is an amazing experience to watch, I skipped it. I am just not a morning person and getting up so early translates into a very tired and lazy following day.
But there is not only the tuna auction. Of course, I went to Tsukiji market in the morning instead of the dead of night and walked through the busy market area. If you fancy sushi breakfast, then this is your place to go. There's no spot where you can get fresher fish than here. Remember to be there at 11 am at the latest because many restaurants close at noon. You will have to queue until you get a seat, but it is worth waiting. Don't forget to walk around in the area. You can capture great moments of people.
Update October 2018: The famous fishmarket Tsukiji closed after 83 years. The new fishmarket is located in Toyosu.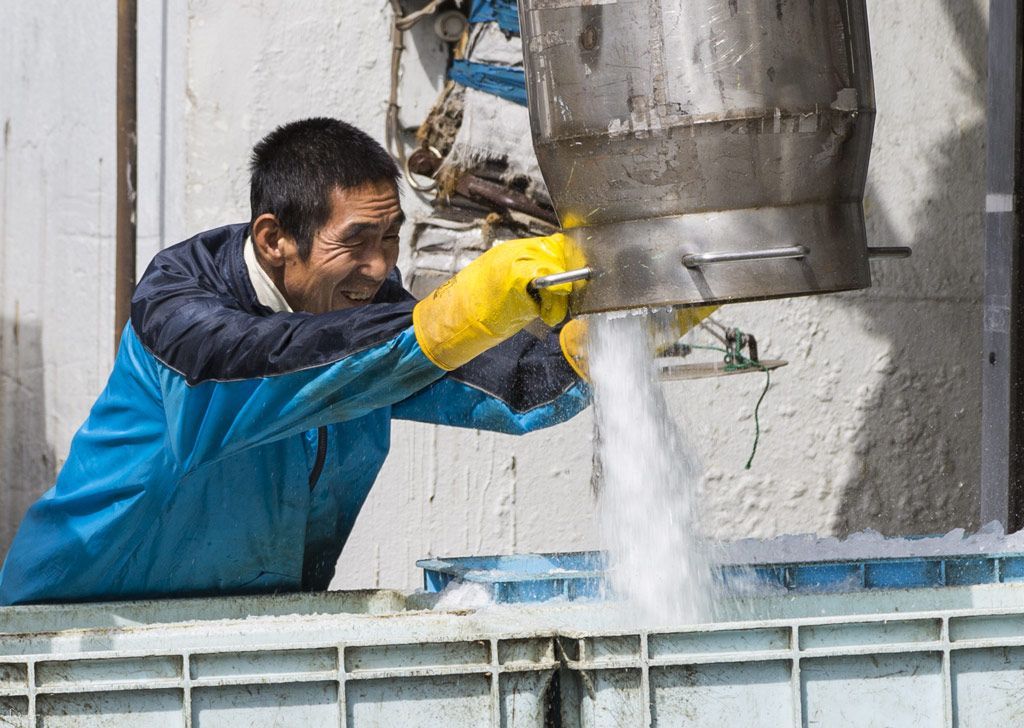 You can reach Tsukiji Market with Hibiya (H) Line.
After the hustle and bustle of the market, you may want to enjoy some tranquility and have a Zen moment. Within 10 minutes walk you reach the marvelous Japanese Hamarikyu Gardens along Tokyo Bay with ponds and a tea house. The buildings of Shiodome loom in the background and make a strong contrast to the huge green space in the middle of the city.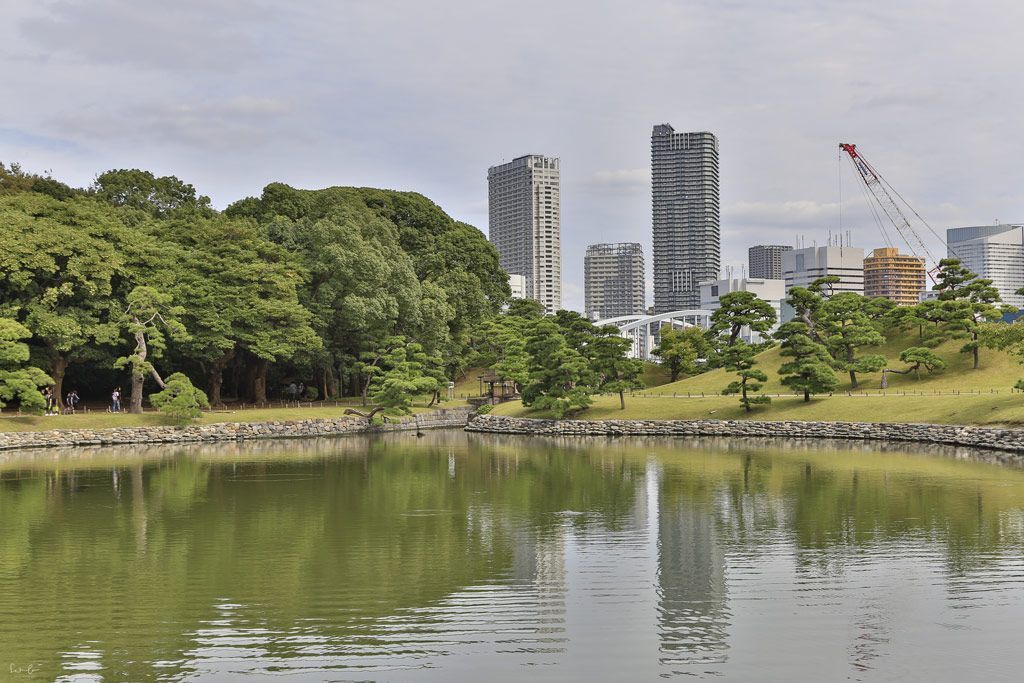 Ready for the posh part of Tokyo? Then take a walk to Ginza, the famous shopping district. Not only can you find well-established and high-end brands, but also the latest hipster and cutting-edge brands. The streets are not cleaner than in the rest of Tokyo, but you can feel and see that you're in a sublime area. If art is your kind of thing, you'll have a wonderful time strolling the numerous art galleries. Most of the restaurants are high-class, but to my surprise, I found a splendid Shabu Shabu place at a reasonable price. Shabusen is on the lower floor of Ginza Core shopping center and you can get a delicious Shabu Shabu for 1700 Yen.
After that, you may want to have a glass of chilled white wine. Why not combining with a breathtaking view? Head to the Shiodome Park Hotel and sit down in the Lobby Bar on the 24th floor. Exit the subway at Shiodome station (Oedo Line E) or walk from Ginza.
Day 3 – Akihabara & Shinjuku
On day 3 of your Tokyo itinerary, it's time for some craziness. Have you heard about Akihabara or Akiba? It's Tokyo's electronic town and home of electronics shops, pop culture, manga and anime. You find the newest electronic gears and gadgets, cameras, computers, video games, TVs and mobiles in large megastores on the main street or small family stores in the side streets. If you want to buy electronics, make sure they are for international use. You can also play video games in one of the numerous game shops and might find some classic retro games which give you a flashback to your youth (in case you're in the same age as I am). Visit one of the cosplay themed restaurants where the waitresses are dressed like French maids.
After all the sounds and visual effects, I felt like eating a steak. Down Chuo-dori, the main street, you'll find Dante Steak offering various meat specialties.
You can reach Akihabara with the silver Hibiya (H) line or exit Suehirocho from the Ginza (G) line.
After exploring the latest electronics trends, why not capture an amazing view of the city from above? The Tokyo Metropolitan Government Building in Shinjuku has free observation decks offering panoramic views of Tokyo and showing the gigantic size of the city. If you're lucky and the visibility is good, you might spot Mt. Fuji. Don't be sad if not, you still have a free experience and a fantastic view.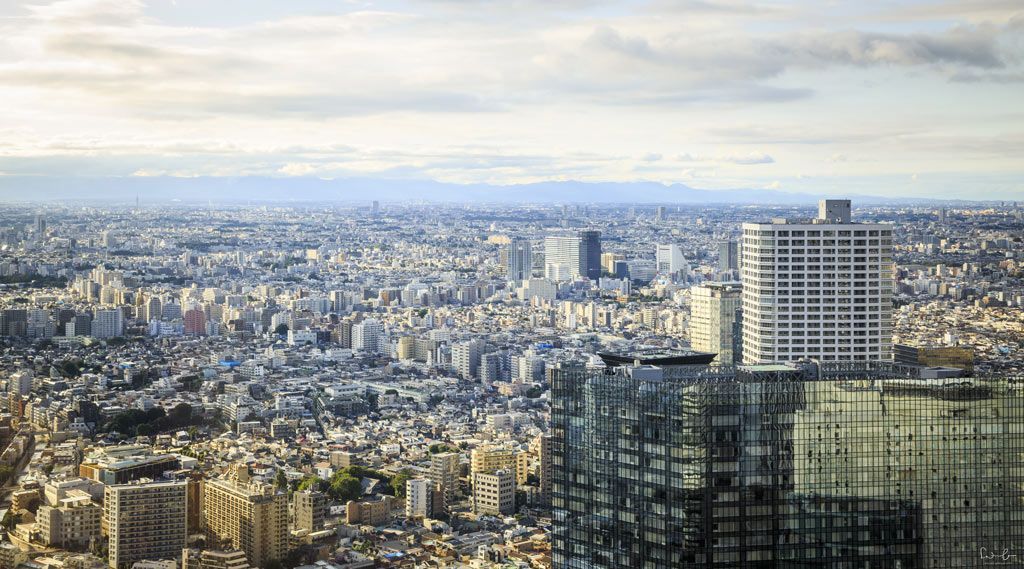 How you get there? Hop on the pink Oedo (E) line and exit Tochomae.
From there it is just a very short walk to the heart of Shinjuku for some nocturnal activities. By that, I, the photographer, mean taking some night shots and go to diner
Shinjuku is a vibrant entertainment and shopping district with a visual overload offering an enormous variety of things to do. My primary focus was to capture fantastic city shots and I'm rather happy with my Tokyo at night series, where Shinjuku was my absolute favorite place. I will follow up with a separate blog post on the most photogenic spots in Japan featuring the night shots.
You should definitely stroll through Omoide Yokocho or better know as Piss Alley and find a spot to eat. If you love meat, you will love the yummy smell of barbecue smoke when you enter the street where you find one food stall lined up after the other. In case you look for Japanese food oddities, here's where you find horse penises or pig testicles. Unfortunately, I cannot give you a review of these dishes, but I'd love to hear yours
If you're a foodie, you might want to have a look at this book with more than 50 street food recipes from Tokyo. 
The rather weird name Piss Alley dates back to the late 1940s when the narrow side street became a popular quarter for cheap drinks and Yakitori, but the bars were lacking toilet facilities and the guys relieved themselves by the closed railway tracks.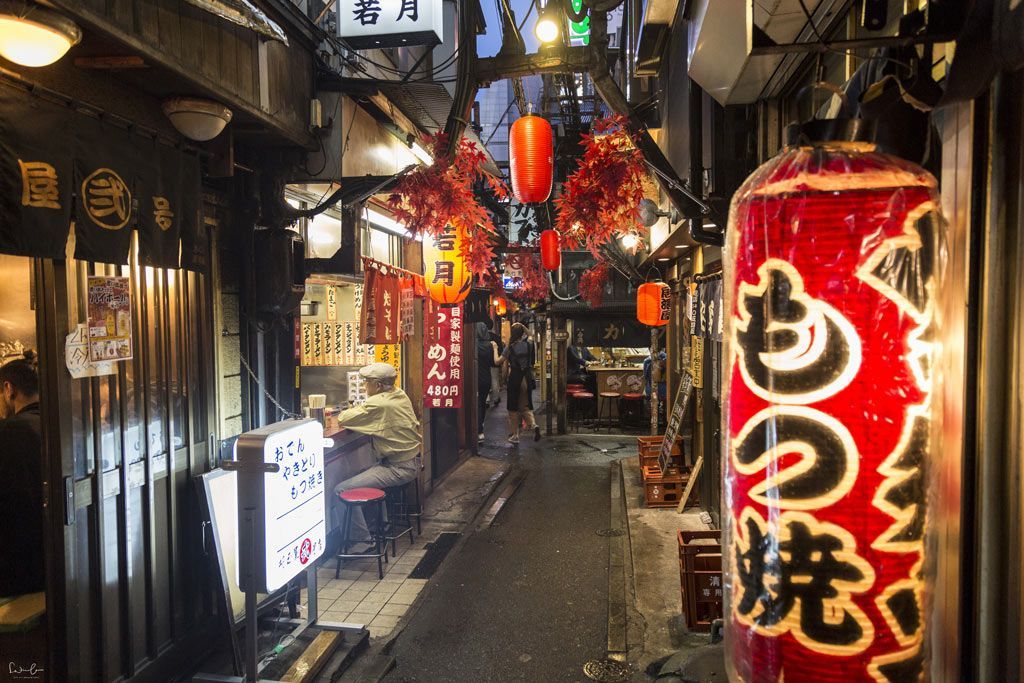 Don't miss to have a drink in one of the approximately 200 bars of the Golden Gai. The Golden District is an area packed with tiny bars within six narrow alleys all filled with down-to-earth people. Some bars might be for regulars only. If you're told there is no room or seat, you know, this is such a bar and you're not welcome. If you see an English menu outside, tourists are welcome to enter for a drink. I'm pretty sure you're welcome in the bar with the sign "The hangover only lasts a day but the memories last a lifetime". Find the Golden Gai close to Shinjuku East Exit and the Hanazono Shrine.
If you're traveling solo, go to one of the Ichiran restaurants and try their delicious ramen. The concept is quite interesting and I've never seen something similar before. It is meant to be for a person who dines solo. You sit on a bar stool and in front of you, there's a window, from where you get served. Once you have your food, the window closes and you're all by yourself. If you need anything, press the button. If you want to re-order, press the button. Of course, you can go with someone and sit next to each other and talk, too. Ichiran has opened several Ramen restaurants around the world – the price in NYC is at least double than in Tokyo.
Day 4 – Harajuku, Yurakucho & Imperial Palace
My 4 days in Tokyo are nearly over, but let's start the day with a fantastic breakfast at Mr. Farmer in Harajuku. Already in the hipster district, start wandering around the area and explore the cool fashion shops, bars and cafes. Near the Yoyogi Park entrance, you are likely to see the subculture youth of Tokyo. Especially on Sundays, the meeting point is on the bridge between the station and the park.
From there you can find your way to Takeshita-dori, which is directly opposite JR Harajuku station. The famous alley is packed with locals and tourists looking for cosplay outfits, bizarre bags and clothing, unusual accessories and Hello Kitty. It's really a fun thing to stroll through Harajuku and a visual overload, too. I was tempted to buy the odd cat shirt or blouson for fun but then decided not to.
Mr. Farmer is a three-minute walk from Omote-Sando subway station, which can be reached by Hanzomon (Z), Ginza (G) or Chiyoda (C ) line.
After the Harajuku fun experience, you can take the Chiyoda (C ) line to Yurakucho and explore the old part of Tokyo under the railway tracks which hasn't changed for the last decades. It's also a very lively restaurant district where one authentic restaurant is lined up next to the other, all along the Yamanote Line.
From there it is a nice walk to the huge area of the Imperial Palace. The park almost looks unreal, the grass seems to be cut accurate to the millimeter and the trees seem to dance and welcome the visitors. The Seimon Stonebridge with its reflection in the water is a lovely photo subject, almost like a painting. It's quite a spectacular attraction to watch the guards changing.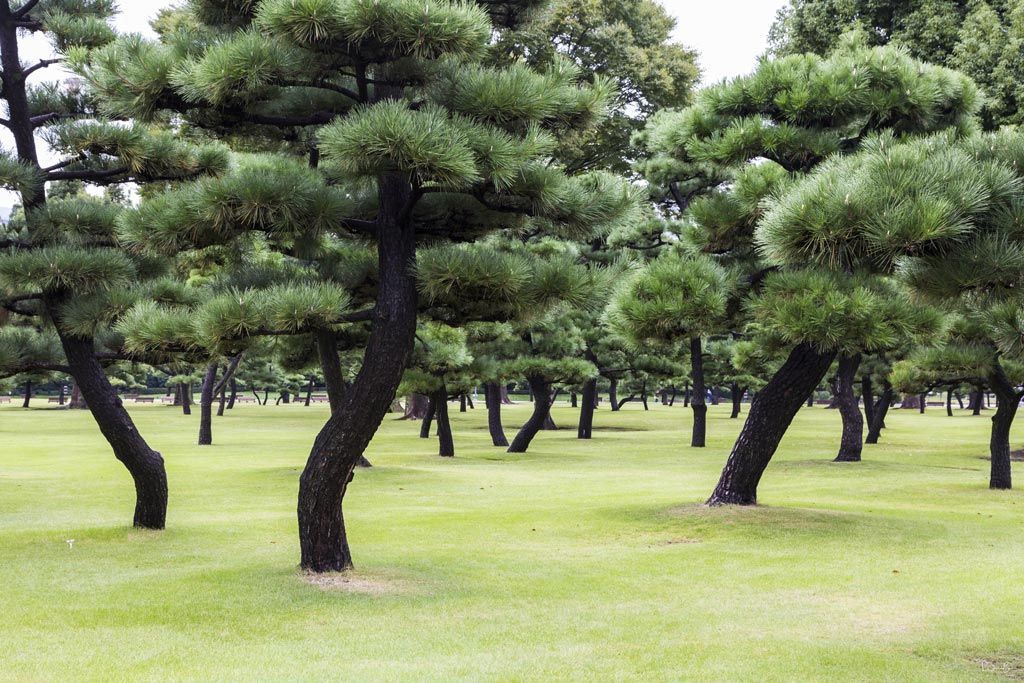 How to get around in Tokyo?
Subway is it. Don't panic, it is really easy, I promise. Get yourself a subway map from the hotel as a start. There are 13 subway lines and all of them have a name and a color. The stations have a name and a number. Once you enter the subway and have to choose the direction, just watch out for the number of your destination. The fares vary between 170 Yen and 310 Yen, depending on the distance of travel. You can buy a 3-day pass for 1.500 Yen at the airport or in any of the major Bic Camera stores. This 3-day pass really pays off! Other than that you can buy a Pasmo or Suica card for 500 Yen and charge the card. The Pasmo or Suica card is valid for the subway and most trains and buses within Japan. If your balance is zero, just recharge at one of the vending machines.
Do you have any questions? Just ask. Have you been to Tokyo and want to tell me about your experience? I'm curious to hear it. Check out this guide with 25 free things to do in Tokyo. If you're still not sure which parts of Japan you should visit, I recommend you to read my Japan 2 week itinerary post. It should help you to get an idea. You won't need a rail pass if you stay in Tokyo, but you might want to travel the country and buy a Japan Rail Pass. I've got everything you need to know covered in my article. You should not miss Kyoto, a wonderful city with tradition and modernity.
If you're struggling to find a hotel, check out Ryan's awesome Tokyo hotel guide or check my recommendation. I stayed in the Mystays Akasaka hotel which I can recommend in terms of great value for money and location.
Disclaimer: This article contains affiliate links which means I will earn a small commission if you purchase/book through my links. This is without extra costs for you. Thank you for your support.