Japan is a mysterious country. Mysterious in a positive way. The big cities are modern, loud, colorful, fancy and yet with so much tradition and culture all over. It is a country I recommend every traveler to go at least once in his lifetime. But where to go and what to see? Here is my Japan 2 week itinerary for first timers.
One thing is for sure: 2 weeks in Japan are by far not enough to explore the whole country and its variety, but with this first time Japan itinerary, you'll get the feeling for all the must-see places and spots and some guidance on the Japan Rail Pass.
I chose to fly in and out Tokyo since it was the most reasonable option. Plus it is so easy to get around within Japan with its super fast Shinkansen trains.
Here's how I my 2 week Japan itinerary looked like:
Tokyo – first night
Hakone – 2 nights
Kyoto with day trips – 5 nights
Tokyo – 4 nights
A quick word on the Japan Rail pass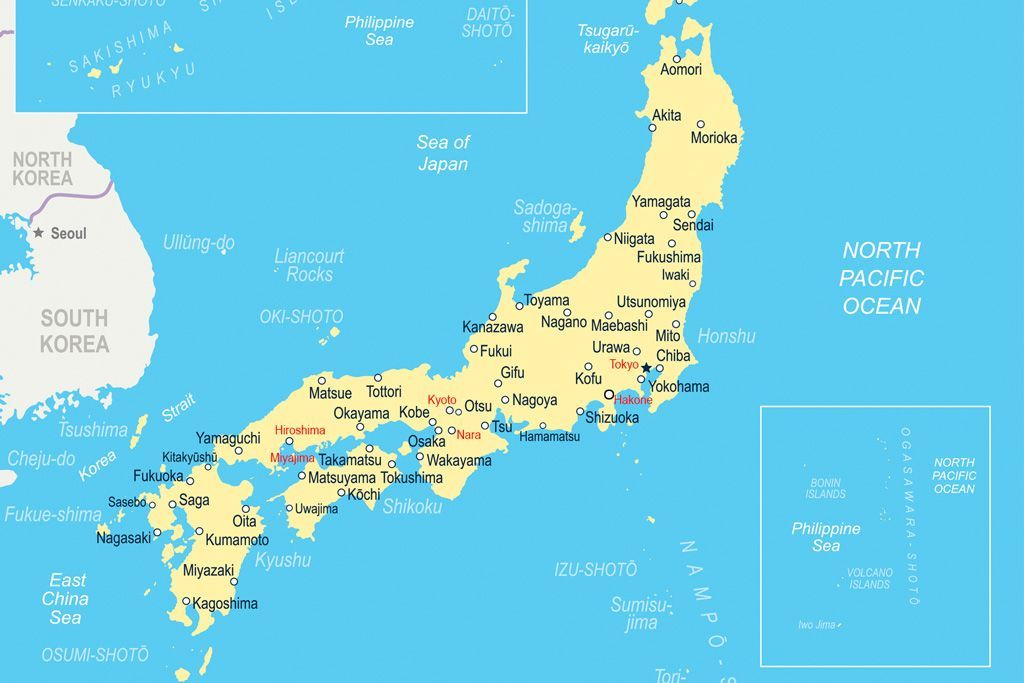 Tokyo – 1 night
After the 20 hour journey, I chose to stay one night in Shinjuku, Tokyo for acclimation: Get a feeling of the country, have a light meal and go to bed early to start the adventure on the next day. And it was a very good decision because the jet lag was not too bad and I recovered very quickly from the flight. The hotel I booked, Gracery Shinjuku, is right next to Shinjuku train station where I arrived with the Narita Express from the airport. If you're a Tokyo first timer, I recommend you to book a hotel near the train station. You will be exhausted after the long journey, be craving for a shower and you won't be happy spending too much time and energy in searching for the right subway or train to find your hotel. Believe me, it is challenging enough to find the right exit of Shinjuku station.
How to get from Narita airport to Shinjuku?
Narita Express in approx. 50 minutes
Cost: 3000 Yen. If you buy a Japan Rail pass and activate it upon your arrival, the Narita Express is included. I purchased the 7-day pass and only activated it on the 3rd day when I went from Hakone to Kyoto. See the JR pass section on the bottom of this article. It explains why I did this.
Hotel for the first night:
Gracery Shinjuku with the giant Godzilla on the terrace.

Hakone & Mt. Fuji – 2 nights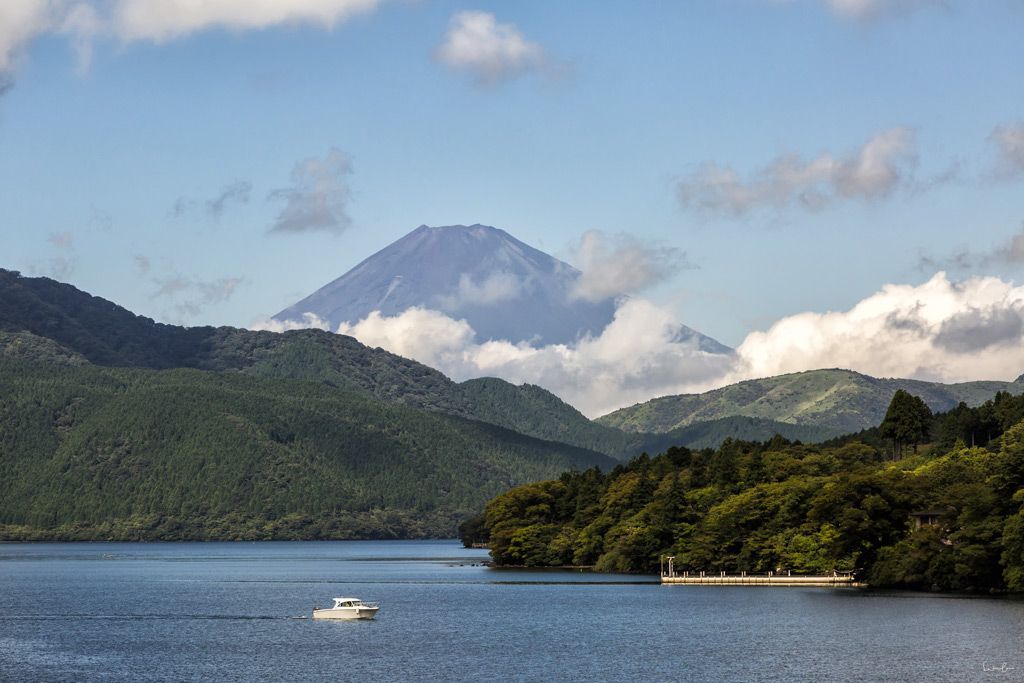 The next morning I went to Shinjuku train station to make my way to Hakone to see Mt. Fuji. I was super excited and hoped to be lucky to actually see the top of the mountain since the probability that Mt. Fuji appears lies between 20 and 30 %. If I knew that before, I would have been very nervous…
Hakone and the Five Lakes is a wonderful place and I totally recommend you to stay at least two nights. First of all, there is a lot to see. The area with its lakes is stunningly beautiful and you can fully relax and enjoy the views and the lush nature. A must thing to do here is to visit a hot spring, also called Onsen.
Be aware that the region is big and it takes you a while to go from one point to the other. I stayed at Lake Ashi and went all the way up to Sengen Park in the hope to see Mt. Fuji. I totally underestimated the distances and it took me the whole day to get there and make my way back to the hotel.
My recommendation: if you stay in Hakone for one or two nights, stay in this area and don't go to the Five Lakes. If you have more time, explore the beauty of the whole region.
How to get from Tokyo to Hakone?
From Shinjuku, take the train to Hakone Yamoto, then take the Tozan train. From Gora, I took the Hakone Ropeway to get to lake Ashi. The staff in the ticket office of the Hakone Pass is very helpful and they tell you exactly how to get to your hotel. You will get a great map of the region showing the different trains, buses and ropeways.
Fuji Hakone Pass vs. Hakone Pass
The ticket office for the Hakone Pass in Shinjuku is at the West exit and is called Odakyu Sightseeing Service Center. It took me quite a while to find it. You have to decide whether to take the Hakone Pass or the Fuji Hakone Pass which covers the whole region up including the Five Lakes. The cost difference is only 650 Yen so if you're not sure, I would go for the Fuji Hakone. With the pass, you've got unlimited use of all the trains, buses, ropeways and even the sightseeing cruise.
Cost:
Train Shinjuku – Hakone Yamoto: 1.770 Yen
Fuji Hakone Pass 3 days: 5.150 Yen
Hakone Free Pass 3 days: 4.500 Yen
They offer passes including round trip from Shinjuku, but since I continued to Kyoto using the Japan Rail Pass, there was no point for me in buying the round trip option.
Hotel
Ashinoko Hanaori at Lake Ashi with a beautiful Onsen. The hotel is very new and combines modernity with tradition.

Kyoto & day trips to Nara and Hiroshima – 5 nights
After two relaxing days in the beautiful nature of the Mt. Fiji area, it was time for some culture. Kyoto was the next stop on my Japan 2-week itinerary. It is famous for its countless number of temples and gardens. Kyoto is a modern city at first sight when you arrive at the futuristic glass and steel building of the Kyoto station and yet there is so much culture and tradition. Staying 5 nights may sound too long compared to the total travel time of 2 weeks, but there is just so much to explore. Kyoto itself has a lot to offer and you will soon realize that you would love to stay even longer.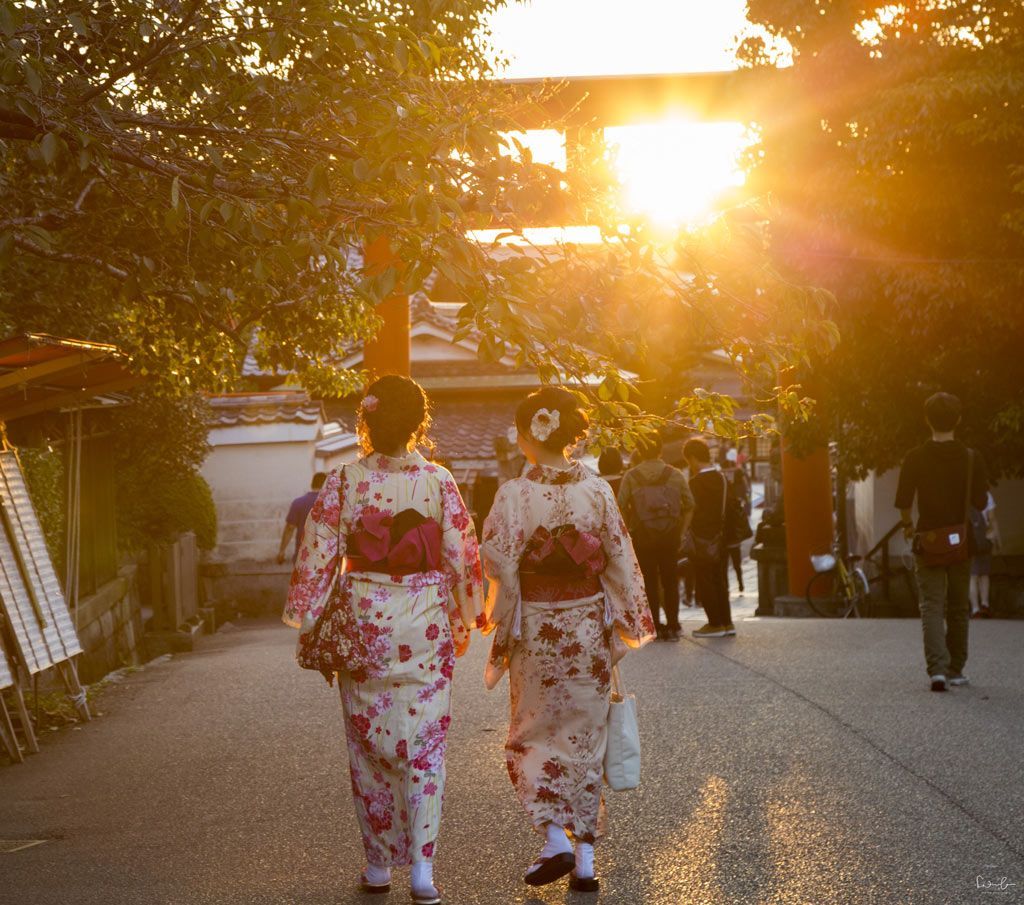 One day I made a trip to the ancient capital city of Nara with its famous Nara Park where you will encounter hundreds of deer. It is only a 50 minutes train ride away from Kyoto and I totally recommend you to go there, too. Where else in the world can you take a walk with deer?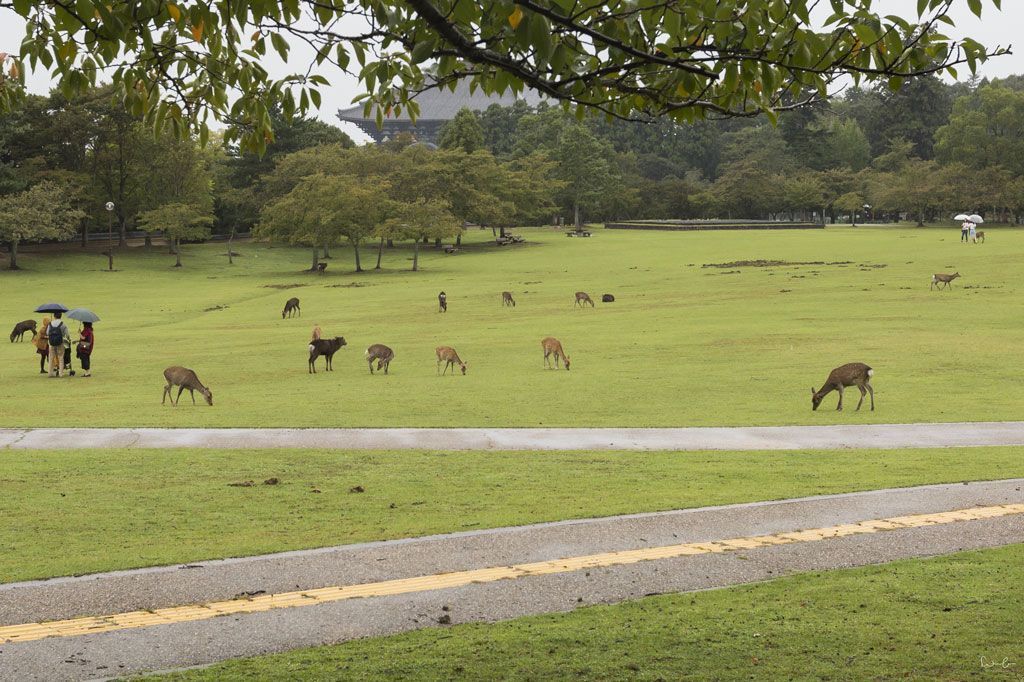 To go or not to go? That was the question I was thinking of for a few days. Hiroshima was on my bucket list, but I was not sure whether I should go or not. At the end, I decided for it instead of further explore Kyoto and I am very glad I went. Hiroshima is not only a monument to the cruelty and inhumanity, but has actually become a pretty nice city. It is a 2-hour train ride and if you get up early you can even make a quick trip further to Miyajima, the small island in Hiroshima Bay with its famous orange Grand Torii Gate.
How to get around?
From Hakone to Kyoto: Take the bus from Ashi Lake to Odawara, which takes approximately 1 hour. From there get on a Shinkansen train straight to Kyoto station. The ride takes about 3 hours.
Cost: If you have the Hakone Free pass or the Fuji Hakone pass, the bus to Odawara is included. The Shinkansen from Odawara to Kyoto is either covered by your Japan Rail pass (JR pass) or 7.000 Yen.
From Kyoto to Nara: Get on the JR Nara Line from Kyoto Station leaving from track 8, 9 or 10. It takes about 50 minutes to reach Nara station.
Cost: Included in JR pass or 700 Yen for each way.
From Kyoto to Hiroshima and Miyajima: It takes about 2 hours to Hiroshima by Shinkansen train. If you still have time for Miyajima take the JR Sanyo Line for Onoura and change to the ferry in Miyajimaguchi.
Cost: Included in the JR pass. 6.480 Yen is the one-way fare from Kyoto to Hiroshima. The journey from Hiroshima to Miyajima would be 590 Yen (one way).
Hotel in Kyoto
Sakura Terrace The Gallery right next to Kyoto station. A quite new hotel with an Onsen and a free drink every night from 5 to 10 pm.

Tokyo – 4 nights

The last, but definitely not the least stop was Tokyo. This city is huge, crazy, clean, loud and full of surprises. By loud I do not mean the people, but the sounds coming from the big screens especially in Shibuya, Shinjuku or Akihabara. You should definitely plan some time in Tokyo. Even though you get around by subway pretty fast, there is just too much to explore and it would take you months to discover the whole city. But for the beginning, four to five days is just fine to get an overview and experience the most famous spots and sights. Here's my 4-day itinerary for this amazing city.
How to get from Kyoto to Tokyo?
Take the Shinkansen train from Kyoto station to Tokyo station, which takes about 2 hours and 40 minutes.
Cost: Included in the JR pass or 8.210 Yen.
Hotel in Tokyo
I booked the Mystays Premier Hotel* close to Akasaka station in a very nice area in Minato.
My Japan itinerary for 2 weeks shows you the highlights of this wonderful country, especially if it is your first visit. Even though I usually prefer to discover different countries instead of going back, Japan is definitely a place to go back again and explore further. You may want to check my first-timers guide.
Unfortunately, I missed Osaka. I should have read Anne-Sophie's article about Osaka before I planned my itinerary…
How does the Japan Rail Pass work?
When I started my research on Japan, I came across the various articles on the Japan Rail Pass (JR pass). The more I read, the more I got confused, but gladly figured it out at the end. The JR pass is a great invention for Japan visitors who travel through the country. Not only can it save you a lot of money, it is also very convenient. You just show the pass instead of stopping at the vending machines to buy a ticket. You can purchase the pass for 7, 14 or 21 days.
However, it totally makes sense to do some calculations before you buy it. It only pays off if you use the Shinkansen trains a lot. In my case, I bought the 7-day pass which I activated on the day I left from Hakone to Kyoto. Let me show you the costs of the trains on my itinerary as an example:
The 7-day pass paid off in my case because I did the day trip to Hiroshima. Another advantage of the JR pass is the free seat reservation, although you do not necessarily need one. Most of the trains have non-reserved areas, too.
A great source of how to calculate costs and check the timetables of all public transportation is Hyperdia. Or you can ask your questions at the Japan Rail Pass Forum.
My biggest concern before I arrived in Japan was to not get the train system sorted. But once there, I promise it is really easy and the people in the train and ticket stations are very supportive and friendly. Just take your time when you go to the big stations like Shinjuku, Tokyo station or Kyoto station. They're as big as Vienna's city center and you can get lost easily 😉
Here's my detailed Japan Rail Pass guide.
Did you like my article? Pin it for later: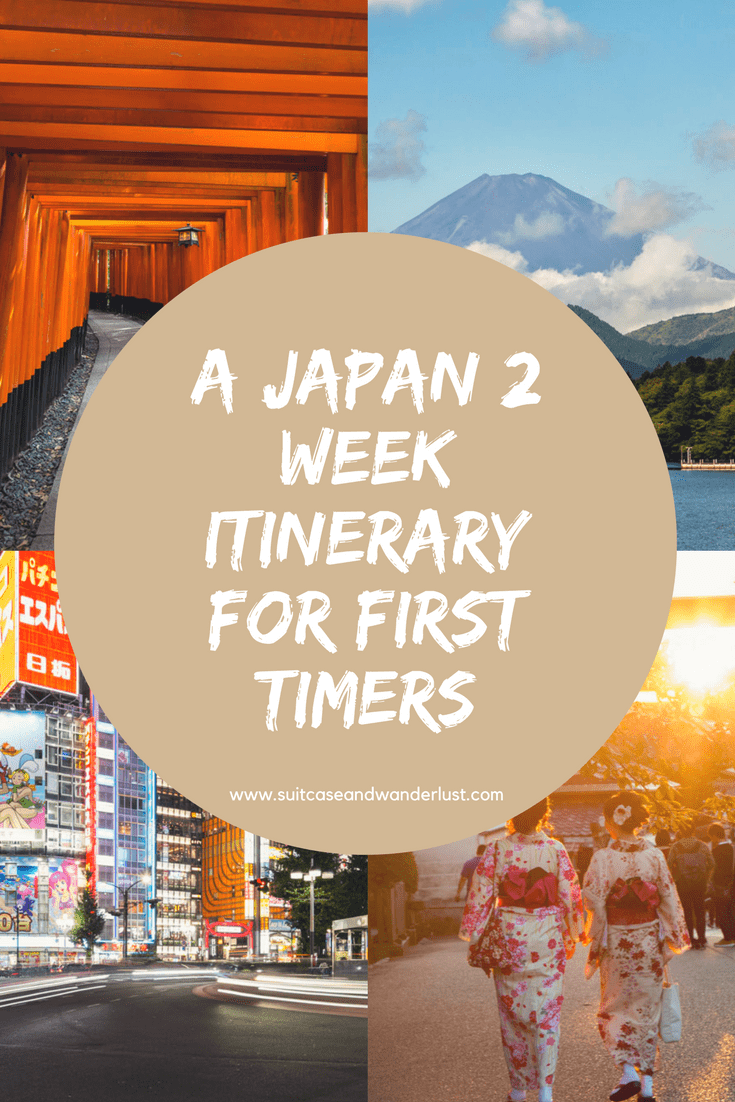 MerkenMerken
MerkenMerken
MerkenMerken
MerkenMerken
MerkenMerken
MerkenMerken
MerkenMerken
MerkenMerken
MerkenMerken
MerkenMerken
MerkenMerken
MerkenMerken
MerkenMerken
MerkenMerken
MerkenMerken
MerkenMerken
MerkenMerken
Disclaimer: This article contains affiliate links which means I will earn a small commission if you purchase/book through my links. This is without extra costs for you but it helps me to keep this blog afloat. Thank you for your support.
MerkenMerken
MerkenMerken
MerkenMerken
MerkenMerken
MerkenMerken