Palermo surprised me in a positive way. From the 1st minute on I felt completely safe and really good in this filthy city with so many wrecked buildings. Yes, dirty and decayed. Or quite simply edgy. The city has its edges but it has one thing above all: a whole lot of life. Have you had Palermo on your bucket list so far? If not, then maybe my quick guide with things to do in Palermo will convince you to take a trip to Sicily's capital.
Vibrant districts in the historic old town of Palermo
The old town of Palermo is a unique melting pot of cultures. At Quattro Canti, a magnificent square, the four districts of the first district meet: 
Seralcadio (Il Capo, Mandamento Monte di Pietà): The quarter is known for its market and the imposing opera house, the Teatro Massimo. The alleys of Il Capo invite you to simply submerge and drift. 
Kalsa (Mandamento Tribunali): The name Kalsa comes from the Arabic and means pure, genuine. This quarter is one of the oldest Palermos and is so rich in churches, historical buildings and beautiful palazzi.
La Loggia (Castellammare): Here in La Loggia you find the famous Vucciria market, which today has little to do with a market. But from 8 pm Vucciria comes to life and an aperitivo can easily last into the early morning hours.
Albergheria (Mandamento Palazzo Reale): The quarter of the Royal Palace and the Bellarò Market, which disappeared many years ago and has only been revived a few years ago. In this area, you will also find many restaurants and cafés. 
What is Palermo all about?
I like clean cities. And I get really angry when I see littered landscapes. Palermo is dirty and littered. But it has a tremendous portion of charm that I have overlooked this imperfection. For me, it just belonged to the city. It's what makes her special. Not only, of course. Palermo has such a great cultural mix, it's a real melting pot. And you find these different influences in the neighbourhoods, in the architecture and in the food. Somehow,  you don't feel like walking through a European city, it feels different. Anyway, Palermo has a lot of flair and atmosphere if you immerse yourself in it.
PALERMO QUICK GUIDE: 9 THINGS TO DO IN PALERMO
1. Strolling through the markets
The markets Il Capo in Via Cappuccinelle and Bellarò in Via Dalmazio Birago invite you to taste and stroll. The fresh, ripe fruit and vegetables let the water melt in your mouth. You can also find pestos and jams in the markets. And of course: fish. I think that Italian markets have a very special flair, especially the further south you go.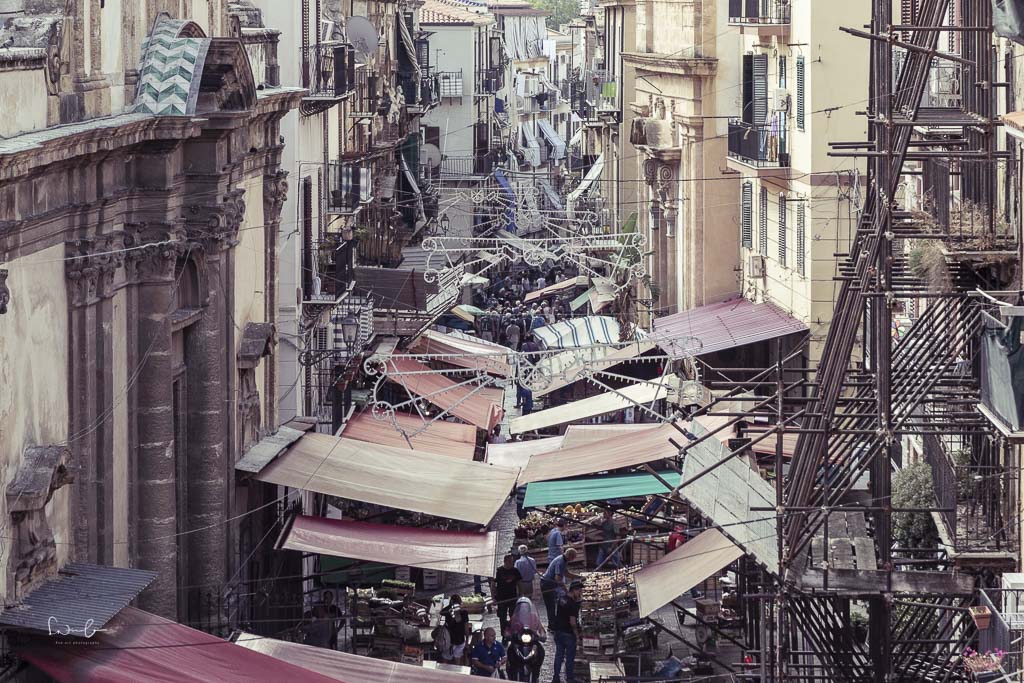 The many different cultural influences have also had a culinary influence on Sicily. The three-hour street food tour takes you to places where you can try authentic food such as a Spleen sandwich or Arancina. With a guide, you'll explore authentic restaurants, bars and street food stalls. You'll also learn a lot about history and meet some nice folks from other countries. 
3. Visit the oldest Gelateria
Do you like ice cream? Then you should visit the oldest Gelateria in town: I'm quite certain you'll find your favourite kind in the Antica Gelateria sea on the promenade by the sea (Via Messina Marine, 301).
4. The Cathedral of Palermo
The Cathedral of Palermo is an architectural masterpiece with Byzantine Islamic and Latin elements that, among other things, contribute to the Cathedral being listed as a UNESCO World Heritage Site. For 5 euros you can take the lift up to the roof to enjoy a beautiful view of Palermo. In summer, two evenings a week you can ride up to the roof until late in the evening – a fantastic opportunity to see Palermo at night. 
Opening hours: 7am – 7pm (Sundays 8am – 7pm)
Admission to the cathedral is free. The combination ticket tombs and roof is 10 Euro.
5. The Norman Palace and the Cappella Palatina
The Norman Palace (also Palazzo dei Normanni or Palazzo Reale) with the Palatina Chapel is certainly one of the most famous sights of Palermo. From the entrance, you enter a square arcade courtyard and from there into the golden Palatina Chapel. 
Monday / Saturday from 8.15 am to 5.40 pm (last ticket at 4.00 pm)
Sunday and holidays from 8.15 to 1.00 pm (last ticket at 12.00 pm)
Admission: 12 Euro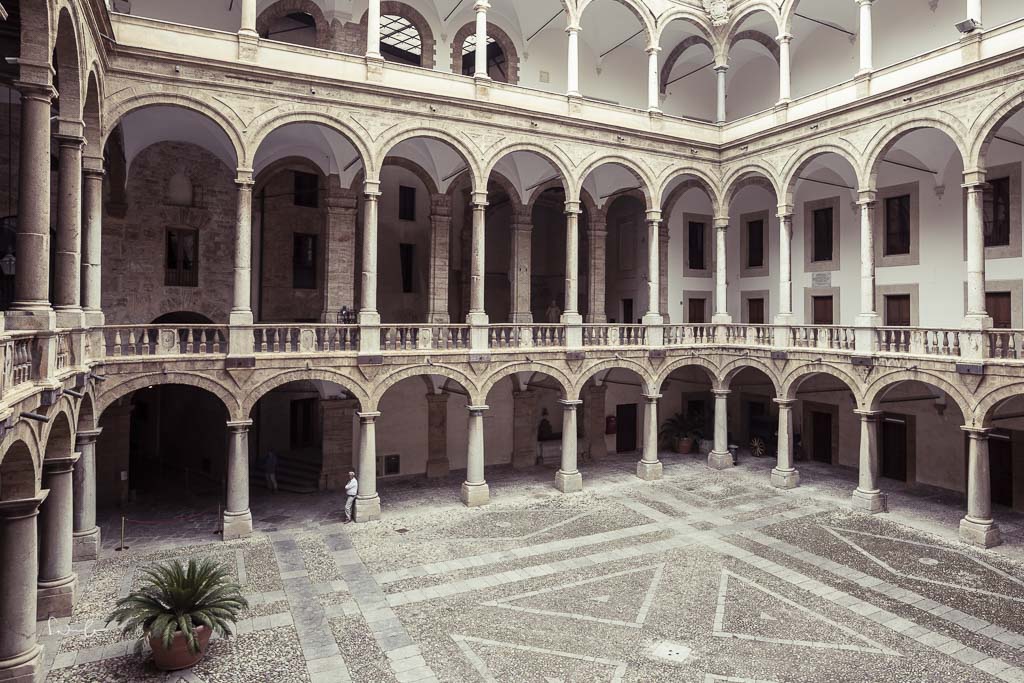 6. Being lazy and still sightseeing the city
Hop-on hop-off tours are a great way to see the city in a very comfortable way. When I am tired or the heat is unbearable, I get on a hop-on-hop-off bus from time to time. In Palermo there are 2 routes that you can ride with one ticket: Start at the Teatro Politeama or at the Opera and discover the magnificent square Quattro Canti, where the 4 districts of the old town come together. Continue to the Vucciria market, Palazzo Steri and the botanical gardens. On the second Palermo route, you can see the beautiful villas and the Castello della Zisa. It goes past the Mercato del Capo, the Teatro Massimo and towards the port.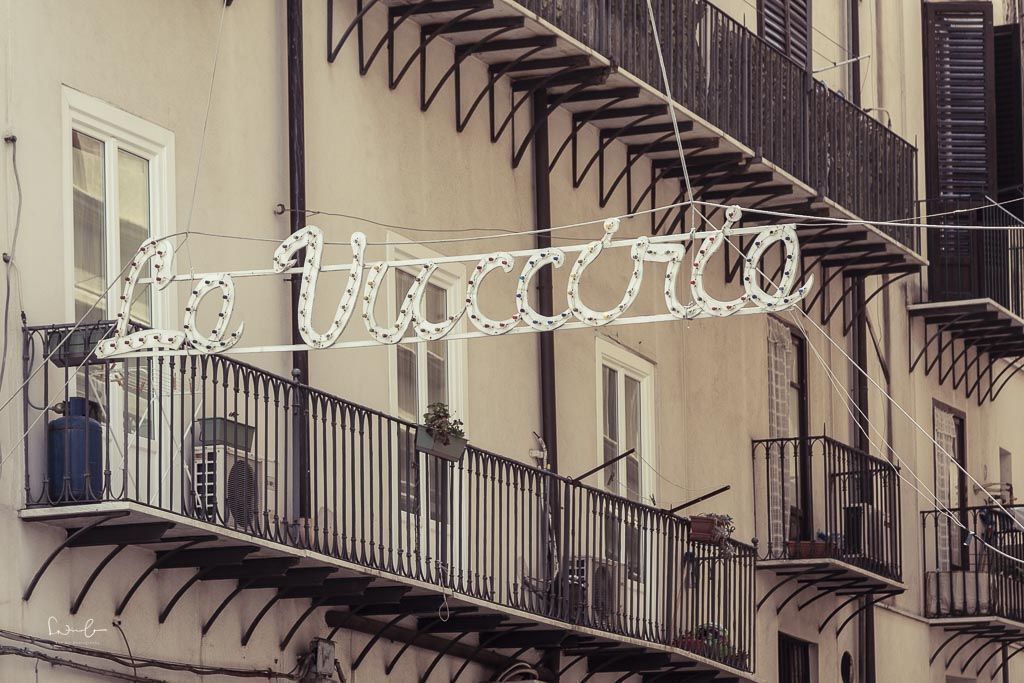 Palermo has a local mountain, Monte Pellegrino. How about an excursion into the countryside to escape the city for a few hours? The 606-metre high mountain has beautiful trails for hiking and cycling and above all, it offers a sensational view. If you're in Palermo by car, you'll find parking otherwise the public bus is a good alternative, e.g. to get you from the train station in about an hour. 
8. Palermo tip: A sundowner on the roof terrace
Italy connoisseurs know that the famous department store La Rinascente is located at the best address in nearly every city and usually even has a roof terrace. La Rinascente in Palermo in Via Roma 289 is an ideal place to have an aperitif at sunset and watch the hustle and bustle on the San Domenico square below. 
Palermo is one of those cities where you can float without having a plan. You will discover beautiful squares, noble villas, unique bars, markets, fascinating buildings and many different facets of this culturally diverse city. If I may give you the ultimate tip for Palermo, it would be this: just go with your flow and enjoy the vibrant life of the city. 
La Galleria, Salita Ramirez, 2
La Locanda del Gusto, Via Vittorio Emanuele, 316
I Cucci Bistrorante, Piazza Bologni, 3/4 (with own bakery)
Buatta Cucina Popolana, Via Vittorio Emanuele, 176
Ferro di Cavallo, Via Venezia 20 – very authentic
Antica Focacceria San Francisco, Via Alessandro Paternostro, 58
Aperitivo and Bar: Mak Mixology – a "lost place" that has been converted into a bar
Where to stay in Palermo? Hotel tips for every budget:
Palermo has a well-developed bus network. For me, Google Maps is one of the best apps also for public transport, just because it determines my current location automatically if I allow the location. 
From the airport, which is about 35 kilometres away from Palermo, you can reach the city by bus in about 1 hour.  
Disclaimer: This article contains affiliate links marked with *. It means I will get a small commission if you book/buy via my link. This is at no extra cost for you.