Bagan is a wonderful landscape with thousands of pagodas amidst an impressive scenery. The city is native, the villages even more. Bagan is even mystic with these wonderful sunsets which enchant everyone. These are the things to do in Bagan.
My flight from Mandalay to Bagan was early morning and it's totally sufficient to be at the airport one hour before departure. After check-in and security check, however, go immediately to the departure gate. Sometimes the flights leave earlier than scheduled. I am not sure if the plane would leave if you're not there although you've checked in, I wouldn't give it a try.
Bagan is totally different than Mandalay. It is not a city like Mandalay, but a landscape with thousands of pagodas. I stayed in the Thande Hotel in Old Bagan*, whereas in New Bagan or Nyaung -U you have all the restaurants. I preferred to stay in a hotel with a pool for a siesta in the afternoon, although the location is not ideal for the evening because you cannot get away easily. I called a taxi once to have dinner in Nyaung-U and couldn't get one on my way back. The owner of the restaurant was so kind and gave me a lift. Lucky me…
The devastating earthquake in August 2016 has destroyed several pagodas completely and damaged many of them. I was there in January 2017 and still many were closed. Myanmar has been trying for Bagan to get recognition as a UNESCO World Heritage Site for many years, but still without success. However, UNESCO experts are already working with Bagan's archaeological team. Let's hope, this is a step towards the recognition.
MerkenMerken
MerkenMerken
MerkenMerken
MerkenMerken
Get an e-scooter, drive through the landscape and get familiar with the place. Here are my suggestions of things to do in Bagan:
1 – Witness a sunrise
Bagan is a magic place, so are the sunrises there. You can only say you've seen a sunrise if you've seen it from the top of one of the temples. I've chosen She Myet Hna Temple in Old Bagan. The short distance to my hotel was too tempting and at the end, it was a great choice. I was there very early at 5 am, which was a little bit too early. 6 am would have been just fine, but don't get there later since you won't be the only one. In fact, all the temples, especially the ones with the nice views, are getting very crowded and you want to catch a good spot where you can set up your gear. Take a warm jacket with you, it's a bit chilly this time of the day. I had a very warm wind stopper, but my feet were frozen after nearly four hours on top of the temple. Remember, no shoes, no socks…
At around 7.30 you see the first hot-air balloons rising and after a while, it seems like there are hundreds. It is an amazing spectacle and getting up so early definitely pays off. The view from She Myet Hna is just perfect. Don't forget to bring your tripod with you. If you're inspired by the hot-air balloons in Bagan, read Péricles' experience about his exciting ride.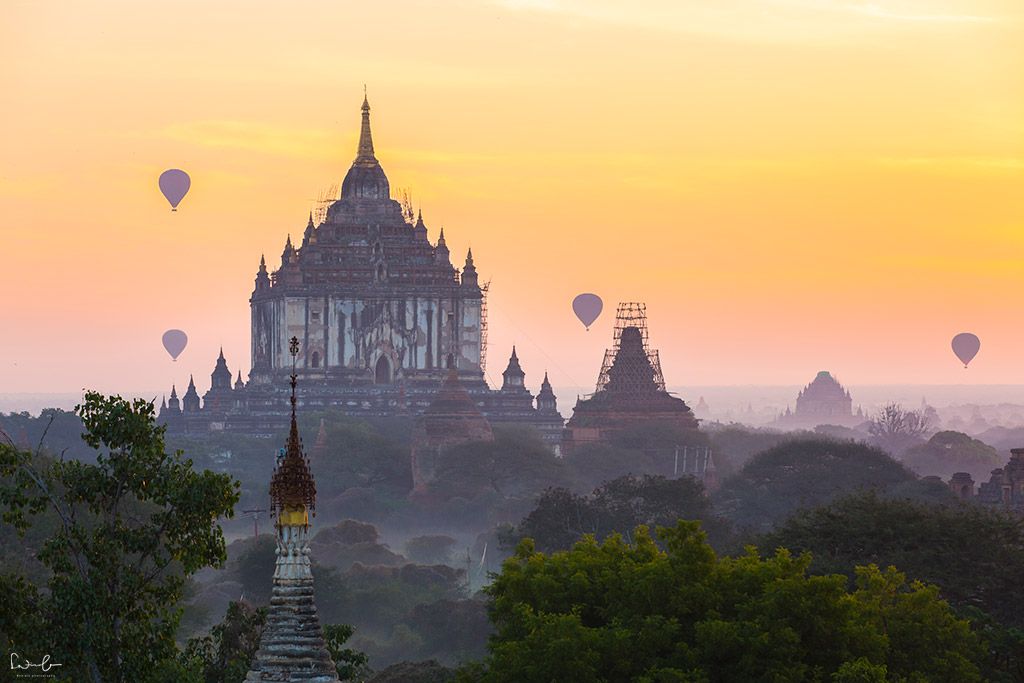 2 – Watch a sunset
Sunsets are even more spectacular than sunrises, but this is probably because I'm not very much a morning person. Maria Carey once said, "I don't do stairs". Well, I don't really do mornings… Each Began visitor is on one of the pagodas to view the sunset. Make sure you're there a bit earlier in order to get a good spot to set up your gear (tripod!). I've tried my luck for awesome sunset photos on two different ones: Pya Tha Gyi and Taung Guni Temple (South Guni). The view from Pya Tha Gyi is much better and from there you can frame beautiful images. After the sun goes down it gets dark and a bit chilly really quickly. Bring a sweater with you.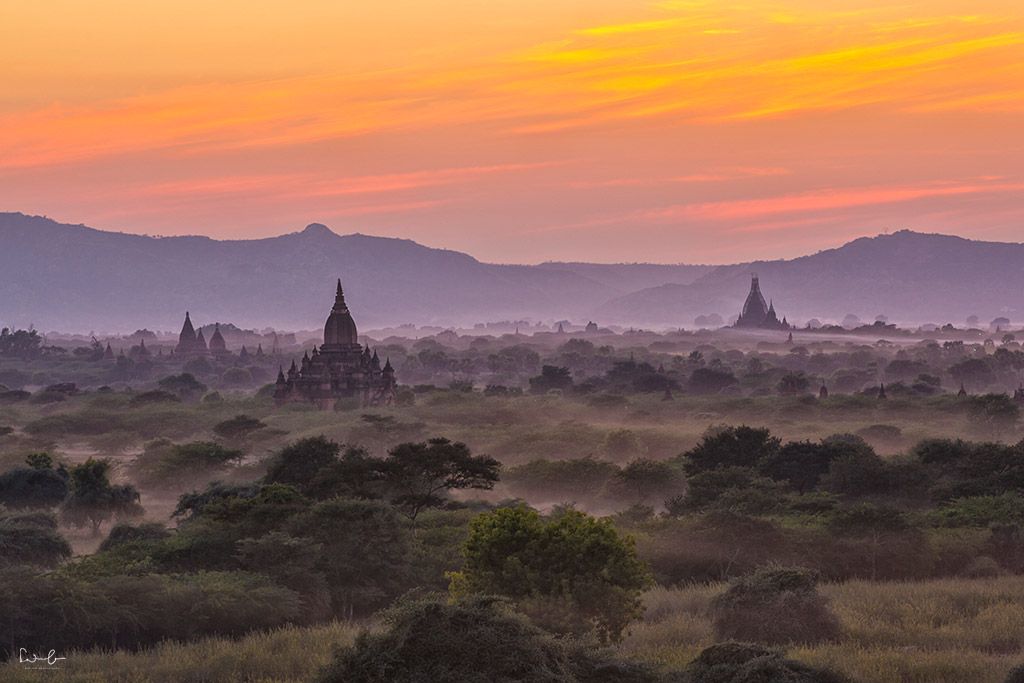 2019 Update on climbing on Pagodas:
Since the beginning of 2018 many temples are closed and can no longer be climbed. Myanmar wants to protect its precious monuments by this action. 
This has made it more difficult to find good places for sunrises and sunsets. Here is a list of temples that – according to the latest information – are still open:
Since the beginning of 2018 many temples are closed and can no longer be climbed. Myanmar wants to protect its precious monuments by this action. 
Taung Guni 
Tempel 861 hinter Dhammayazika Pagoda
Pagoda 669 für Sonnenuntergang
Sunrise/Sunset Pagoda (Google Maps)
Near the Utrecht Pagoda there are supposed to be a few temples that are still open.
The best thing to do is to ride the e-Scooter through the pagoda landscape and explore the area. If you have tips for me, let me know to extend the list for all travelers. 
There's also the option of taking an "unofficial" guide who knows exactly which pagodas you can still climb. 
3 – Visit a monastery
After my visit to the monastery in Mandalay with the tourists en masse I was so grateful to find two monasteries in Bagan with nearly no other people. Either I was lucky or maybe I found hidden gems…
The first one is Kyat Kan Umin monastery in the middle of the pagoda landscape. It is a very small monastery with only four monks. I walked down a few steps of a building without knowing what's in there and all of a sudden I realized it was a monastery. There are some underground alleyways in which the monks have a rest, sleep or pray. It's a bit spooky there. Back upstairs you can walk through the building and probably find the spiritual head eating his chicken and rice. He's not bothered by people passing his living room where he eats and sleeps. I can't really describe what I saw and how I felt, it seemed to be so unreal to me.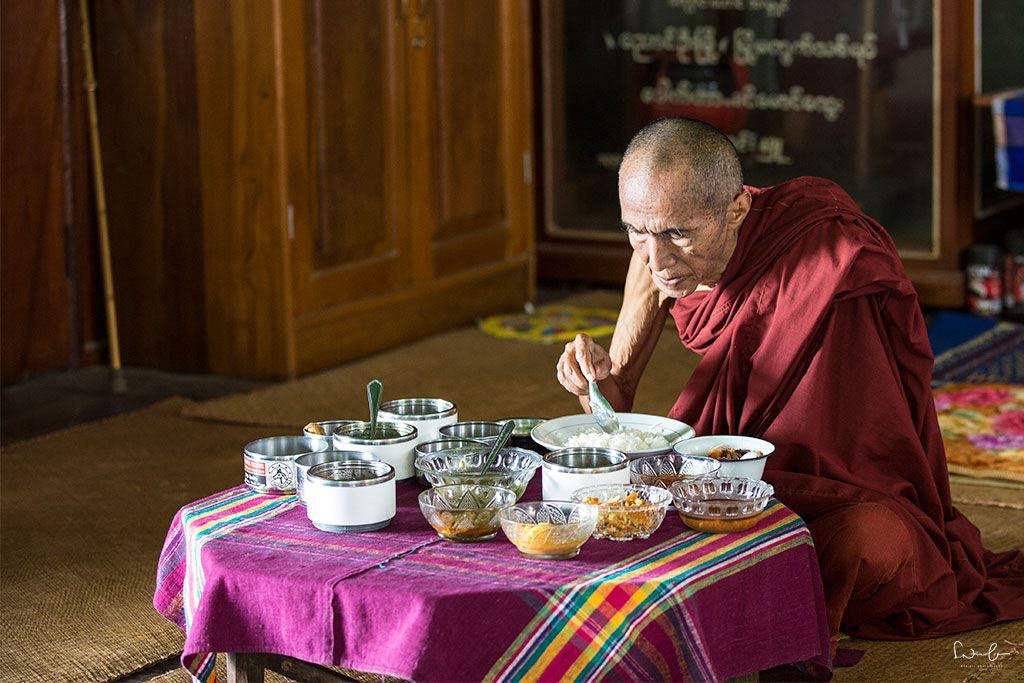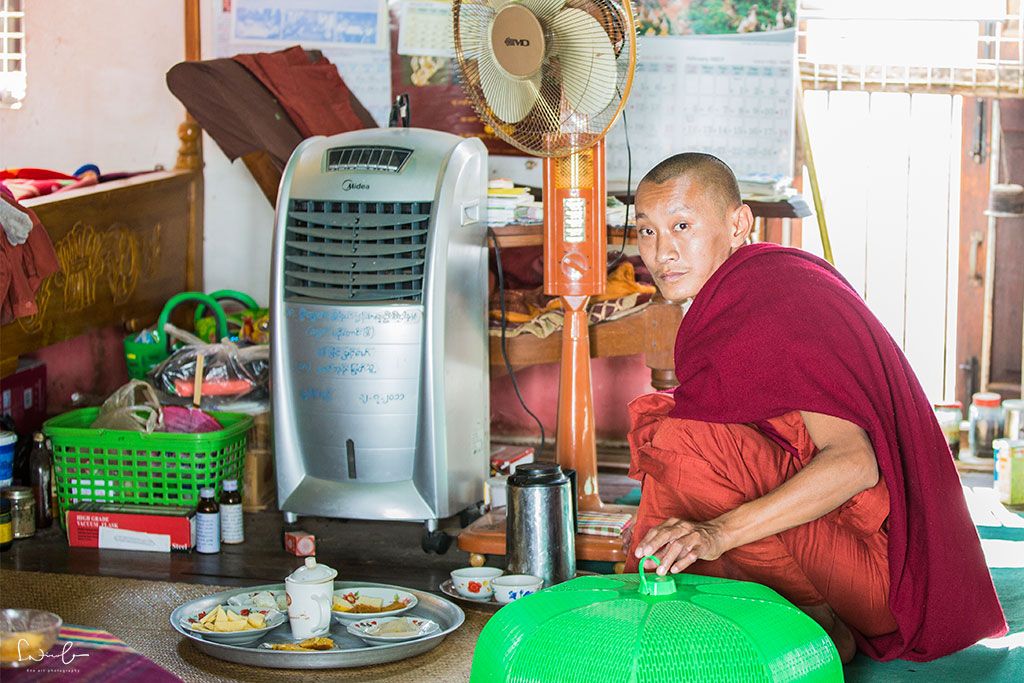 Back outside I sat down on a bench next to a very old man from Bagan. We started a conversation and he asked a lot of questions about me and my life, in particular, my love live… Suddenly he told me that he doesn't have a wife, but feels like it would be time to get one. Well, guess what's next: He said, "you beautiful, you interested?" Nice, isn't it? I could have said yes and would now be married in Bagan selling postcards and longyis to you guys 🙂
The other monastery I strongly recommend you to visit is Lawkanandar in New Bagan just by the river. There is some kind of a village square behind the monastery where many of the very old village ladies meet for a chat. They are very lovely, invite you to food and water and don't mind to be photographed. Find a bench to sit down and watch the goings-on. The young novices are playing football in the backyard, the little ones are running around and playing. You will find many sceneries from just one single spot. At around 11 am the monks and novices line up to get their food. You can watch that as well, you're even allowed to enter the dining hall.
4 – Photograph the cattle

What? Yes, it sounds a bit odd but the local people with their cattle is a great subject for a photo. But you have to be a little bit patient because you never know when the herd's coming your way. I tried my luck just behind South Guni at around 4 pm. It took a while until the first shepherd with his goats walked towards me. It was not very spectacular, at least not what I was aiming for. When I already wanted to call it a day, the big moment finally arrived. A huge herd of cattle appeared right in front of me and suddenly I was right in between them and pressed the shutter nonstop.
I have to admit, capturing this scenery was not my idea. Thanks to Vincent, a Canadian photographer, who gave me the hint.
All you need for this excursion is your e-scooter, water, a hat, sunglasses and your camera. Be aware of the dust and make sure to add a protection filter on the lens. And don't forget to clean it afterward.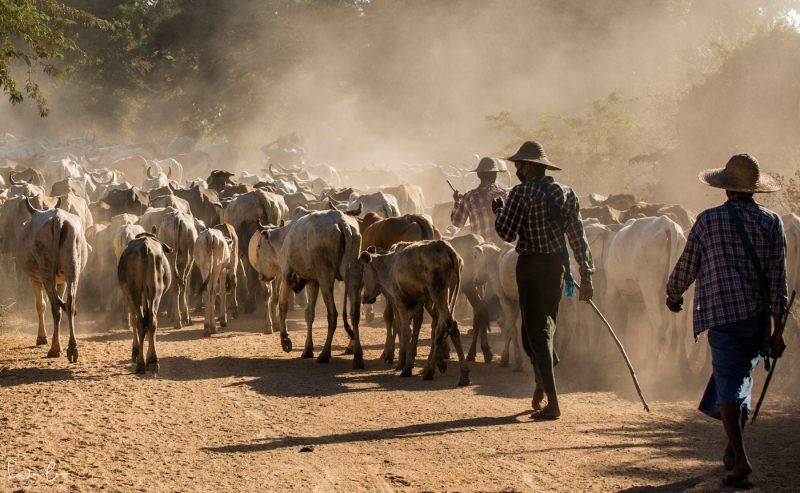 5 – Lacquerware
Myanmar is famous for its lacquerware. Introducing the Jasmine family in Bagan. Shein Aung and his family is producing lacquerware. And he is very proud of his products and moreover about the technique and the natural materials he is using. And he can be very proud. His lacquer ware is simply beautiful. Each piece has up to 14 layers of lacquer and it can take up to 4-5 months until it is finished. No chemical adhesives are used, differently than some other producers do.
If you ever visit Bagan, pass by the Jasmine family. They are happy to show you around and tell you more about the production. You can find them on Facebook or on trip advisor.
What do you think of Bagan? Have you been there and liked it? Read my Mandalay article or see some photographs of the famous fishermen of Inle Lake.