If you want to see every corner of the world in one city, you should visit New York. And by New York I do not mean Manhattan but also its other boroughs Brooklyn, Queen, Staten Island and The Bronx. Many tourists spend their time in New York in Manhattan while the outer boroughs have so many attractive sights. And besides, you can find edgy, vibrant and historic corners of the city outside of Manhattan.
I asked 16 travel bloggers to reveal their personal New York insider tips: must-see tips for visiting New York for the first time as well as all-time favorites and off the beaten paths things.
#01 - State of Liberty for FREE
By Chrysoula from travelpassionate.com
While New York is known for being one of the most expensive tourist destinations in the world, there are plenty of tips and tricks you can use to save money while still experiencing the highlights of The Big Apple. One of the best New York hacks is to use the Staten Island Ferry to see the world-famous Statue of Liberty. You could easily spend upwards of $20 on a Statue of Liberty tour, but the Staten Island Ferry takes you right past it absolutely free!
Head down to Lower Manhattan to catch the ferry from the Whitehall Terminal over to St George's on Staten Island. For the best views, you'll want to be located on the right side of the ship on the way to Staten Island and the left on the way back. You can either decide to hang about on Staten Island to visit attractions such as the Snug Harbor Cultural Center and Botanical Garden or simply hop off and re-board the next boat going back to Manhattan.
#02 - Rooftop with happy hour prices
By Taima from poorinaprivateplane.com
Visiting a Rooftop is a right of passage in NYC. The views, the people, the drinks…. BUT rooftops can be expensive. I mean $20 for a drink. No thank you.
However, what if I told you that there was a way to hang out on a rooftop in NYC without clearing out your wallet or even standing in line.
The trick is to be on the look for Happy Hours. Before heading out go to the site for your favorite rooftop or bar and check to see if they have a happy hour. Some do not advertise it so a phone call might also do the trick. You will be surprised at how many places actually have happy hours.
Some of my favorite: 
Hotel Hugo in Soho
Monday – Friday, 5PM – 8PM
Select Beer $6 | House Wine $8 | Well Mixed Drinks $9 | Specialty Cocktails $10

230 Fifth Avenue (Amazing Views of the Empire State Building)
Monday-Friday 4PM-7PM
Beer $7 | Wine $8 | Cocktails $9-$10
Rooftop 93
Happy Hour is daily from 5pm-8pm
Beer and Cocktails are $7
Specialty Cocktails are Buy One Get One 50% off.
So next time you're in the city don't forget to check out one of the NYC Rooftop Happy Hours.
By James from Travel Collecting
As a New Yorker, one of my favorite things to do is seek out fun foods that originated in the city. Of course, there are classic staples like New York cheesecake at Juniors; New York pizza at Garibaldis or Johns on Bleecker; a New York hotdog at Nathan's on Coney Island or any hot dog stand in Manhattan; and towering pastrami on rye at Katz's Deli in the Lower East Side.
But there are plenty of modern fun food fads too. You can't miss the original cronut at Dominque Ansel Bakery in Soho. Cronuts are a cross between a croissant and a donut. They are shaped like a donut, flaky and buttery like a croissant, filled with a gooey filling and topped with a ganache. They are pure decadent heaven! Flavors change every month. The bakery opens at 8:00am and the cronuts do sell out. They also have DKAs – delicious caramelized croissants cooked in a cup. Another NYC original is Crack Pie – so named because it is as addictive as … well, you get the idea. They were created by celebrity chef Christina Tosi for Momofuku's Milk Bar. It is sugary, buttery delight in an oatmeal cookie crust. There are several hole-in-the-wall locations around the city. There are many more famous New York foods, but these are just some of my favorites.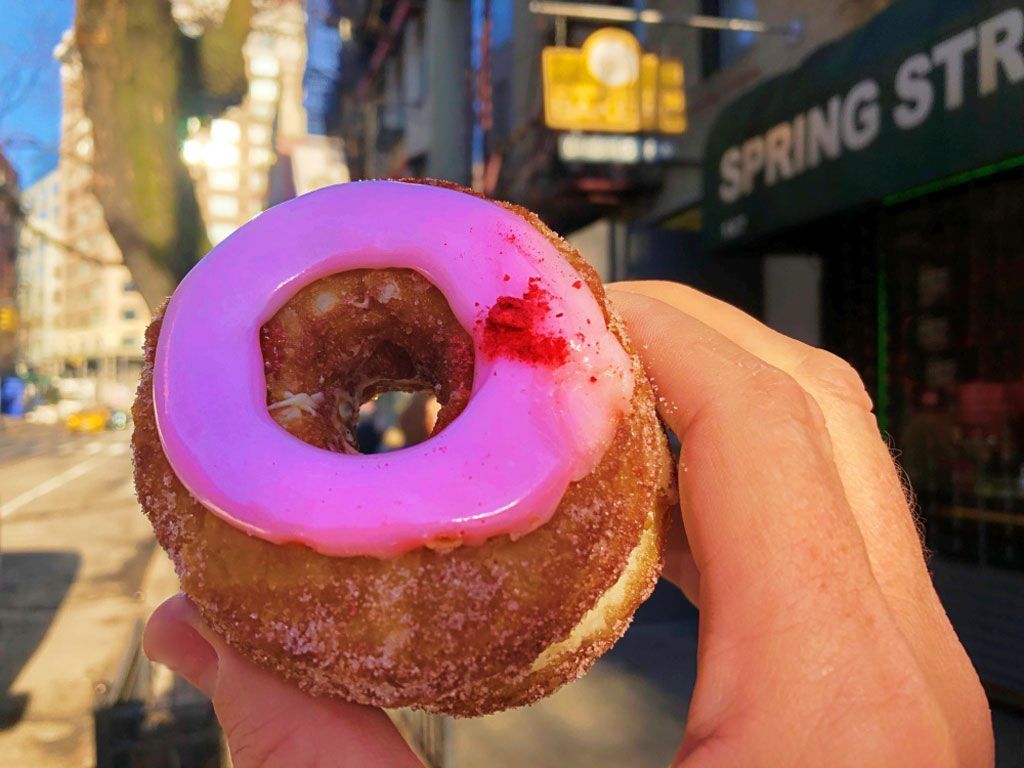 #04 - Museum of the Moving Image
A relatively new and smaller museum by comparison to its better-known counterparts, the Museum of the Moving Image maintains the country's most robust collection of artifacts related to motion pictures, television, and digital media. The museum can be fully explored in 1.5-3 hours leaving visitors plenty of time to grab a meal in one of the most diverse neighborhoods of NYC. 
Accessible via subway or a short cab ride from Manhattan, the museum is open Wednesday through Sunday with free admission hours on Friday evenings. For current hours and pricing, visit the museum website. As with any NYC museum, the least crowded hours are weekdays and right at opening on weekends.
The anchor exhibition, Behind the Scenes, presents a complete history of tools and the editing and post-production process with plenty of hands-on and interactive elements to explore. Additionally, the Jim Henson Exhibition will delight any visitor who has nostalgic memories of watching the Muppets and Sesame Street from childhood.
After visiting the museum be sure to enjoy some neighborhood eats. Pye Boat Noodle for Thai and Latin Cabana for Cuban are local favorites that won't disappoint. 
#05 - Top New York tourist tip: Get the CityPASS
By Kirsten from kidsaretrip.com
If you want to see New York City on a budget, one of the best ideas is to invest in a CityPASS. These passes combine the most popular attractions in the city and give you discounted admission (from 30 to 44% off).
There are two options for CityPASS in New York, the general one that allows visitors to choose six attractions, and the C3, which allows the choice of three attractions. Most people visiting NYC want to see the main sights, including the Statue of Liberty, 9/11 Museum, The Metropolitan Museum of Art, and the Empire State building. All of these are included in both the general and C3 passes, the only decision you have to make is which pass to buy.
A couple things of note: the tickets are delivered to your phone, making them easy to find. Admission is valid for 9 consecutive days starting with the first day of use, and having a CityPASS allows you to skip the line at some attractions. With all of these benefits, it seems like a no brainer to invest in a CityPASS to save time and skip the line in NYC.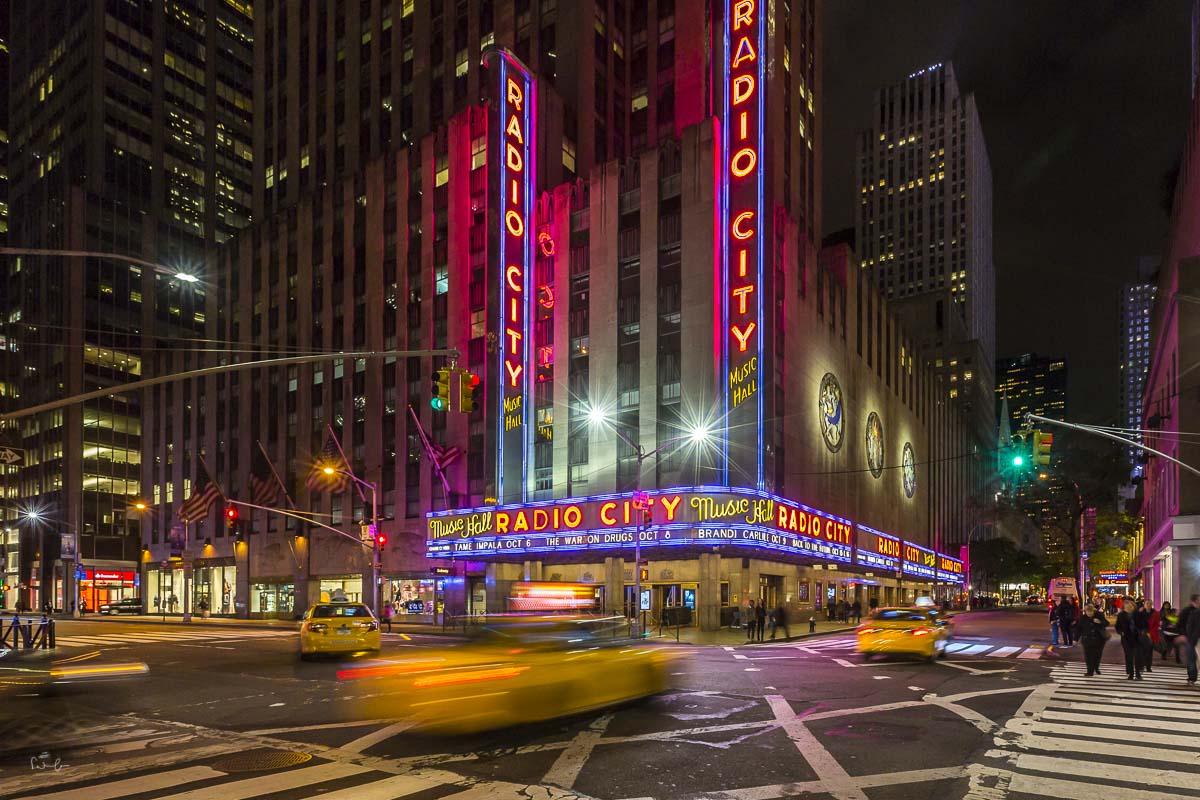 #06 - Not to miss on your trip to New York: The real Little Italy of New York
By Ruth from Tanamatales.com
Not to miss on your trip to New York: The real Little Italy of New York
For many years, tourists have flocked to Manhattan's Little Italy.  The area is full of eateries, bakeries, expresso bars, colorful murals, and quirky souvenir shops.  However, the reality is that the Italians are long gone from this part of the city and a substantial level of authenticity has been lost as a consequence.
But, not all is lost.  If you want to experience a massive dose of Italian culture (and food), head to Arthur Avenue in The Bronx.  The zone has stayed true to its Italian roots even after exponential population growth and diversification. New Yorkers and fellows from other states meet here to enjoy a slice of the "dolce vita."
When in the area, visit the Arthur Avenue Retail Market, a covered hall selling fresh goods and specialties from different regions of Italy.  Mike's Deli serves massive sandwiches and antipasto platters.
For home-made mozzarella, ricotta and provolone, visit Casa della Mozarella. Borgatti's seems to be the most popular place for fresh pasta and noodles. Do not miss the Calabria Pork Store, a delicatessen where hundreds of sausages hang from the ceiling.
Mario's, Tra di Noi and Zero Otto Nove serve ridiculously good versions of Italian classics.  Egidio, Gino, and Artuso are must-visit places for cannoli, tiramisu, and more.
If you make it all the way to The Bronx, you can combine your visit to Arthur Avenue with the Bronx Zoo or the New York Botanical Garden. 
3 tips* for visiting New York for the first time
#07 - Top thing to see in New York: The Vessel
By Tayler from Travelingtayler.com
For a unique visitor attraction in NYC, head to the Vessel in Hudson Yards. This 16-story honeycomb structure opened in 2019 and is unlike any other. Add to it that entry is free and you've got yourself a day of fun in NYC! 
Because of the reflective surface, there is always something new and interesting to look at with each head turn. Whether it's the reflection of floating clouds above, high rise buildings to each side or yourself in the zig- zag rails, the place is a creative photographer's dream. And when you get turned around the Hudson River, viewable from the top, is there to keep you grounded. 
To see the main centerpiece of the Hudson Yards Public Square, take the 7 line to the last stop, Hudson Yards, and exit to the right. After your time walking through the Vessel there is an indoor shopping center next door to explore or you can take a stroll over to the river. 
#08 - First time in New York City? ​Walk the High Line
By Vicki from Vickiviaja.com
One of the many activities in New York that few visitors know about is the so-called High Line. The High Line is a former railway line that runs approximately 1½ km through Chelsea and the Meatpacking District. Even though no trains are running these days anymore, you can use the train tracks to take a stroll through New York.
On the way, you will find great street artworks everywhere, and snacks and drinks are offered. However, also the chairs and sunbeds that are along the route invite you to linger. Between the plants and trees that were planted along the former tracks, you could easily forget that you are actually in the urban jungle of Manhattan. Only a few viewpoints on the High Line remind you of it.
Another significant part about this New York City attraction is that not only tourists can be found here. Also, locals love to visit High Line to spend some hours outside to relax after work and on the weekends.
And the best thing about this activity is that you don't need any New York passes or tickets, because entry to the High Line is entirely free.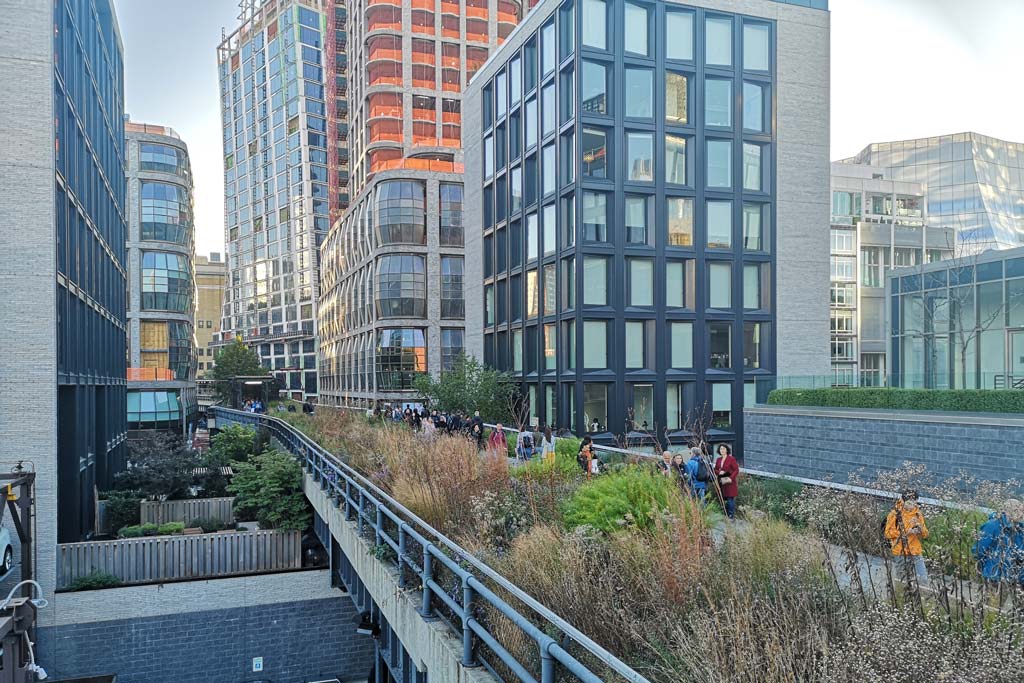 #09 - The best New York City skyline view
By Cielomaeh from Skylar Arias Adventures
When planning a trip to NYC, don't miss a visit to Liberty State Park across the river in New Jersey. At Liberty State Park, not only do you get the most amazing views of the New York City skyline, Ellis Island and the Statue of Liberty is close by as well. You can take a ferry to Ellis Island and the Statue of Liberty from here.
Liberty State Park is one of the best places to visit if you need a city break, with the amazing green space, walking trails, playgrounds for kids, a picnic area, and the two-mile-long promenade, perfect for a leisurely stroll, jog or a bike ride. The best part is parking is free if you're driving here, or you can get on the Liberty Landing Ferry from Manhattan to the Liberty Landing Marina, which is just a short walk away. 
#10 - Must see on your trip to New York: The Botanical Garden
If you're looking for an oasis in which to escape the chaos of the concrete jungle, head to Brooklyn Botanical Gardens located in Mount Prospect Park. Approximately 12,000 plant species can be found within the garden's 52-acre site. With an abundance of flowers and insects, this is a dream location for macro photography enthusiasts, as well as those keen to capture New York's birdlife beyond the pigeons of Manhattan.
Spending the afternoon meandering through the varied gardens and climate-controlled conservatories that introduce the flora that flourishes in different parts of the world is a welcome break from the usually crowded tourist sites. Don't miss the bonsai museum and, for families, the Discovery Garden is a wonderful hands-on exhibit sure to spark the interest and curiosity of little ones. If you're there in Spring, the cherry blossom festival, Hanami, is held on Cherry Esplanade and makes for some beautiful landscape shots.
On a still day, head to the Japanese Hill-and-Pond Garden to capture the reflections. After an afternoon in the garden, you'll certainly return from your trip with some unique photographs that no one will guess is New York! 
#11 - A free thing to to in New York: Picnic and free games at Bryant Park
By Darcy from Plan, Ready, Go!
For a fun and cheap evening out while in New York City, enjoy a picnic dinner in Bryant Park and join in the free games there. Bryant Park is one of my favorite free things to do in New York City. You can find Bryant Park in Midtown Manhattan behind the New York Public Library, between 40th and 42nd Streets and Fifth and Sixth Avenues. Bryant Park is the largest park in the area, the former site of New York's semi-annual Fashion Week and a great place to hang out.
Grab picnic fixings at the Whole Foods right across the street from the park or pick up a delicious and affordable dinner one block from the park at the Kati Roll Company at 49 West 39th Street. There are plenty of tables and chairs in Bryant Park where you can enjoy your picnic meal. Though not available during the winter, a wide variety of table games from checkers to Yahtzee! are available and free to use. Regularly scheduled game nights and game tournaments are also free and open to the public.
#12 - New York travel tip: Greenwich Village food tour
By Margie from dqtravel.net
New York is filled with plenty of touristy fun, historical, and classic things to do. One of the most unique ways to tour the city is to take a food tour through one of its neighborhoods. Greenwich Village is one of those areas that feel as if you are walking through a movie set. The tree-lined streets, brownstones, and cafes are everywhere you turn and you've stepped away from the hustle of Times Square. One of the tips I always recommend to people who are looking for something different to do when visiting New York City is taking a food tour. The Greenwich Village Food Tour will end up being one of the highlights of the trip because not only will you eat delicious food, but you will learn about some of the culture and history of the area.
This food tour is centered around Italian food and guests taste cheese, pasta, meatballs, olive oil, pizza, soppressata, cookies, and cannoli. Tour groups are small (about 10-15 people) and the guide not only takes guests to quaint restaurants and shops but explains some fun trivia facts from TV and movie filmings. Overall, I highlight recommend taking this Italian food tour in Greenwich Village to experience a different side of New York.
By Annemarie from travelonthebrain.net
There are so many things you can do in NYC and when I stayed in the city for a month, I wanted to try something lesser-known. It was September and the weather sweltering, so I decided to check out the beaches around Hudson Bay.
The offseason was treating me well and I pretty much had Rockaway Beach in NYC to myself. It was fairly easy getting there. You take line 2/5 to the end and then hop on a local bus in front of Target. The sandy stretches of a beach feel like a million miles away from busy Manhattan.
There are some abandoned buildings and an old military fort around, in case you love urban exploring. From Seaside, you can take the Rockaway ferry back to Brooklyn or Manhattan for the same price as a single metro ticket. It's a great tour around the bay with views over Coney Island and Staten Island. Time it for sunset and it's extra special.
#14 - New York City tip from a local: Comedy Cellar
If you're looking for some of New York City's local flavor as well as a fun night out, check out the Comedy Cellar in Greenwich Village. Locals and tourists alike enjoy a rotating line-up of rising and celebrity comics who perform regularly in this basement comedy club.

You'll likely recognize a lot of the club's top performers as well as the venue's stage from popular TV shows and films showcasing New York's comedy scene. The Comedy Cellar is one of the top comedy clubs in the city and the country. Tickets sell out fast so get your reservation in advance. Together with its affiliate Village Underground, just around the corner, and the Olive Tree Café upstairs where performers hang out after the shows, the Comedy Cellar is one of New York's best off-the-beaten-path excursions.
#15 - NYC Bridges: Walk the Brooklyn and Bike the Manhattan
New York travel tip for an inexpensive adventure that offers some of the most iconic and insta-worthy views in all of NYC: walk the Brooklyn Bridge from Manhattan to Brooklyn and bike back via the Manhattan Bridge. You'll burn calories, make memories that will last a lifetime, and only spend a few dollars.
Before heading out, download the free Citi Bike app and register as a user. Add your credit card information, so you can rent your bike in Brooklyn in mere seconds.
From Manhattan, walk the Brooklyn Bridge, ensuring to stay in the pedestrian lane, stopping to take in the views of the bridge, Brooklyn in front of you, and the magnificent Manhattan skyline behind you. Don't miss Lady Liberty!
Once in Brooklyn, and after a slice of pizza and some exploration, head to the corner of Front St. & Washington, where you'll find multiple Citi Bikes waiting for you. Pick one that fits, adjusting if needed, and follow the prompts on your app to "rent" the bike for at least 30 minutes.
Hop on and head to the Chinatown Citi Bike station (Canal St. and Rutgers St.) via the Manhattan Bridge. While cruising the safe and private path, brake to enjoy the views, fresh air, and freedom to explore this amazing city.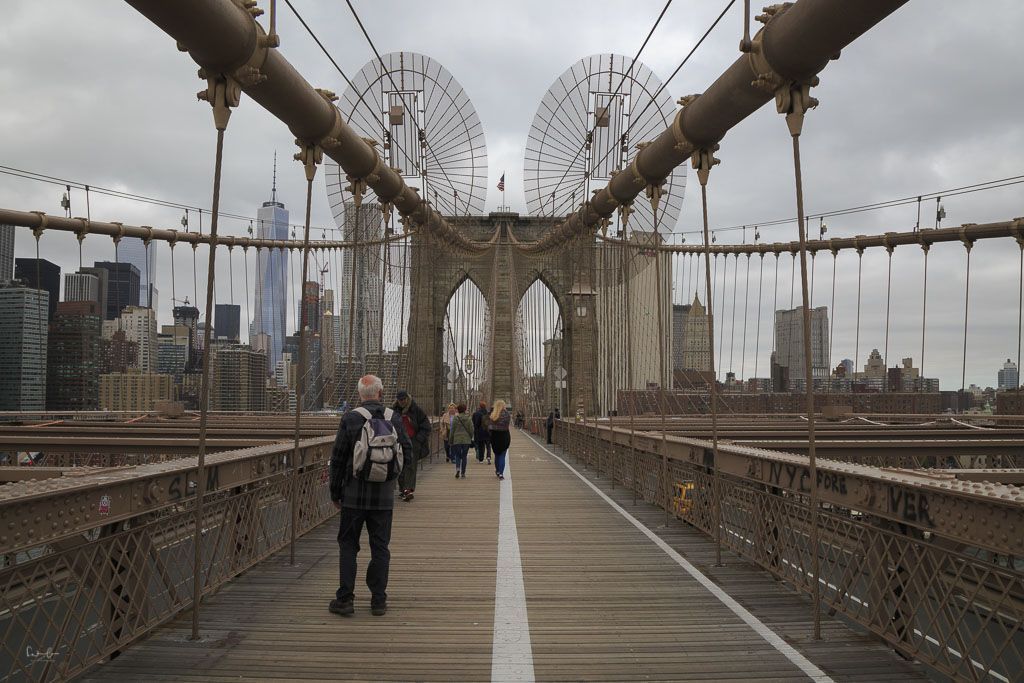 #16 - A great tip for New York City: visiting the Tenement Museum
Located on the Lower East Side of Manhattan, the Tenement Museum is a unique New York experience. The museum is housed in two former tenement buildings on Orchard Street. The museum seeks to tell the uniquely American story of immigration by providing details of how tenement-dwellers lived their lives.
Tenement apartments in the two buildings have been historically restored to illustrate the lives of immigrants in New York City in the 19th and 20th centuries. Walking tours of the tenement neighborhood on the Lower East Side provide fascinating insights into the working and educational lives of the tenement residents.
All visits to the Tenement Museum are via guided tour and provide fascinating, intimate glimpses into the past. You'll be riveted by the stories of the real people who lived in the tenement apartments. See, touch and experience the things they valued, their correspondence and documents and even some of the foodstuffs they ate.
I visit the Tenement Museum every time I'm in New York City. There are always new tours and experiences to try, with the latest being costumed interpreters. I can't wait for my next visit!
I've been to New York City a few times and there is always something new to explore.
A big THANK YOU to my travel blogger colleagues for these fantastic New York travel tips. I can't wait to visit New York again to follow your recommendations. 
Find a great hotel deal* right here, right now
Disclaimer: This article contains affiliate links marked with *. This means that I am getting a small commission if you book/buy via my link. This is at no extra cost for you.