…and everything you should know about the region.
The legendary Mt. Fuji, also called Fuji-san, is probably one of the sights you associate the most with Japan. Everyone visiting Japan is eager to see its mostly with a snow-covered cone-shaped top. The region around Mt. Fuji is one of the most beautiful nature resorts not only in Japan but all over the world. Here's the truth about viewing Mt. Fuji, the best way to see Mt. Fuji and why you should visit the Fuji-san region.
Content:
Facts about Mt. Fuji
Viewing spots
Tips to see Mt. Fuji
The region Hakone & Five Lakes
Onsen
Fuji Hakone Pass
Facts about Mt. Fuji
Fuji-san is a volcano with a height of 3.776 meters southwest of Tokyo at the border of the Yamanashi and Shizuoka prefecture. It has eight peaks and two other volcanoes within its giant volcano, the last eruption was in 1707. In the Japanese culture, Mt. Fuji is seen as a place of luck and good fortune. More than 200.000 people climb Mt. Fuji for two months in the year from July 1st to September 10th, when the mountain is free of snow and the weather conditions are good.
When I planned my 2 week Japan itinerary I was very sure to dedicate Hakone and Mt. Fuji a two-day slot. My number one goal was to see Mt. Fuji and I had no doubt I wouldn't. Well, it was a bit naive, not to think a bit further and do some research. The truth about viewing Mt. Fuji is, that the probability to actually see the mountaintop lies between 20 and 30 %, some say it's closer to 20 than to 30. He loves to hide behind clouds and there's nothing more frustrating to plan a trip and you have to leave without seeing Mt. Fuji.
Mt. Fuji viewing spots
There are many striking viewing spots and depending on the time you have available to explore the region and the weather conditions, here's a small selection:
Chureito Pagoda (2)
Located in the Arakurayama Sengen Park, the Chureito Pagoda is one of the most popular spots to see Mt. Fuji. Especially in spring during the cherry blossom season, the view of Mt. Fuji with the cherry blossoms below and the beautiful pagoda on the side is no doubt a breathtaking scenery. My first day in Hakone was a rainy day, but I tried my luck and headed to Sengen Park. My good vibes and hopes were not enough that day, Mt. Fuji kept hiding and what remained was a nice day trip, but a huge disappointment. I planned two days, booked an expensive hotel, took all the effort to get there and then I don't see Mt. Fuji? This couldn't be it.
I try to imagine the mountain in this photo. Can you do that, too? Please…
Lake Ashinoko (1)
There's a sightseeing cruise on Lake Ashinoko in Hakone leaving from Togendai to Hakonemachi, to Motohakone and back to Togendai. If you're lucky, Mt. Fuji shows his cone top on two positions during the cruise. And there was my chance. When I woke up on my day of departure, it was slowly clearing up and by the time I checked out of the hotel, it looked like it's going to be a sunny day. I went on this cruise and – halleluja – there he was. Mr. coy gave me the pleasure and showed up. Jeez! I was so happy. The sightseeing cruise on Lake Ashinoko is one of the best ways to see Mt. Fuji. Well, it was for me 😉
Even though I had two days in the Hakone region, there was not more time to investigate others places. Other spots you may want to try:
The northern shore of Lake Kawaguchiko (5)
Along the northern shore of Lake Yamanakako (3)
Northwestern shore of Lake Motosuko, but quite difficult to reach by public transport (6)
Fuji Shiba-sakura festival near Lake Motosuko between mid-April and June (7)
From the Fujibussharitoheiwa Park in Gotemba (4)
From Metropolitan Government Building or Skytree Tower in Tokyo
Tips to see Mt. Fuji
Since Mt. Fuji tends to be shy and only shows up on approximately 80 days a year, it is a mix of luck and planning to increase the chances to see him.
Be flexible:
Haha, I know, this is not an easy one if you're on a 2 week itinerary and have booked hotels already. If you intend to do a day trip from Tokyo, you have the flexibility to choose the day according to the weather forecast. You can buy the train tickets on the same day you do the trip, so this gives you even more flexibility.
Check the forecast:
Check the cloud and weather forecast for Shizuoka or Gotemba. If the cloud forecast is below 10%, the chance to see Mt. Fuji is very high and that's your go.
The season
Winter season is the season with more visibility while in summer it gets much more difficult to see Mt. Fuji.
The Hakone and Five Lake region
I didn't do a day trip from Tokyo but stayed in Hakone for two nights. The Fuji-san region is a beautiful area with its pristine lakes and lush nature. There are endless opportunities to spend the days and I would even tend to dedicate more time to the whole area than just two nights.
(Click on the map if you wish to download it.)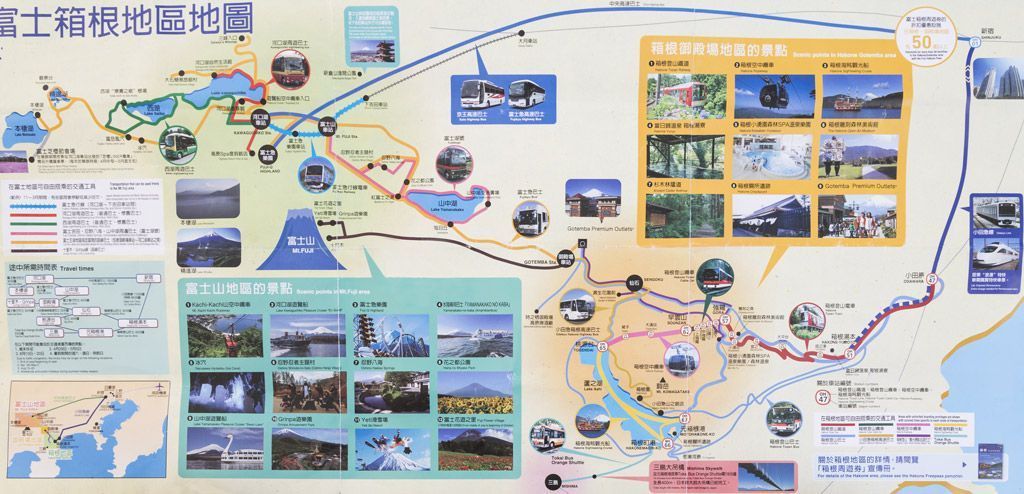 Hakone is a famous destination for its hot springs and traditional inns also called ryokan. It is part of the Fuji Hakone Izu Nationalpark and a wonderful place to get some fresh air and relax in the countryside. Lake Ashinoko offers an impressive view of Mt. Fuji with the red torii in the foreground.
I stayed in the Ashinoko Hanaori hotel* in Togendai at Lake Ashi. The hotel is new with a huge onsen, pretty rooms and a lovely garden. There is not much action around Togendai, so be prepared that it is very quiet in the evening. The hotel offers a buffet dinner where you can choose from a large variety of food. Lacking restaurants in Togendai it was a good choice to have dinner included.
The Five Lakes region with Kawaguchiko, Yamanakako, Saiko, Motosuko and Shojiko at the northern side of Mt. Fuji is the best place for hiking, camping and other outdoor activities. The Shiba-sakura festival is a very popular event in spring offering amazing views of the pink moss fields with Mt. Fuji in the background.
My tip: If you have two nights/days only, stay in one of both regions. The distance is quite far and you would lose much time sitting on the bus rather than exploring the area. I made the day trip from Togendai to Sengen Park and it took me the whole day to get there and back.
Onsen
An onsen is a Japanese hot spring but not only that: it plays an important role in the life of the Japanese. Bathing together is a relaxing activity and bonding the friendship. Except in some rural areas, the onsen is gender split. Some hotels offer private baths you can book for an hour or so.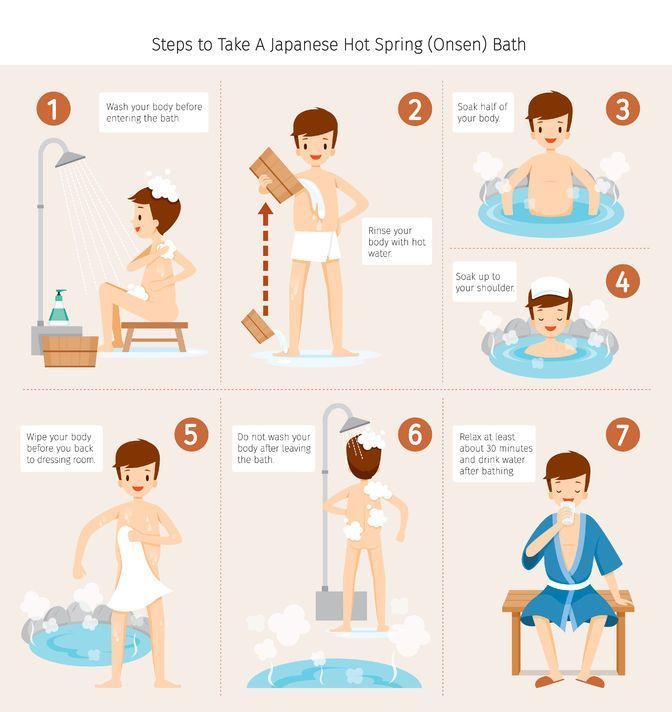 Here's what you have to know about the Japanese baths and its rules:
You have to be completely naked, no bathing suit is allowed
Wash with lots of soap before entering the hot water of the onsen. You'll find small stools where you are meant to sit down and shower. I'm sure you don't necessarily have to sit down on the stool to take a shower… However, leave the area clean and make sure no shampoo or soap remains are left behind.
Dig your body into the hot water and enjoy the atmosphere and feel how your muscles relax.
Do not wring out your towel or slop it in the water. Place it on your head or on a rock. I haven't seen any Japanese women placing the towel on their heads tough.
Don't swim
Don't wash your body after the bath.
People with large tattoos are not allowed to enter an onsen. Small ones may be covered. Why? Tattoos indicate gangster ties.
Hakone Free Pass and how to get there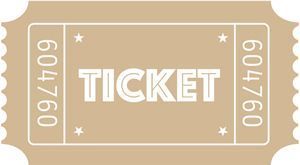 The pass:
You have to decide whether to take the Hakone Pass (4.500 Yen for 3 days) or the Fuji Hakone Pass (5.150 Yen for 3 days) which covers the whole region including the Five Lakes. The cost difference is only 650 Yen so if you're not sure, I would go for the Fuji Hakone Pass which gives you unlimited use of all the trains, buses, ropeways and even the sightseeing cruise on Lake Ashinoko. As mentioned above, if you have more than two days, I strongly recommend exploring both Hakone and the Five Lakes region. If you have less, stick to the one region where you stay overnight.
How to get there?
The staff of the ticket office in Shinjuku, Odakyu Sightseeing Service Center, is very helpful in showing you how to get to your final destination. I took the Shinkansen to Hakone Yumoto, from there the idyllic Hakone Tozan Train to Gora, the cable car to Sounzan and the Hakone Ropeway brought me straight to Togendai at Lake Ashi, where my hotel was located. The ride with the ropeway was great and really worth it. You've got some great views on the hot springs underneath. It may sound a bit complicated, but in fact, with the map, it is very easy. Locate your hotel first and then look at the map and see which way of transport you should use.
Even though I didn't see Fuji-san on my first day, the joy and happiness to see Mt. Fuji from the ship totally compensated my frustration from the day before. The feeling when you spot the top of the mountain is very special and indescribable. I can only recommend everyone to spend a few days in the area and enjoy the full Hakone experience instead of making a day trip from Tokyo. Here's my Japan 2 week itinerary in case you have not yet read it.
Pin to read it later
Disclaimer: This article contains affiliate links* which means I will earn a small commission if you purchase/book through my links. This is without extra costs for you but it helps me to keep this blog afloat. Thank you for your support.
MerkenMerken
MerkenMerken
MerkenMerken
MerkenMerken
MerkenMerken
MerkenMerken
MerkenMerken
MerkenMerken
MerkenMerken
MerkenMerken
MerkenMerken
MerkenMerken
MerkenMerken
MerkenMerken