We all know the boon and bane of a weekend trip. You are longing to see a city for the first time and can't wait to go. You try to see as much as possible but at the end, it's about making choices. You can't pack all the gems of a city into one weekend…simply not possible. But let me help you with this Vienna itinerary for 3 days full of enjoyment and action. This program guides you to many sights of Vienna but without rush and lots of fun. Here's your 3 days in Vienna itinerary:
Day 1 of your Vienna itinerary
Top Vienna attractions: The marvelous sights along the Ring
Once you've settled into your hotel I suggest you get an overview of the city. Rent a city bike and cycle along the "Ring", the main boulevard, where you will find many famous sights.
Start with a walk in the beautiful Volksgarten before you hop on the bike. Pass the Austrian Parliament Building on your left side and continue to the Rathausplatz with its Vienna City Hall in the back. It is one of the most glorious monumental buildings in Vienna.
After the Rathausplatz you will find the main university, which is one of the oldest universities in the German-speaking area with a long history. Right behind on the left side, you can see the Neo-Gothic Votiv Church.
When you follow the "Ring" you will see the old stock exchange building on your right side with its red brick facade. The stock exchange was housed until 1998. Today the building is a spot for meetings and conferences.
Continue your ride on the Ring and you will soon reach Schwedenplatz where you can stop for a coffee or snack on the terrace of the Motto am Fluss café. You'll be awarded a great view and a very relaxed atmosphere in the middle of the city right next to the river.
There's also the stop for the speedboat which brings you to Bratislava within an hour.  
After your stop, turn right on Stubenring where you will find the MAK (Museum for Applied Arts) and the Stadtpark followed by Schwarzenbergplatz.
Right after you will reach the Vienna opera house on your right side and to close the cycle with the Hofburg, the former imperial palace. Stop there and have a walk in the beautiful gardens until you reach the Palmenhaus, a lovely café for lunch.
Volksgarten with the Theseus Temple and the Vienna City Hall in the background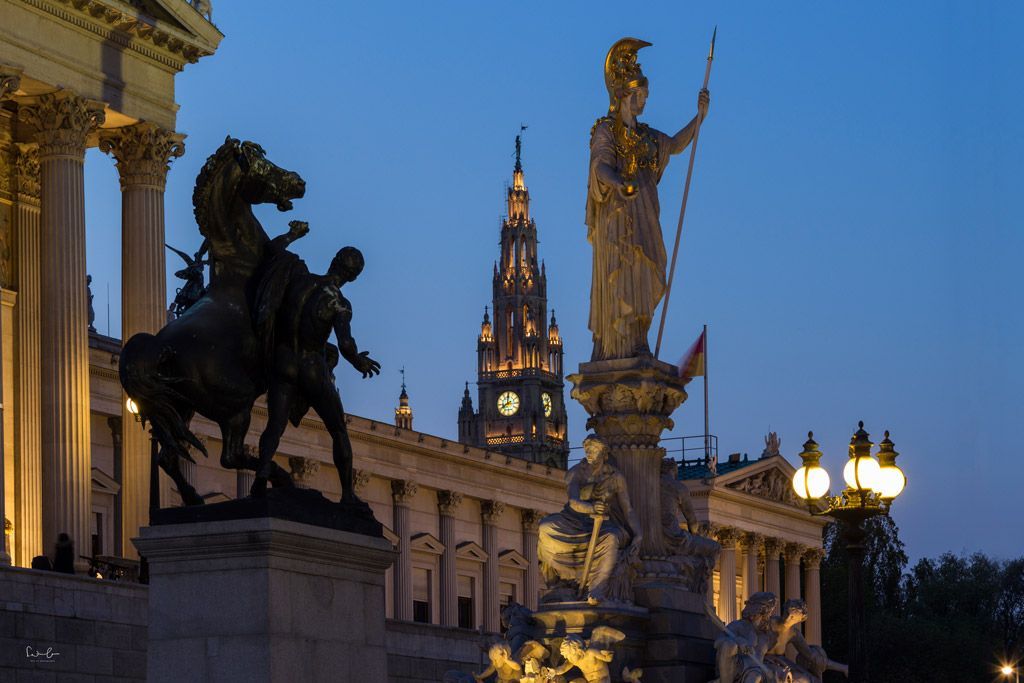 The Parliament at the Ring with Vienna City Hall in the background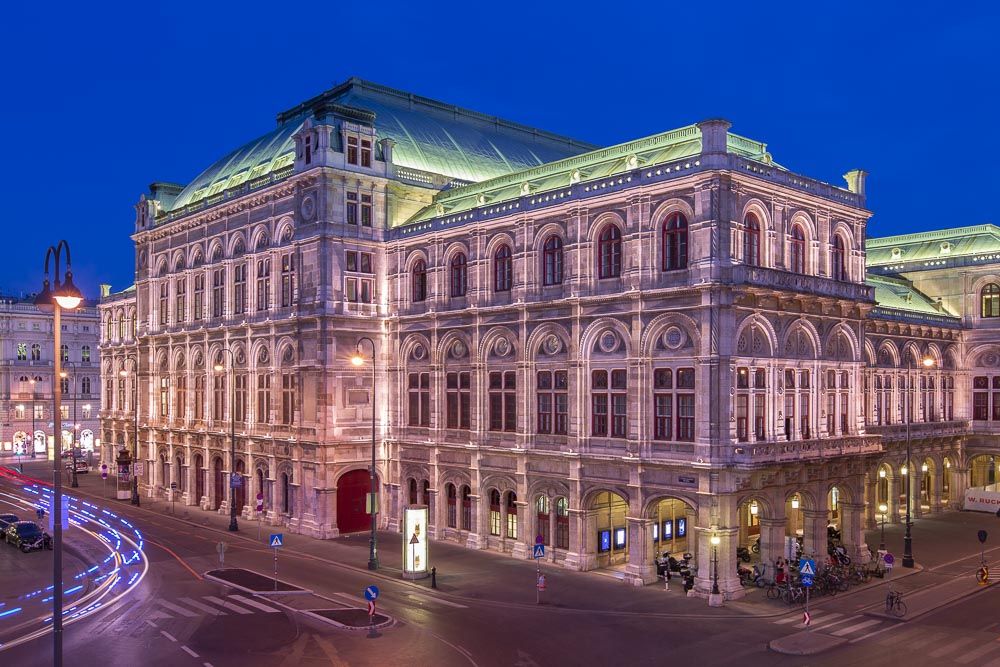 The Vienna State Opera building: a must see in Vienna
A boat trip on the Old Danube
After your active morning on the bike, it's time for some fun and a rest. On the Old Danube, you can hire little boats and enjoy the beautiful scenery. Simply take the U1 to "Alte Donau" and you will find some spots to hire paddleboats, E-boats, rowboats or even sailboats. For the ones looking for more action, you can practice your stand up paddling skills. It's fun! If you enjoy the atmosphere of the Old Danube and want to extend your stay a little longer you can charter a dinner boat. Take a mosquito spray with you. Austrian mosquitos can be a real pain.
For more summer hot spots in Vienna, visit my article about the best things to do in Vienna in summer.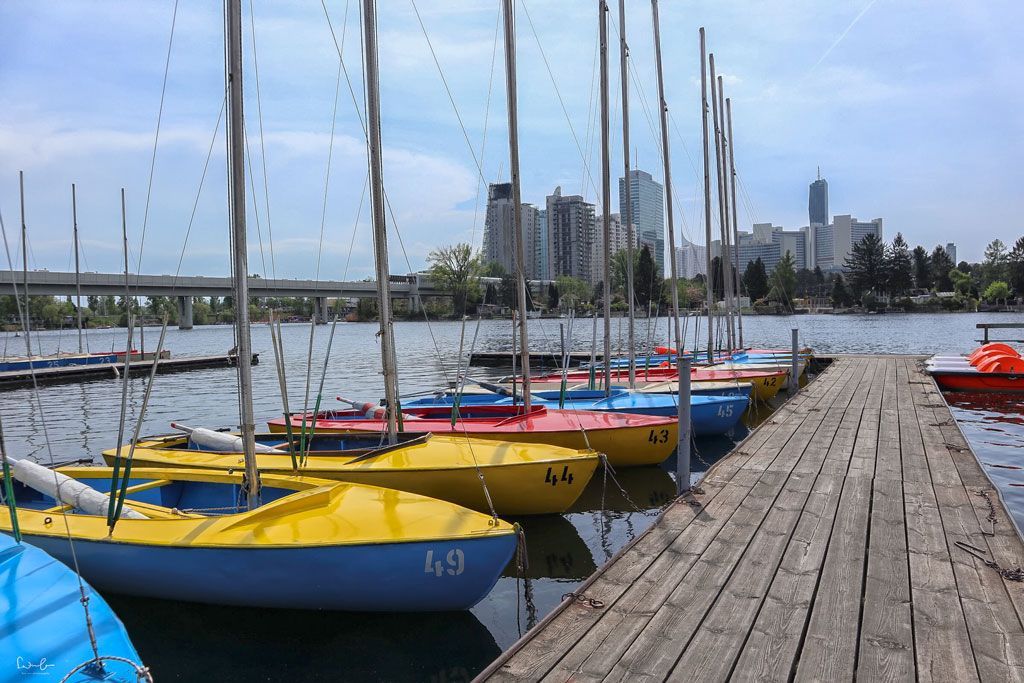 Your evening program for the first day in Vienna
In case you'd rather have dinner in one of Vienna's traditional restaurants I suggest you head back to the city, freshen up a little and visit Café Engländer for the best Wiener Schnitzel in town. The restaurant is a famous spot for Viennese artists, journalists and actors.
Address: Postgasse 3, first district

Not tired yet? Have a nightcap in Vienna's all-time classic bar, the Loos bar in the city center. You will be served with amazing cocktails in a moody environment. The place is very tiny, enter even if it is crowded. People come and go and you will find a little corner where you can sip your drink and enjoy the atmosphere.
Address: Kärntner Durchgang 10, first district and just a couple of minutes walk from Café Engländer.
Day 2 of your Vienna itinerary
Start with a fantastic breakfast
The next morning I suggest you start with a decent breakfast at lovely Café Ulrich in the hip 7th district. You can reach the place after a five-minute walk from the Volkstheater metro station (exit Burggasse). Book a table on the beautiful terrace to enjoy your start into a new day in Austria's capital.
Address: Ulrichplatz 1, 7th district
Visit the vineyards and enjoy the divine view of Vienna
Did you know that Vienna is surrounded by vineyards? Wine has a long tradition in Vienna with its countless number of "Heurigen" (taverns where the local winemakers serve their wine with food) and beautiful wine cellars.
Today I'd like to take you for a walk a little bit outside of the city center. Hop on the D tram to the final station Nussdorf and walk along the Eichelhofstraße and Eichelhofweg into the vineyards until you're ready to sit down in one of the Heurigen (Mayer, Wieninger am Nussberg, Sirbu, Weingut Weiland) and just enjoy the view over Vienna with food and local wine.
If you're tired of walking, there is also a Heurigen Express, a hop-on-hop-off train leading through the idyllic vineyards.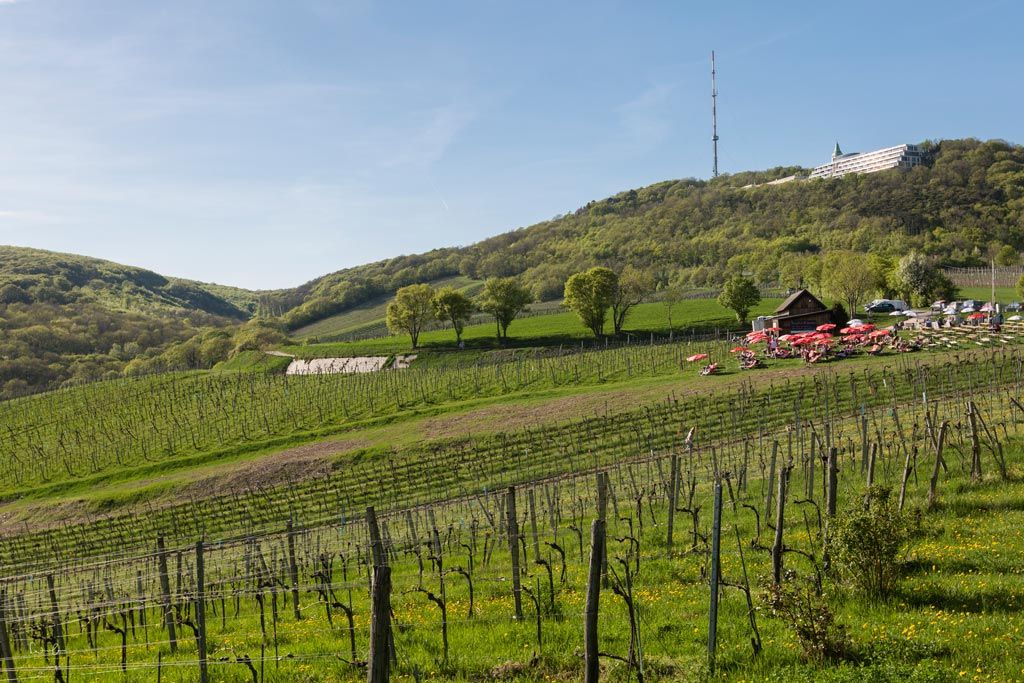 Have a Spritzer or a glass of wine at one of the winebars
Time to go back to the city to discover more of Vienna
Before you get ready for dinner you can indulge pure Viennese coffee culture in one of Vienna's legends: Café Hawelka in the city center. It's a three-minute-walk from Stephansplatz, the heart of Vienna. You won't find fancy interior design, but an authentic atmosphere. The Café used to be a haunt of writers and artists and hosted many famous guests in the last seven decades.
Don't be surprised if the waiters are not super friendly and seem to be a bit grumpy. This is part of the show and not to be taken seriously or personally.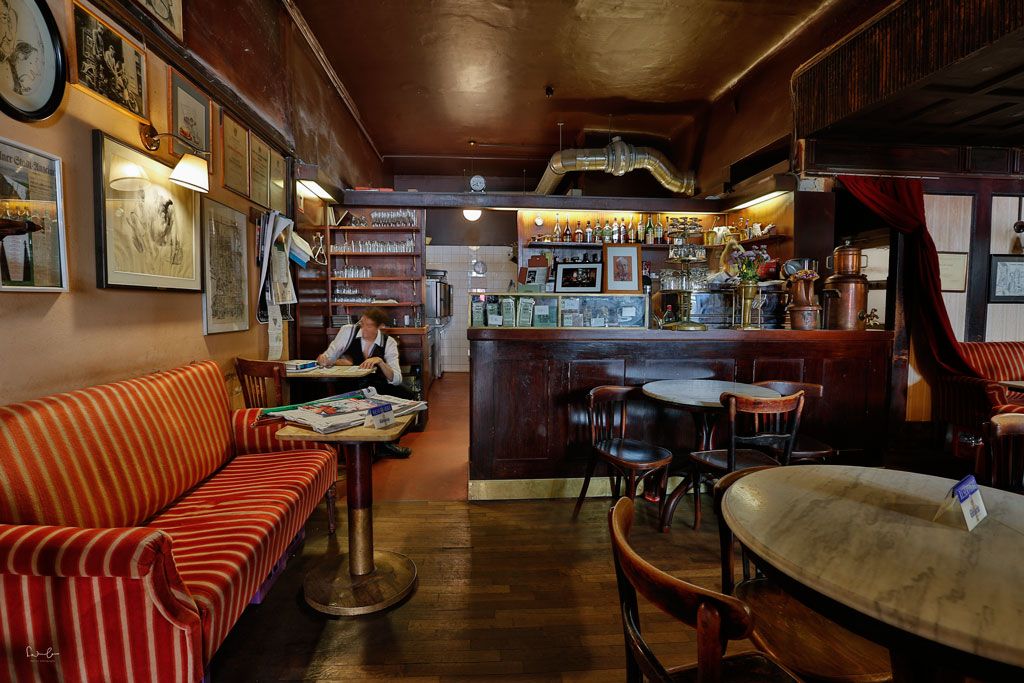 Stroll through the city center: From Stephansplatz over the Graben to Kohlmarkt
Dinner time on your day 2 in Vienna
For dinner, I recommend a trip to the 3rd district. The area around the Rochusmarkt offers many nice places. Steak and burger fans will be happy in El Gaucho. At Stellas at Landstraßer Hauptstraße 44, you will find a good mix of Austrian and Asian cuisine and a great selection of drinks. If you like tapas, you should head to the Colono on Landstraßer Hauptstraße 6 – a small, super nice place.
Day 3 of your three days in Vienna
Must see: Schönbrunn and the Gloriette
After your long night out you will need a morning after breakfast combined with a little walk to clear your head. Take the U4 to Schönbrunn and walk up to the Gloriette where you will boost your body with breakfast. On top of that, you will be rewarded with a beautiful view. After your spirits are revived you might want to integrate some culture into your program. How about a tour through Sissi and Franz Joseph's palace*?
Fancy a cool Vienna underground tour?
My last stop for your Vienna trip will take you below the ground. You will follow the footsteps of Harry Lime in "The Third Man" and visit the Viennese sewage system, the original location of the movie. Don't forget to do the booking in advance since the tours are always fully booked.
There is no goodbye without an unforgettable Viennese coffee
From one movie spot to the next. Before you leave my beautiful city, visit "Before Sunrise" shooting location Kleines Café in the city center. Klein in German means little and the café really is little. But you will love it. And I don't want you to leave the city of coffee without actually having one. Enjoy the coffee and your thoughts about the lovely weekend in Vienna behind you.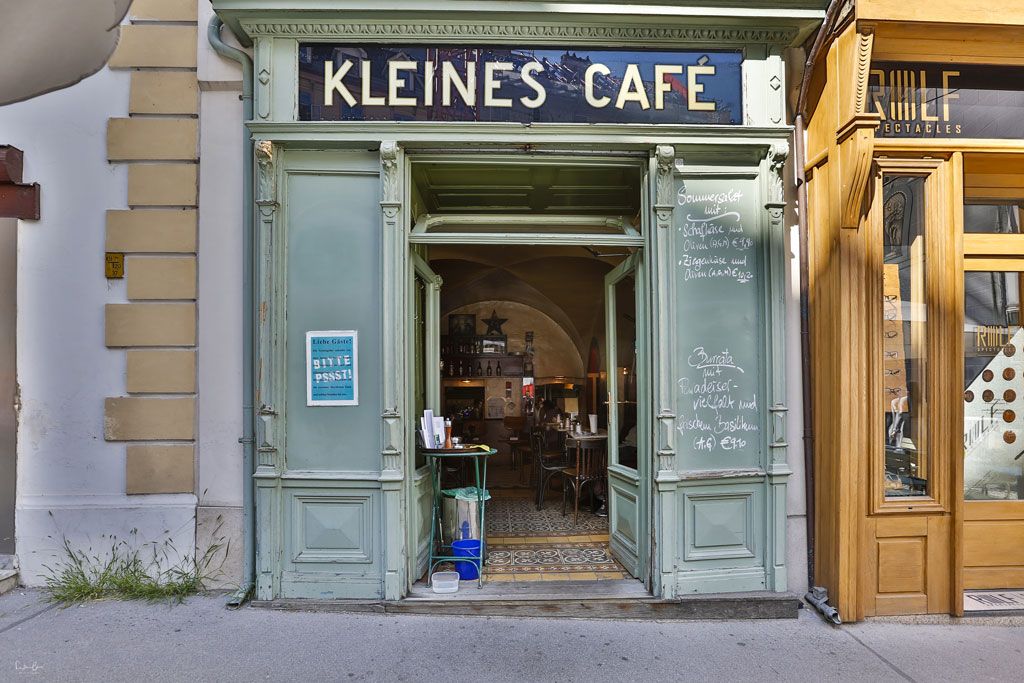 How about a private photography workshop in Vienna?
Are you interested in photography and would like to capture some great photos of the city with guidance? You can book me for a photo workshop or photo walk.
Best time to visit Vienna
There is no best time to visit Vienna. It is an all-year location and every season has its charms. Spring is lovely because everything is blooming, even the people who are so happy that the sun is back. Summer is fantastic in Vienna. There are so many outdoor opportunities. Fall is my personal most loved season. The temperatures are dropping but still great to spend time outside. Winter in Vienna? Well, if you love Christmas lights and markets and don't mind the cold, this is your time to go to Vienna.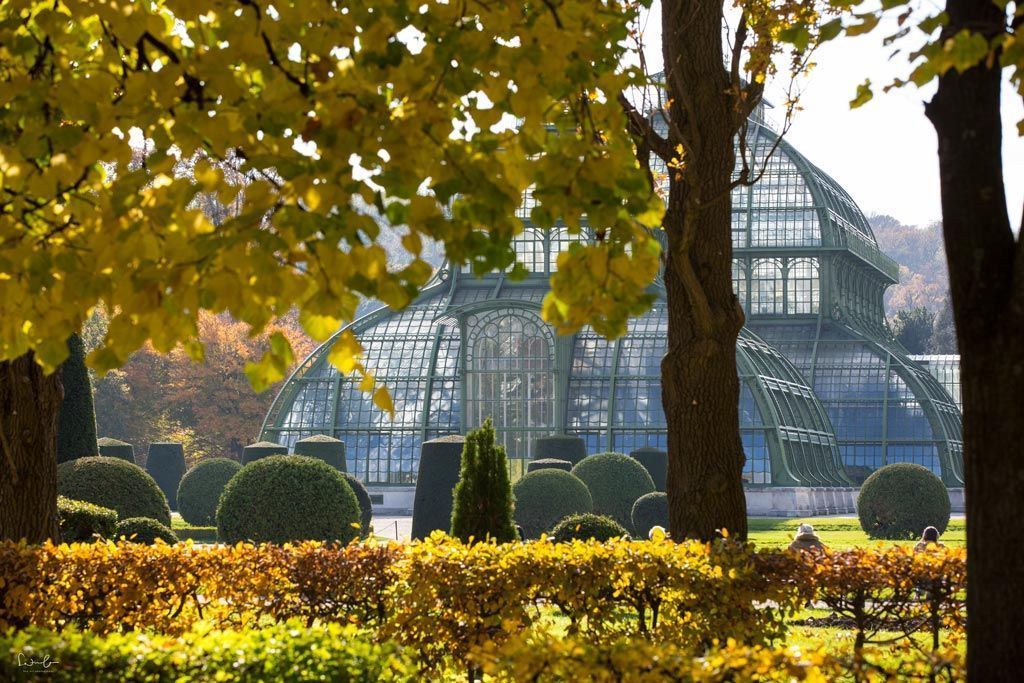 Arrival and how to get to the city:
If you arrive in Vienna by plane it is very easy to reach the city center by CAT (city airport train) for 11 Euro single ride, 19 Euro return. The mid-budget variant is the bus for 8 resp. 13 Euro or the local train, called S-Bahn for approx. 3 Euro. Alternatively, you can jump in a taxi in front of the building for approx. 40 Euro or prebook a taxi for 30 Euro.
You can find hotels for each budget. Vienna has some great, beautiful hotels. There are heaps of high-end luxury hotels lined up on Vienna's "Ring", the boulevard encircling the city center (first district), for example, the classic noble Grand Hotel*. If that's too much for your purse, don't worry. Vienna has many hotels at great prices and high in standard to offer. The Ruby Marie Hotel* for example in the 7th hipster district.
My tip: Don't book breakfast in the hotels because you will have sooooooo many restaurants serving an amazing breakfast. Meeting for breakfast is a culture here in Vienna.
How to get around Vienna?
You've got several possibilities to move around within the city. The best option is probably to combine public transportation, bike and walking. I'd suggest you buy a 72h ticket for 16,50 Euro, available in all metro stations. The ticket allows you to use metros, buses and trams (called "bim" in Vienna). You will find several city bike stations. Quickly register and explore the city by bike.
Vienna is a gay-friendly city. Here's a travel guide to gay travel in Vienna.
I am so curious about how you like my city. Did you like my 3 days in Vienna program? What was your favorite thing to do? Have you tried the Wiener Schnitzel? Let me know in the comments.
Disclaimer: Links marked with a * are affiliate links which means I am getting a small commission if you buy/book via this link. This is without extra costs for you. Thank you for supporting me.