If you think Salzburg is all about Mozart, opera and boringly traditional you should press the refresh button and follow me to today's Salzburg. A modern spot with a brilliant food and lifestyle scene, heaps of varied opportunities how to spend a day and welcoming locals who are proud of their city and treasure the high quality of life Salzburg offers. Yes, there is this cultural and historical component no one wants to miss either because it is part of Salzburg and, honestly, Austrian culture can be a fun thing too, I promise. I'm not saying we're dressing up like Mozarts but have you visited an Oktoberfest yet? It's really fun, social and entertaining. Let's look beyond the Mozart thing and see the reasons why you should visit Salzburg and why you will love it.
1 – The food: a feast for all senses
Admit it. You thought dining in Salzburg means traditional food in traditional restaurants, right? Actually, yes. You will find these restaurants and they serve amazing food only of the best quality. But not only that. Salzburg has a wide range of modern places with a creative kitchen as well as international and exclusive restaurants with an exquisite cuisine. How about a place where each month a different international top chef cooks his creative dishes? Or an off-beat restaurant with changing concepts and paradoxical dishes? A spot with daily changing menus? Industrial chic style with modern cuisine mixed with traditional roots? Salzburg is a true paradise for foodies and these are my favorites:
Ikarus, Wilhelm-Spazier-Straße 7A: The world best top chefs enchant your senses within the architectural masterpiece of Hangar 7. Did you know? You can try exceptional recipes of the best chefs invited by Ikarus.
Paradoxon, Zugallistrasse 7: Paradoxical meet sensual.
Stratman, Siezenheimerstraße 39b: Industrial flair meets modern cuisine
Pasta e vino, Wolf-Dietrich-Straße 31: Dolce Vita, fresh pasta, wine. Nothing to add.
Afro Cafe, Bürgerspitalplatz 5: Exotic food and art for breakfast, lunch or dinner.
Magazin Restaurant, Augustinerstraße 13: Vinotek and Shop, wine and dine
And here's Happy Celiac's gluten-free survival guide for Salzburg.
2 – A divine view that makes you forget life around you
Do you know how I forget a rough and shitty day? Give me a rock, a hill or a mountain I can walk on and let me look down. A beautiful vista lets me forget the world around me and fills me with new energy. Sounds like your kind of fun? The thing in Salzburg is, that you actually have to make a choice because there is quite a nice selection of viewpoints. And the good news is, that most of these viewpoints can be reached within the city. That's awesome, isn't it? The two mountains in the heart of Salzburg shape the cityscape: Mönchsberg and Kapuzinerberg. The view from the Museum der Moderne on Mönchsberg combined with a glass of chilled white wine on the terrace of the restaurant M32 is divine. If you love city views but rather stay on the ground, you can enjoy a cocktail at the skybar of the Crown Plaza.
3 – Greeeeeen
If you love nature and need the green for a living, then Salzburg is your place. How about joining the locals for an after-work beer in the meadows by the river? The Salzach shore is a great spot to escape the old town during hot summer evenings. You'll find the punks and the youngsters around Markartsteg, the museum of music students further in the North and all others at Mozartsteg or further South of Salzach river. If you're looking for some minutes of peace and tranquility you will find it within the historical St. Sebastian cemetery in Linzer Gasse 41. If you're lucky you might hear an opera singer from the nearby Mozarteum music university practicing. If a cemetery is too morbid but you are longing for the green why don't you grab your yoga mat and head over to the park in Hellbrunn? Now I understand the locals who say that the quality of life in Salzburg is one of the best in the world. Another reason why you should visit Salzburg and enjoy the green spots there.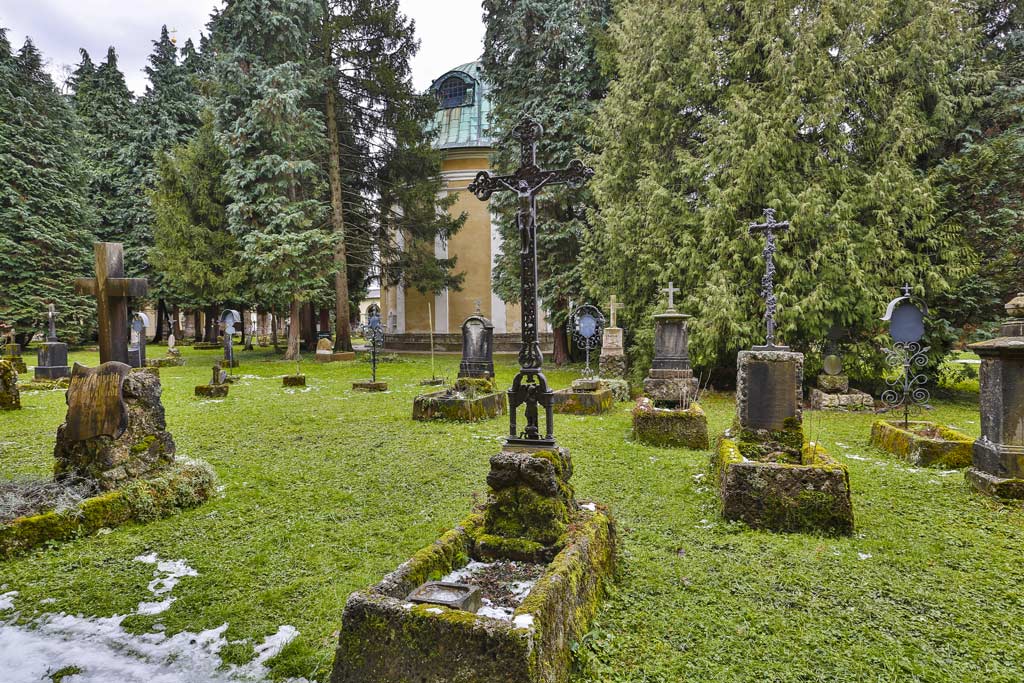 4 – Lakes, lakes, lakes
There are so many lakes around Salzburg that you can spend each weekend exploring another one. The lakes are little paradises, each treated like a treasure, even with drinking water quality. Think of the world's pollution and then you've got lakes where you could actually drink from. I am really not sure if there's any other place on the earth where you can do that. A jump into the coolish water makes you feel great and fresh and happy. I love spending a day with friends at the lake chatting, laughing, eating, being silly and ending the day with a sundowner. Is there anything better than that? Even 5 minutes bike ride from Salzburg Waldbad Anif is a great location for summer and with good food, music, swimming and a separate area for kids for tree climbing it's easy to lose a day. A great spot for a sundowner is Edenberger in Fuschl, where the Red Bull folks enjoy their after work drinks while others are in cars or trains for the after work commute. A glass of wine and the feet in the cool lake water after the end of a busy day. Sounds great? If you need a bit more action, you can have it. There are plenty of water sports activities that make you forget that the word boredom even exists. Need some more Salzburg travel tips? Here we go.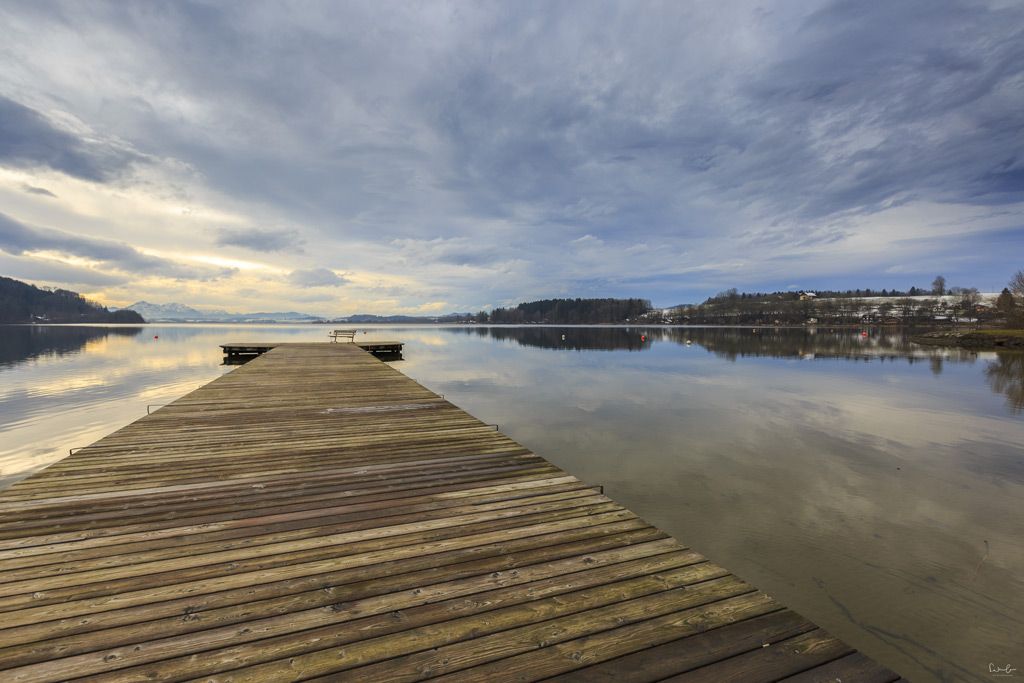 5 – Outdoor activities
You don't have the sea, but you've got the lakes. Water is covered. And then you've got the mountains. Loads of them: high peaks for the mountain goats among you and easy ones for beginners and short hikes. The adventurers cherish the area because of the endless possibilities to indulge their mountain lust: from short hikes to long distance high altitude hikes with an overnight lodging in one of the huts where you can eat homemade dumplings with bacon and cheese. Is canyoning your kind of fun? Or exploring the numerous flumes or waterfalls? Discovering the salt mines or ice caves? Oh and have I mentioned that the area around Salzburg has amazing ski resorts? Depending on what you're up to, you will find family resorts, party resorts or cute little ones for a quiet ski holiday all of them providing slopes for beginners, enthusiasts and pros. If skiing or snowboarding is not your thing, you'll end up for a snow hike, sledding down the hills or burn some calories with cross-country skiing. If that's too old-fashioned, grab a Lumumba, a hot chocolate with rum, and enjoy the beautiful landscape covered in snow.
6 – Hipster Haven
Yes, Salzburg does the hipster thing, too. I saw it myself. Julia's Favorite Kamer Conceptstore (Paris-Lodron-Straße 12) is a Scandinavian oriented interior and accessories store with a coffee shop and petite self-made snacks and pastries. It's a place you could spend hours sitting by the window sipping your coffee and buy some cute little things for your home or a gift for friends. Just around the corner, there is Frau von Grün, a grocery store offering delicious smoothies, healthy snacks and grocery without packaging. Bring your own cereal bowl and just refill it. Thanks for helping to reduce plastic. Are you a meat lover? Then you should visit Meat & Eat by Jules, the cool butcher shop in the Andräviertel where you can not only buy meat and sausages but also have a seat, drink a glass of wine and enjoy an amazing beef tartare. If you love markets, you'll be happy to visit the Farmer's market "Grünmarkt" every day except Sunday or "Die Schranne" am Mirabellplatz, a weekly market on Thursdays with local specialties at a fair price. In the Panzerhalle, you will find plenty of restaurants, weekly brunch clubs and eat & beat events – the location is really awesome. The Barber Shop in the basement of the Villa Carlton Hotel (Markus Sittichs Straße 3) is a really cool spot for the guys, especially the guys with beards. Sit down and enjoy the atmosphere while you sip your glass of scotch. And if you're into tattoos, you might want to get yours there? If you love ink, but the other one, have a look at the bookstore "Neues Leben" in Bergstraße 16. You might find some real rarities and if you're lucky, you will hear a regular visitor playing the piano or guitar while you study the second-hand books. Speaking of books: head to the city library (Schumacherstraße 14), grab a coffee from the panorama bar and start reading while you enjoy the view of Salzburg.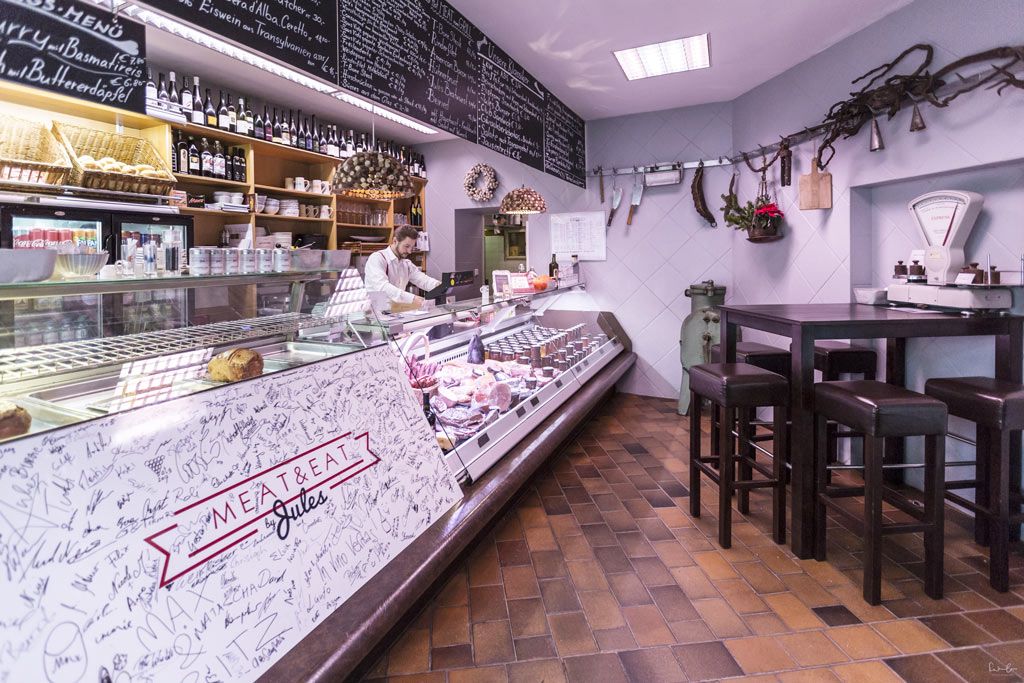 7 – Cafés with a home feeling
I am a coffee junkie and love sitting in cozy cafes writing, watching people and talking to random strangers about their lives and loves. Salzburg offers a good range of traditional cafes with a long history and culture where you sip your coffee and read the newspapers. But it also has a new coffee scene: modern, young and hip. Vintage furnished little places with fair trade coffee, aryuveda porridge, vegan sandwiches, Matcha Latte, Kurkuma Latte – the whole scope of the BoBo coffee thing. Everyone should have a favorite café, a second living room to spend mornings and days chatting, reading and listening to the soothing sound of the newspaper rustling and you'll definitely find yours in Salzburg.
These are mine:
GustaV, Wolf-Dietrich-Straße 33: Vegan café and bistro with old furniture and fabulous coffee. Denise's Chocolate-mint-raw torte without sugar is just awesome.
Cafe 220 Grad, Chiemseegasse 5: minimalist interior meets feel-good ambiance and the best breakfast in Salzburg
Alchemie, Rudolfskai 38: One-of-a-kind coffee, international atmosphere and a view on the Salzach and Kapuzinerberg.
Café The Heart of Joy, Franz-Josef.Str. 3: Need a Zen moment? This café is inspired by poet and spiritual master Sri Chinmoy
Schweiger Deli serves newly adapted traditional recipes and invites to stop for a glass of wine and Doll Vis-à-Vis is a cute mini concept store with a cafe

8 – Bars, music & art – the modern way
In the narrow alleys of Salzburg, you won't have difficulties finding a small bar with great music and drinks to spend the night at. Salzburg plays it all: jazz clubs (Jazzit, Elisabethstraße 11), rock house (Rockhouse, Schallmooser Hauptstraße 46), festivals (Electric love festival, jazz festival), gin bar (Little Grain, Getreidegasse 34), cocktail bars, beer garden and breweries, wine taverns, Irish pubs, meet-the-locals-after-work-locations (Edenberger in Fuschl) discos or clubs (Half Moon, Gstättengasse 4-6). If you're an art lover, you will love the huge number of art galleries, you can literally do an art gallery hopping if you want to. From established artists to newcomers – Salzburg's galleries offer a diverse program for everyone and every interest. Not to forget the modern museum on the Mönchsberg with changing exhibitions or one of my favorites, the Fotohof, a gallery for contemporary and artistic photography.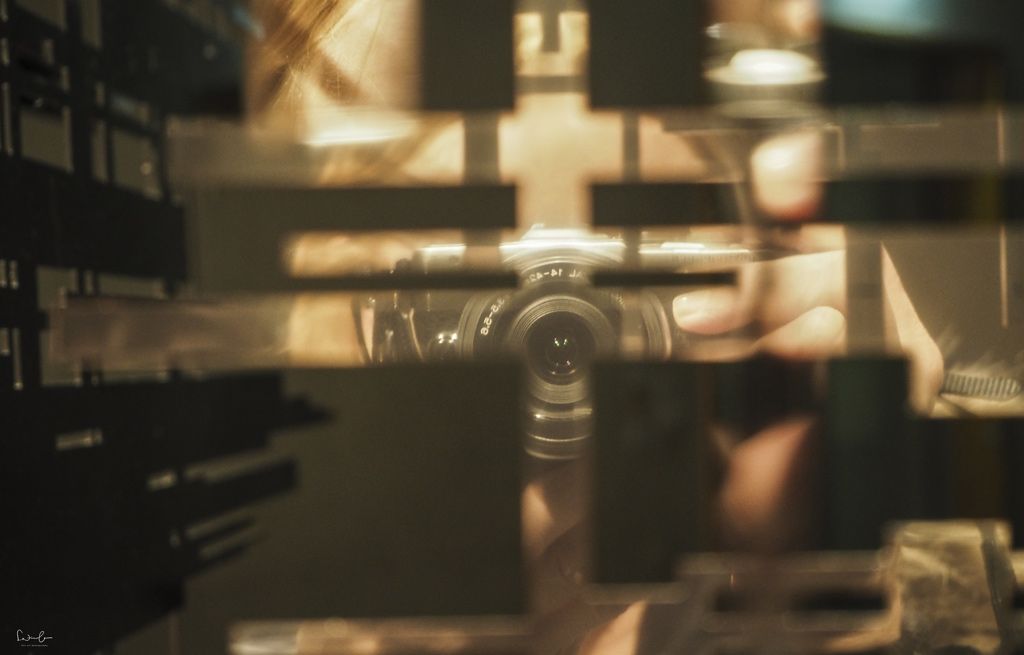 9 – Salzburg goes International…
…but not only once a year in summer when Salzburg turns into a cultural center and the famous Festspiele take place. The VIPs and wannabes stream into town, dress up in their most beautiful or sometimes most awkward dresses, show their big smiles and actually yes, they also visit the cultural happening, too, the reason why they came to Salzburg after all, right? But not only brings the Festspiele international audience, Salzburg is global headquarters to a few companies you might know. Red Bull has an amazing campus located on the edge of Fuschl am See with 800 employees there – a great architectural building to shoot, by the way – and right in Salzburg is the HQ of their innovative media house company and TV station Servus TV. Look past the 1500 employees of Red Bull that have come from around the world to call Salzburg home and you will find the HQ of Atomic Skis and the home base of the Porsche dynasty. English is the second language so don't worry if you do not speak German. Nearly everyone understands and speaks English. You can order your favorite pastry, visit a doctor or buy your medicine without difficulties. A very good reason to love Salzburg.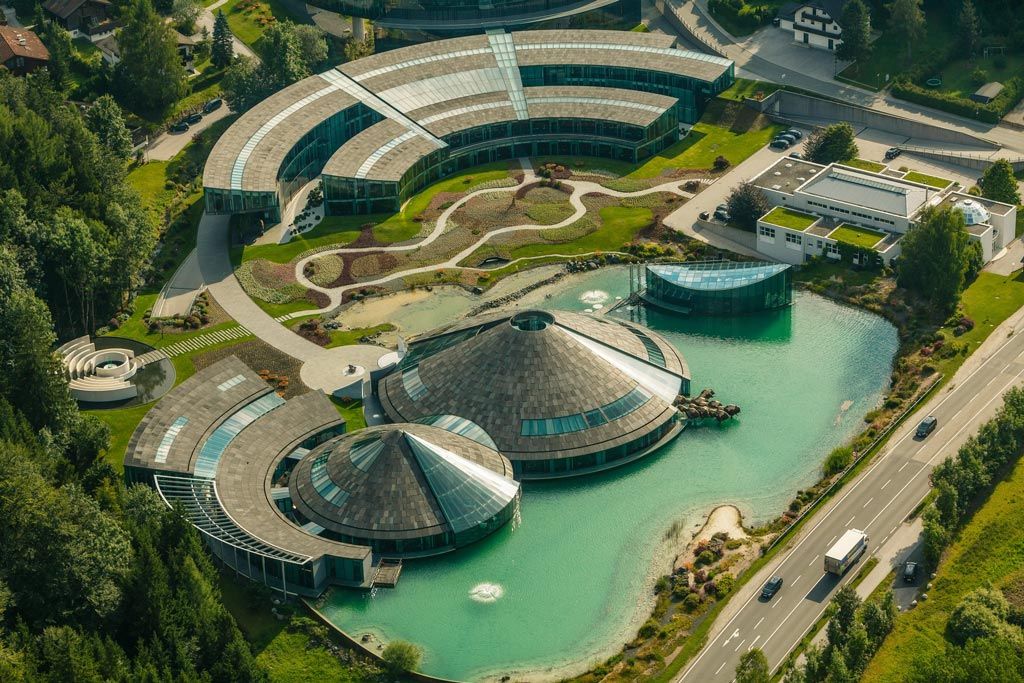 10 – The location
The location of Salzburg is just perfect. It is pretty much in the middle of everything. Pack your skis and wedel down the slopes within 30 minutes. Pack your bathers and jump into a crystal clear lake within just a couple of minutes from the city center. Reach the capital of Austria, Vienna, within a 3-hour train ride or the international airport of Munich in less than two hours drive in case you can't reach your desired destination from Salzburg airport. The number of cities or places you can reach in under 4 hours drive or train is pretty remarkable: Istria Peninsula or Pula, Budapest, Bratislava, Prague, Venice Milan, Garda Lake, Lake Como and the list goes on and on… Nothing to add here, right? You've probably heard of Hallstatt, a famous little city very close to Salzburg. Here's your guide for a day trip from Salzburg to Hallstatt.
Three voices who love Salzburg and its surroundings:

Marko, 32 from Croatia has moved to Salzburg with his wife and little son of 3,5 years 2 years ago. He's originally from Koprivinca, a tiny city and he loves the peace and quietness of Salzburg and the surroundings. Marko is amazed by the well-organized infrastructure and safety which makes it a great place to live, especially with a family. "There are so many opportunities that you can actually do something different every weekend".
Maxime, 25 is from the south of France and has moved to Salzburg city about one year ago. Salzburg reminds him of the south of France with its exceptional quality of life and the way people spend their time outdoors with so many different activities. He loves the great food and the variety of restaurants offered. And he really enjoyed his first Oktoberfest in traditional clothes – A great opportunity to break the ice with the locals. Do it first and they will accept and love you.
Melitta, 58 (but 25 in her heart and mind) has lived in Salzburg for 10 years. She loves the variety of the cultural scene: from tradition to contemporary to totally out of the usual, from serious to hilarious. She likes the little, innovative stores away from famous Getreidegasse and loves to stroll through Salzburg's art galleries. If you intend to move to Salzburg, here's Melitta's tip: "Although everyone speaks English, push yourself and learn German to show the people that you respect the country and the people."
Did my 10 reasons why you should visit Salzburg convince you?
Then find your best hotel deal here:
Here's your pin for later:
MerkenMerken
MerkenMerken
MerkenMerken
MerkenMerken
MerkenMerken
MerkenMerken
MerkenMerken
MerkenMerken
Disclaimer: This article contains affiliate links which means I will earn a small commission if you purchase/book through my links. This is without extra costs for you but it helps me to keep this blog afloat. Thank you for your support.
MerkenMerken
MerkenMerken
MerkenMerken
MerkenMerken
MerkenMerken
MerkenMerken