There are just too many things to do in Lisbon and you'll definitely don't manage to see all of them in one weekend. So I'm trying to limit the Lisbon bucket list to 10. Here we go…these are my 10 Lisbon tips for you in random order:
Alfama is the oldest part of Lisbon and it is pretty much a labyrinth of small alleyways from the Tejo up to the hill. It used to be a rough neighborhood, but today it is young, trendy and charming. Take your time and explore Alfama by foot or the historic tram line no. 28. There are several sights on your ways such as the castle, Sé Cathedral, the Fado Museum or the National Pantheon. Every travel guide recommends Alfama, so do I. You've just got to see this part of Lisbon and I hope you'll love it as much as I do.
If you have a wide-angle lens, bring it with you. It's an advantage in these narrow alleyways. For blue skys, I always recommend a polarizing filter. See the left image below… You will find plenty of sceneries and go-with-the-flow photos you can capture with your camera.
Portas do Sol in the blue hour of the day
I always take photos of classic and famous postcard spots, too. It might be a bit cheesy for some people or photographers, but I think, these spots are part of a place and there's nothing wrong in taking great photographs of great spots, right? 
Portas do Sol is one of them: A platform overviewing Alfama. The best time is after sunset during the blue hour. If you want sharp results, bring your tripod. The view is just wonderful, especially at this time of the day. It's one of the must things to do in Lisbon and the photo will look great in your Instagram feed 😉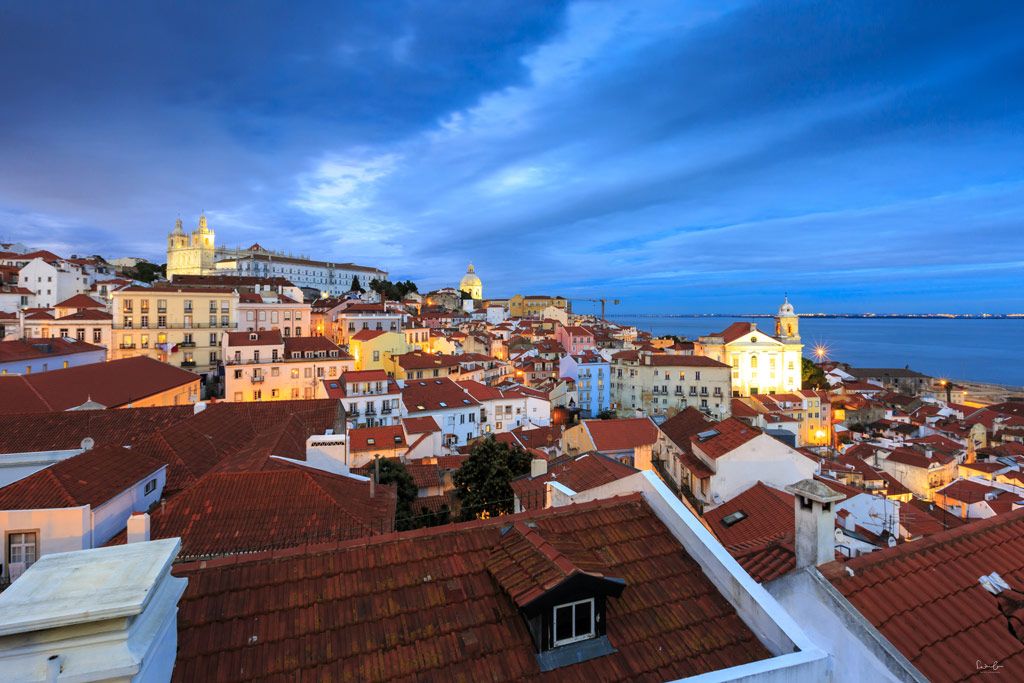 I love to explore a city by bike. I would not recommend you to take the bike within the city center unless you want to do a workout, but it's just perfect for a ride along the Tejo until you reach Belém Tower. You will pass the Ponte 25 de Abril, the bridge with quite a similarity to the Golden Gate Bridge in San Francisco, the Maat and some restaurants and chic bars at the Santo Amaro Docks to make a stop and enjoy the break at the waterfront. The Belém Tower or Torre de Belém was part of the defense system and is now UNESCO world heritage.
A huge industrial site which used to be out of service for years has been revitalized and turned into a creative space for fashion, art, communication, architecture, music and much more. Get off the tram #15 at Calvário and enter this popular meeting point for locals and visitors from all over the world. Trendy bars, restaurants and little shops make you hang out there for a while.
Up for some off the beaten path tips for Lisbon?
The Museum of Art, Architecture and Technology by the river Tejo is not only a contemporary museum with diverse programs but a new building with an amazing architecture. For architecture lovers and photography freaks among you, it's one of the not-to-miss spots. Bring your tripod and an ND filter with you so you can take some long exposure shots with people blurred in the foreground or capture the building with the bridge in the background. You can spend hours there not only to visit the museum but to shoot it, so plan enough time. The Maat is definitely worth being among my Top 10 Lisbon tips for its architecture.
Need a hotel recommendation? Portugal Boutique Hotel* is a lovely hotel with beautiful rooms in a perfect location to discover Lisbon and its diversity.
This place is also for architecture lovers. The building accommodates a biomedical research center and as far as I know, it is not allowed to photograph indoors. But that's ok, the exterior is great. Simple, lines, symmetries. This is what I love. You can imagine I've spent another two hours there after the MAAT. I recommend you to bring a tripod.
Again, architecture lovers, it's your place to be. Sorry to the non-architecture fans. This is the last one, I promise.
Take the metro to Oriente express and walk 15 minutes. The bridge seems to be endless and it is nicely lit in the evening. Don't forget your tripod, it's a must if you want to shoot the bridge in the evening and get sharp exposures.
We're done with architecture and come back to a very famous sight: Elevador da Bica is a very touristy place but spreading so much the flair of the city. The Bica connects the bottom with the top and saves you from walking up a steep hill. It is a tourist attraction but also used by locals. There are three of them in Lisbon, but to me, the Elevador da Bica is the most interesting one and you can capture great photos. The place is very well known from postcards…but I already got this topic covered 
Take your time and walk from the top to the bottom. If your camera has an HDR function, try that.
Discover Principe Real and Bairro Alto
The alleyways are not as small as in Alfama, but I definitely recommend you to walk through these two districts. Principe Real is a beautiful residential area with nice restaurants and Bairro Alto is a very lively district crowded with restaurants and bars and a vibrant night life. Go with the flow and see these areas through the lens. I did that when I was there last time and was surprised what I was seeing.  "Pura poesia" written on a wall caught my attention and suddenly I saw it again and again on different buildings, walls and doors. To concentrate on one certain topic is a very good method to improve your eye for photography.
There's a viewpoint Miradouro de São Pedro de Alcântara from where you have a beautiful view over the city and the Tejo. Many tourists included 
Even though I usually don't go shopping on my journeys, Lisbon was too tempting. I broke my non-shopping habit, left the camera in my room and went for a shopping trip. One of the areas where you can shop till you drop, is Baixa with Avenida da Libertade and Rua Augusta. Beside the shops you can find in every city, not mentioning any names…, you find beautiful, little boutiques there.
Cantinho da Paz, R. Paz 4: Indian restaurant from Goa with delicious food, friendly service and a super nice atmosphere.
Restaurante Cantinho do Aziz, R. de São Lourenço 5: Moçambique restaurant, not fancy, but the food is awesome and the service staff is very friendly.
Restaurenate Zé de Mouraria, R. João do Outeiro 24: Typical Portuguese food with great quality. The place is tiny and not very fancy, but authentic and definitely worth a visit.
Le Chat, Jardim 9 de Abril n°18/20: Trendy restaurant with terrace. Great place for food or a sundowner.
Time out market, Av. 24 de Julio 49: It's a huge hall with different restaurant stands where you can choose all different kinds of food. Don't go there if you long for a relaxed and quiet atmosphere, but do go there if you want to try a bit from this and a bit from that.
Vertigo, Travessa do Carmo 4: Perfect for a relaxed lunch.Cool interior, fair prices. Plus: best Cappuccino in town.
Did you like what you saw of Lisbon? Then you might want more and combine the city trip with a beach retreat? Here's Troia, a wonderful spot with a beautiful beach just one hour away from Lisbon. Check out Michael's Lisbon guide with some interesting fun facts about Lisbon.
Convinced to book a trip to Lisbon? Why not considering a stay in a boutique hotel? Check out Boutique Travel blog's post about Inspira Santa Maria, a beautiful, eco-friendly boutique hotel in the heart of Lisbon.
Disclaimer: This article contains affiliate links which means I will earn a small commission if you purchase/book through my links. This is without extra costs for you but it helps me to keep this blog afloat. Thank you for your support.