Truly secret gems on earth – do they still exist? With all the tourism and traveling made super easy nowadays, I sometimes struggle finding secret spots. But they exist. I have just found one in Ecuador amidst the woods outside of Baños. After a short drive and a spectacular bridge crossing – I never thought the car would fit but obviously, it did – I arrived in the middle of nowhere. Arlette and her dog Krator were already waiting for me to walk me to an extraordinary place, a hidden paradise – the Finca Palmonte.
Cupid is the reason why we can visit the Finca today
Arlette is a teacher from Switzerland. 17 years ago she decided to take a sabbatical and travel South America. After learning Spanish in Mexico, she reached Ecuador where fate or rather Cupid had plans with her. She met Alexander in a café in Banos and they fell in love. Alexander, who's Swiss-German "Grüezi" is adorable, moved to Switzerland with Arlette and after eight years they both came back to Baños. They found their passion in Finca Palmonte and today, they dedicate their lives to cultivating and operating the Finca.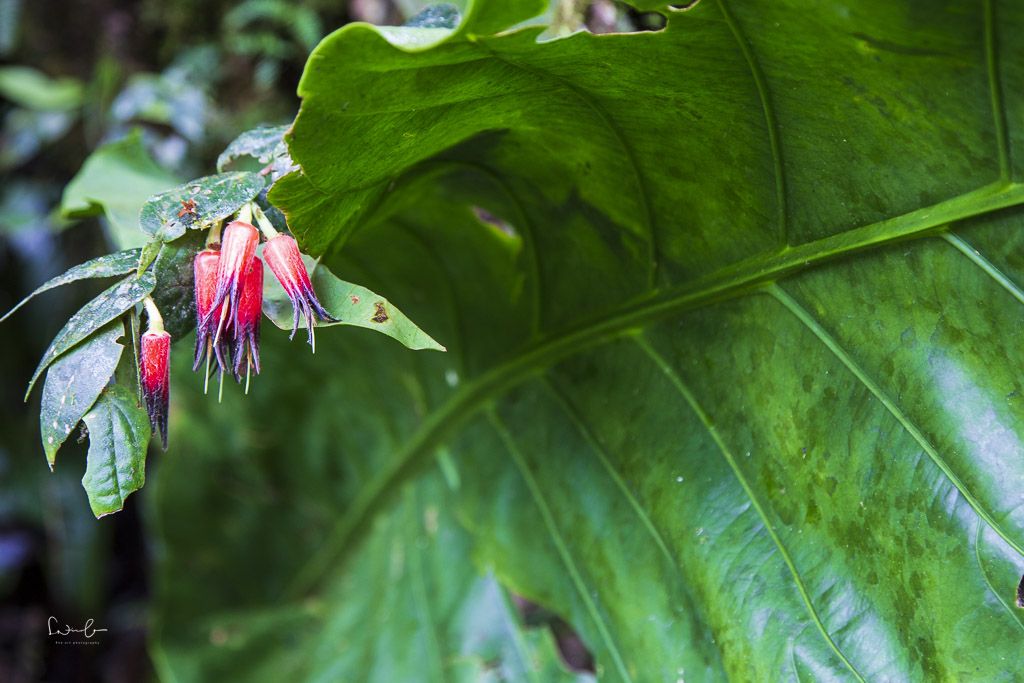 The property which the two have taken over in the third family generation lies at an altitude of 1400 meters. It is a private nature reserve that stretches up to the mountain over several terraces. On a hill, in the distance, we can see three palm trees. The name Palmonte is composed of palm trees and Monte, the mountain. Monte is also a Spanish term associated with challenges and difficulties. In this case, it is the wetness, the mud and the partly steep terrain. I don't see any difficulties here – only nature, unique plants, fauna and peace. 
Weird but stunning creatures
After a 20 minute walk, we reach the Finca, which is beautifully positioned. I don't even manage to reach the terrace to drop off my things, because I am "trapped" in the garden and can hardly wait to unpack my camera. Hundreds of species of orchids grow on the Finca, most of them quite inconspicuous so that often Alexander has to show me them. I see countless different butterflies sitting patiently on leaves and flowers until I have captured them. Arlette and Alexander proudly show me a Trychopeplus, a moss mimic stick insect that looks like a stick covered in moss. Never in my life would I have discovered it myself.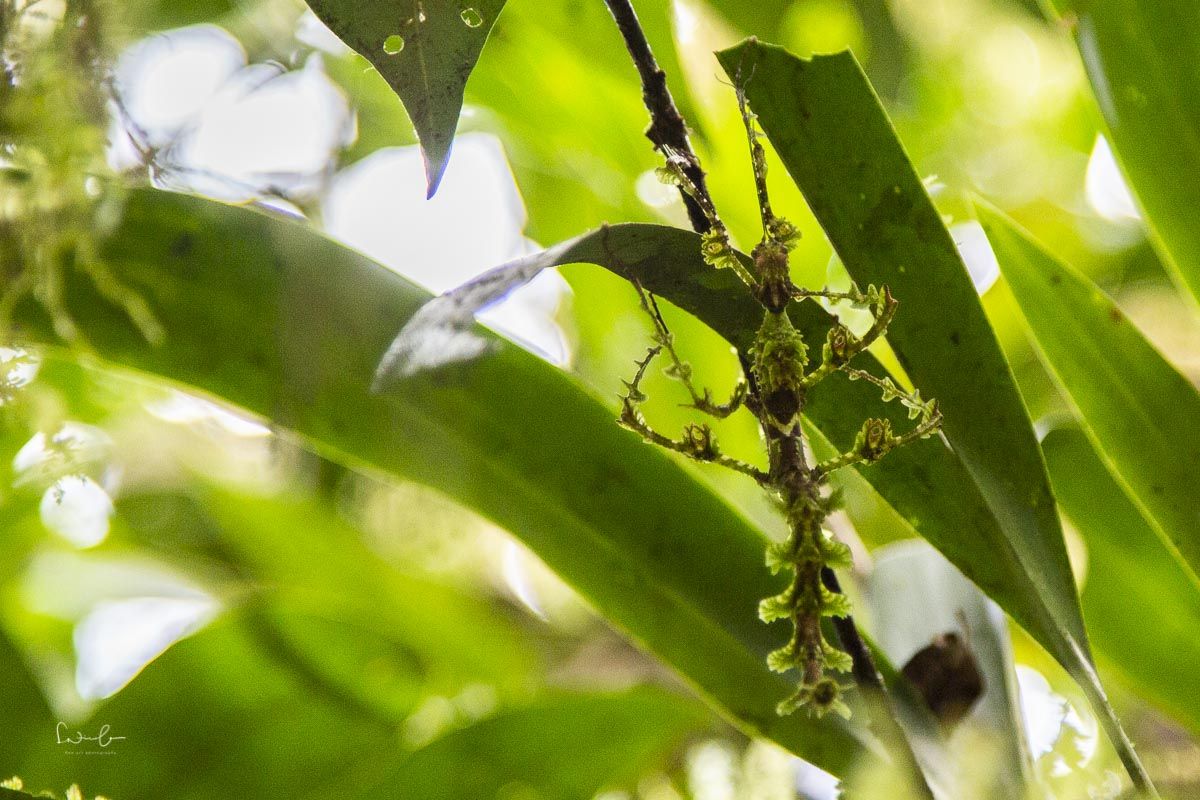 The garden is a paradise and Arlette a wonderful cook
The garden is a paradise for explorers, my photographer heart beats higher when I discover a grasshopper or butterfly willing to be photographed. It's hard for me to get away from the little beauties, but Arlette has cooked and slowly the feeling of hunger is coming up. She serves a delicious pumpkin cream soup followed by a quinoa dish with salad. I didn't know how good quinoa could taste. Since Pollo (chicken) seems to be a national dish in Ecuador and I felt I ate it every day, this homemade quinoa dish was a feast for my palate. I think I ate two (or even three?) plates of it…
More than 100 different orchids
After dinner, the two show me more of their treasures in the garden. So far they have been able to identify over 100 species of orchids. I have never seen so many of them before in my life.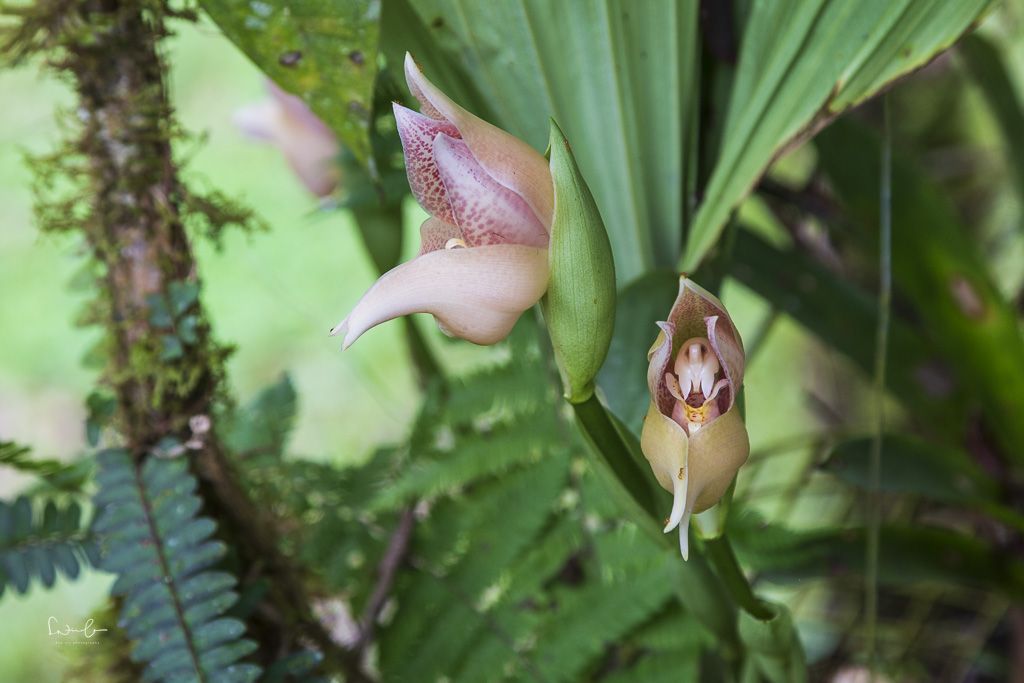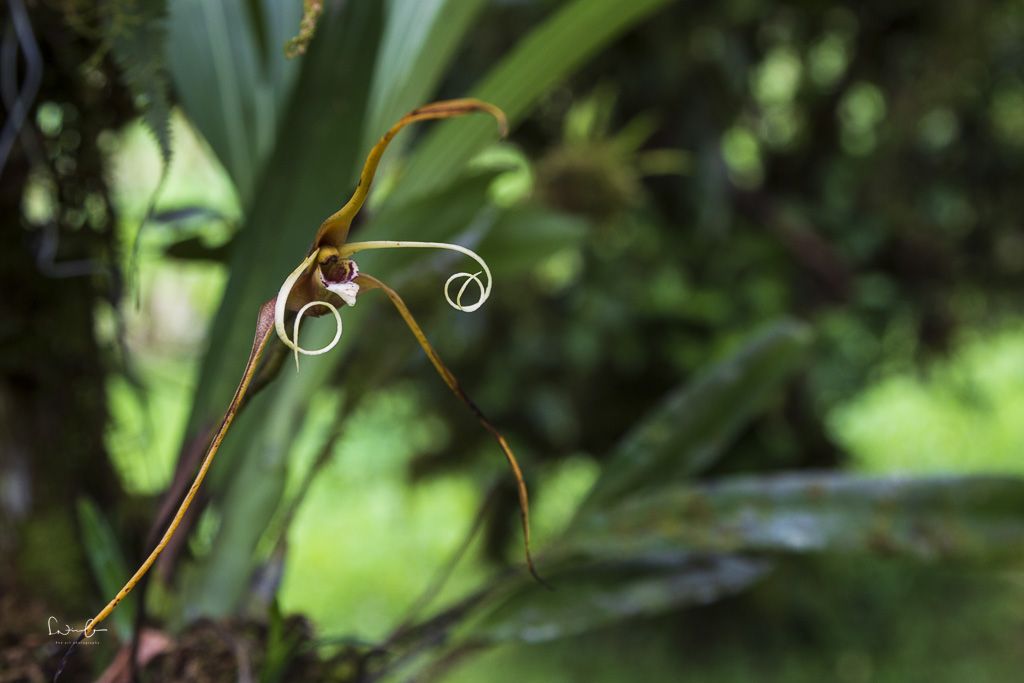 And the butterflies. I haven't seen a butterfly in Austria for a very long time. And here they sit in front of me in all colors and sizes. Butterflies stand for lightness and joy – how true because I can really feel the happiness inside of me to be at this beautiful place and to observe these colorful creatures, which one can, unfortunately, see far too rarely.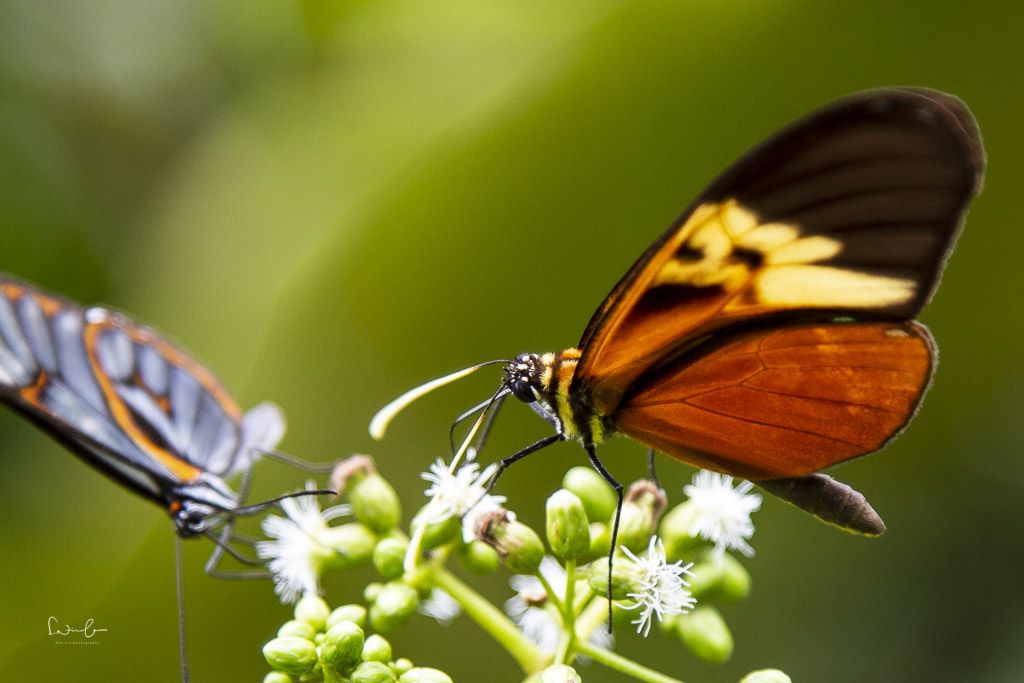 Time to say goodbye to the butterflies. Alexander is already holding his machete in his hand and signifies to me to follow him. He leads the way and branches off into the forest. There is supposed to be a trail? Now I understand the machete and the rubber boots. The path is an old, muddy animal path, which we walk up a short distance. In the glade, Alexander stops and picks a fruit from a tree – it's a mixture of lemon and mandarin. Somewhat sour, but refreshing.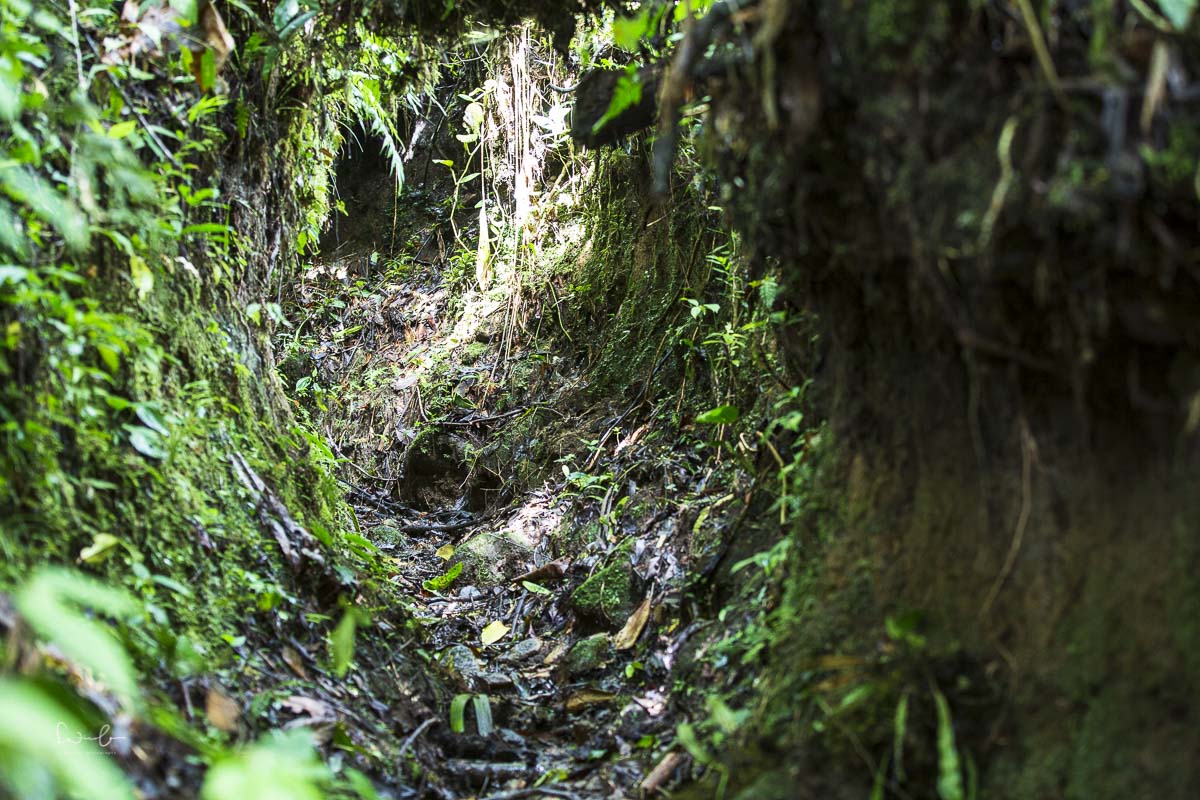 We slip further into the forest and can already hear the loud birdcalls. Suddenly I have to sit down, be quiet and wait. I don't have to wait long to see the first Andean cliff birds above me. It is a rare spectacle that I observe here and I have never seen such birds before. The Andean cock-of-the-rock stands out due to its red-orange arched feather comb, which reaches from the back of the head to the beak. I am fascinated by the look and the screaming of the birds and could sit here for hours. 
Time to say good bye. But before...cake!
At some point, it's time to go back. Arlette promised us cake and homemade ice cream. The next Pollo will certainly come, so I don't hesitate for long and let the second piece of cake fall onto my plate. I remember my mother's saying when my brother was a pubescent teenager and could load tons of food into him. "I would rather dress than feed you"…
With a full stomach, we have to say goodbye in order to get to the car before nightfall. Happy and grateful, I pack my backpack, slip into my rubber boots and say goodbye to Arlette and Alexander and all the beautiful butterflies and grasshoppers. 
The day at the Finca Palmonte was one of the highlights of my Ecuador tour. I wished I could spend the night at the Finca to listen to the sounds of the night and start the next day in absolute silence. The Finca has a few rooms for a maximum of 8 people. You can stay with Arlette and Alexander on the Finca, take part in guided hikes or just spend a day with lunch in the garden. This day was a time out with digital detox (there is no Wifi), which was incredibly beautiful, interesting and relaxing and the hosts were just amazing.
If you're in Ecuador, make sure to visit Finca Palmonte on a day trip from Baños. If you're into photography, join me on my photography tour through Ecuador and Galapagos.