When one of my best friends moved to Ecuador more than five years ago, she asked me to visit her. I googled the country but what I saw didn't thrill me. Today I can tell you how wrong I was. After finally visiting this small South-American country, I am totally touched. Ecuador has such incredible cultural diversity, a variety of landscapes but most of it an amazing spectrum of plants and animals. Discover my Ecuador itinerary including these 9 epic stops:
The capital of Ecuador, Quito, is located at an elevation of 2800 meters above sea level. Due to the international airport, Quito is the starting point of my 2 and a half weeks in Ecuador. A journey so full of culture and diversity. The city has a width of only four kilometers but it stretches out and has a huge catchment area. Today, approximately 2,7 million people live in the highest capital in the world. On the hill of El Panecillo, from where you have a wonderful view, the Virgin of Quito (Virgen de El Panecillo) sits enthroned and watches over the city. It is recommended to take a taxi to El Panecillo as the area is known for robberies and attacks. I found a great alternative for having a breathtaking view, the restaurant El Ventanal. I set up my tripod on the roof terrace and enjoyed Quito by nightfall. Another highlight of the city and one of the most famous sights is the Basílica del Voto Nacional. Especially the view from the lookout tower of the church is amazing. Even though Quito is a huge city, I think one can manage to see the most impactful sights within a day, so I stayed two nights in the city. Find my Quito itinerary with the things to do here.
I recommend two hotels in Quito: Cuba Vieja* in the city and the Casa de Hacienda La Jimenita* near the airport. Due to its location, this hotel is especially suitable for the last day of the Ecuador round trip.
Otavalo is a small town with 50,000 inhabitants at 2500 meters above sea level. It is located in the region of Imbabura, about 2 hours north of Quito by car. It is famous for its handicraft market, which attracts thousands of visitors, especially on Saturdays. Otavalos are called the indigenous Kichwa (Quechuan) groups, which are famous for their woven goods, handicrafts and colorful textiles.  Here's what to do in Otavalo and surroundings.
A perfect day trip from Otavalo leads to the lagoons of Mojanda. At an altitude of 3,700 meters above sea level, the blue lagoons shimmer amidst the yellow-green grass landscape. If you walk up the mountain Fuya-Fuya, you can see the heart shape of the lake. Fuya is called fog in Spanish and because there is often a lot of fog in the area, the mountain was simply called Fuya-Fuya. And indeed, the fog comes suddenly and all of a sudden you can't see the hand in front of your eyes anymore. But in the same speed the fog came, he also moves away. On my way up the mountain, I experienced fog, dense clouds, heavy rain and sunshine – everything is possible on Fuya Fuya within a couple of hours. 
Guillermo Fiallos is a totally reliable driver with a new car. He is located in Otavalo and happy to drive you everywhere you want to. He's operating all over Ecuador. +593 969696777
Another great place to go in Ecuador is El Angel National Park on the Colombian border. Even though the journey from Otavalo takes about three hours, the national park is absolutely worth seeing because it is largely unknown and therefore almost deserted. El Angel is so unique because of its Frailejones Gigantes trees (or rather plants) that can only be found in this national park at an altitude of 3600 meters. The hiking trail takes around two hours if you walk at an easy pace in order to admire nature and unique flora.
A comprehensive guide to Ecuador
What's the best time to travel to Ecuador? What to pack? Do I need vaccines? Or a visa? Find answers to all these questions and many more in my comprehensive Ecuador trip guide. 
#5 Cotopaxi National Park
The Cotopaxi volcano is something like the landmark of Ecuador. With its shape, the always snow-covered top and its 5900 meters height it is a popular mountaineer destination. But it's not only for mountaineers. Cotopaxi is located in a beautiful national park area, which I think is one of the best places to visit in Ecuador. The park is very extensive, so you can stay in the cozy Tambopaxi Lodge for two nights to take beautiful walks, explore the area and photograph Cotopaxi from all sides. The lodge offers horse riding tours within the park. 
Quilotoa is Ecuador's most western volcano at an altitude of almost 4000 meters. After the gigantic volcanic eruption in 1280, the magma chamber collapsed and this huge crater lake with a diameter of three kilometers was formed. A walk along the ridge of the crater lake takes about 6 hours. If you don't have that much persistence, you can do some smaller hikes and simply turn back as you like. For me, the turquoise lagoon was one of the Ecuador highlights, even if the place itself is quite touristic. I stayed overnight at Quilotoa, but for my next trip to Ecuador I would look for accommodation in another village and visit Quilotoa as a day trip. I did not like the place very much and the hotels there are not really prepared for tourists. Basics like bedside lamp are missing, which would be very practical to find your way to bed in the darkness. Curtains are also overrated, so that passing pedestrians look into the room when you are undressing. #firstworldproblems…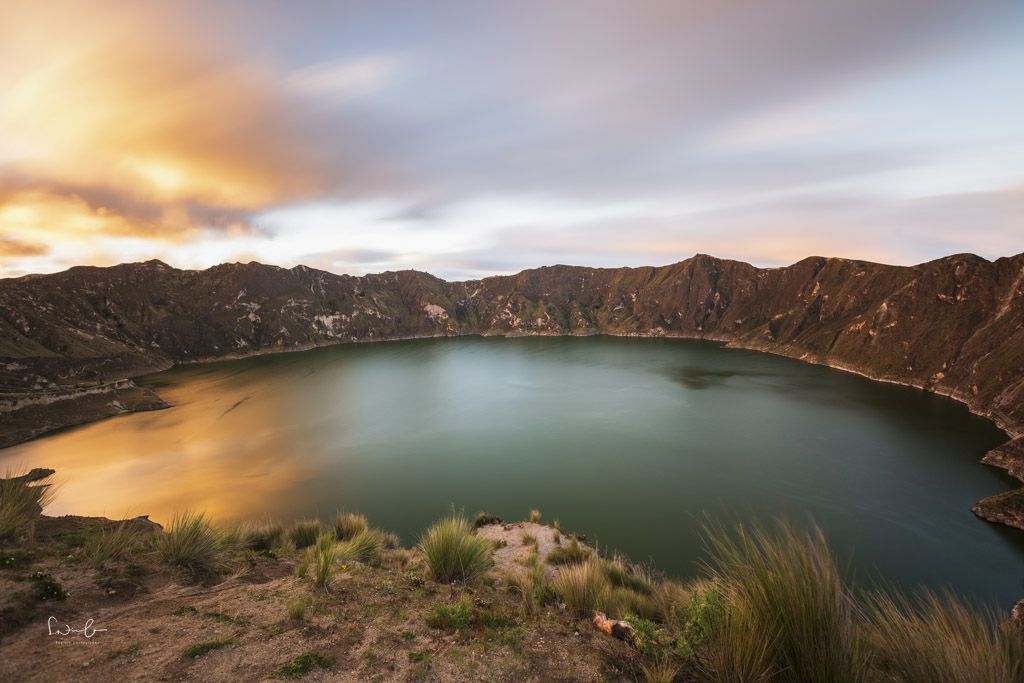 Baños de Agua Santa, as the place is correctly called, is a small city south of Quito. It is famous for its thermal springs, the swing high above the city and the Pailon del Diablo waterfalls. Action lovers should definitely include Baños on their Ecuador travel itinerary because there are countless Flying Fox tracks, bungee jumping, canyoning, rafting opportunities and great bike routes. A thermal bath and many massage salons provide physical relaxation after all the adventure. 
A real nature gem is located just outside Baños in the middle of the woods. Finca Palmonte is a family-owned property which can only be reached by foot. The short walk is worth it, as the garden is full of butterflies and over 100 different orchids. The owners invite their guests to spend a day and a night with them. They spoil them with excellent food and show them the surroundings of the house and the woods. The highlight is a hike into the depths of the forest to observe the Andean cock-of-the-rock, a really beautiful and somehow strange looking bird. The Finca Palmonte was another highlight on my Ecuador trip, which I am happy to recommend to my readers. 
My last and very impressive stop on my 2 week Ecuador itinerary was Galápagos. The wildlife on the islands is simply breathtaking. Especially the sea lizards and iguanas are remarkable animals, which you will encounter on the beach, during hikes but also in the cities. The sea lions that pilgrimage to the beach in San Cristobal every evening in order to escape from the enemies in the sea are an amusing spectacle to watch. Even if the journey to the Galápagos Islands is a long one, especially from Europe, and the islands are not very cheap they are still worth a trip and should not be missing on an Ecuador Galápagos trip. I spent two nights in San Cristobal and two nights in Santa Cruz. 
Did I inspire you with my Ecuador journey? My friend founded a travel agency in Ecuador. Together with her, I will organize a photography tour of the most impressive places in Ecuador. It is especially designed for photography beginners. Does this sound like your kind of fun?
Disclaimer: This article contains affiliate links marked with *. It means I will get a small commission if you book/buy via my link. This is at no extra cost for you.