Are you planning a trip to San Francisco for your first time? Here's your beginner's guide to San Francisco with everything you must know.
San Francisco has something for everyone. Whether you're into culture, a foodie, a wanderer, an explorer, a shopaholic, a night owl, a music freak, an art lover or a dreamer. The Belle of the Bay offers just everything. You could easily spend there several weeks and discover something new every day.
My San Francisco guide covers some helpful tips for your visit and recommendations on planning your first trip to San Francisco.
Content:
1 – The best time to visit San Francisco
2 – The weather in San Francisco
3 – San Francisco transportation
4 – An overview of the city and its neighborhoods
5 – Safety
6 – Do's and Dont's
1 – The best time to visit San Francisco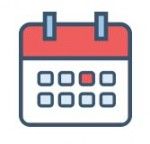 San Francisco is an all year long destination. However, you might want to know when the main events take place or when the weather is most pleasant.
Although it's not possible to imagine San Francisco without fog and it's certainly part of the city's flair, in Spring you might encounter it probably daily. There's the international film festival end of April with 200 international movies and the Bay to Breakers, a footrace with around 75000 runners in May. The Mexican national day Cinco de Mayo on May 5th is a huge party in Mission district. The Carnival San Francisco during the Memorial Day weekend end of May is another event with latin-caribbean flair in Mission district.
Summer in San Francisco is filled with many outdoor events and festivals in particular for Jazz lovers. San Francisco Jazz Festival mid-June is a not-to-miss event for more than 30 years or Fillmore Street Jazz Festival with free concerts in July. The San Francisco marathon with more than 17.000 runners takes place end of July.
Fall is a bit less crowded, but the events calendar of the city is filled with festivals, street fairs and parades. Winter temperatures are a bit chilly, but still good to explore the city. There's the tree lighting ceremony end of November at the Embarcadero which is a beautiful event and it gets you in Christmas mood.
2 – The weather in San Francisco

You might imagine Californian hot and sunny weather conditions, but this is not the case in San Francisco. The climate is mediterranean with mild, but rainy winters with an average temperature of 10-15 degrees and a dry summer with 21-23 degrees on average. If there is the best time to go, it is probably September or October with very little fog and temperatures above 20 degrees.
But be prepared that the weather changes quickly. Always pack a few layers before you head out. It might be a sunny morning, but you never know when the fog turns up.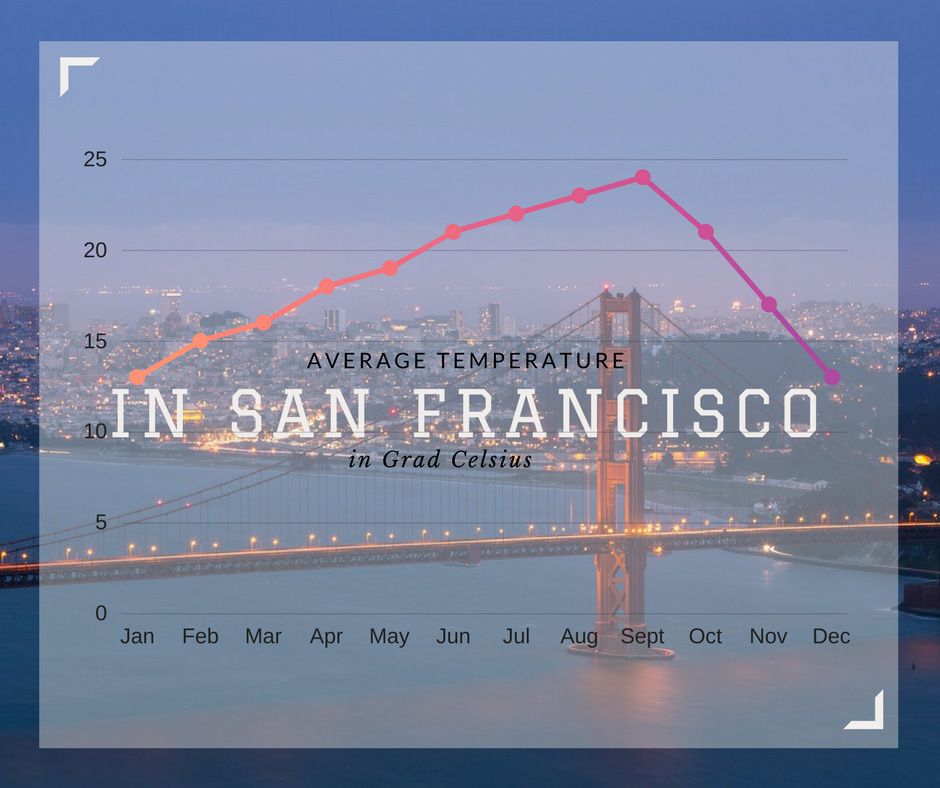 3 – San Francisco transportation

The best way to explore the city is by foot if you don't mind the ups and downs of the hills. You can easily walk through the neighborhoods and by doing that, you will see and discover the most. However, you might not want to walk the entire day or explore other parts of the city than downtown. That's easy with my San Francisco's guide to the public transportation system:
BART (Bay Area Rapid Transit) is the San Francisco subway. I haven't used it myself because I nearly walked the whole city. But it's useful if you want to get from/to the airport into town or from downtown to Mission District.
SFMTA (San Francisco Municipal Transportation Agency) is handling the buses, light rails, cable cars and the historic streetcars. You can use the online trip planner or download the app. With the app, you can not only plan your trip but also buy a ticket. Muni buses offer an easy way to get around in the city in case your feet are getting tired of walking.
Cable cars:
There are 3 cable car lines and there is no San Francisco visit without riding a cable car. Especially when it's your first visit.
Line California: runs from California and Van Ness via California to Market
Line Powell/Hyde: runs from Hyde and Beach (Victorian Park) via Hyde, Washington, Powell to Market
Line Powell/Mason: runs from Tylor and Bay (Fisherman's Wharf) via Columbus, Mason, Washington, Powell to Market
Historic Streetcars:
The famous F-Line runs from 17th and Castro at Market (Castro Street Muni Metro station) via 17th Street, Market (uses island stops), Steuart, Ferry Terminal loop, Embarcadero, Jefferson, Jones to Beach.
You can find the Cable Car lines and the Streetcar E+F here in brownish color. Download the Muni map here.


Tickets and fares:
A single ride ticket is $ 2,75 for the muni bus and rail, $ 7 for the cable car. You can also buy day passes for the cable car for $ 21. For $ 89 you can buy a CityPass that allows unlimited use of Muni, Muni Metro and cable cars for 9 days plus free entrance to some sights (Aquarium, California Academy of Science,…). Check the SFMTA site for all the details.
If you buy a Clipper® Card, you can save $ 0,25 per trip. Just load some cash onto the card.
If you buy your ticket on the bus, bring exact change.
A car in San Francisco?
One word: no. You do not need a car in San Francisco. Public transport is very well organized and car parking is super expensive. Even if you find a hotel with parking, the additional costs for the lot are better invested in some cable car rides or a decent diner.
If you're on a road trip, return the car once you arrive in San Francisco. Or even better: first drive the Golden Gate Bridge and then return it. That's what I did.
In case returning the car is not an option and your hotel does not offer to park, find garages here on this site. Check the maximum time limit! Some garages have 24 hours, some 72, after which cars may be towed. Oh, and don't leave anything of value in the car, not even in the trunk.
4 – An overview of the city and its neighborhoods
Downtown or also called the city is the heart of San Francisco. It includes Union Square, the Financial District, Chinatown, The Embarcadero, Fishermans Wharf, Telegraph Hill, North Beach, Russian Hill, Nob Hill, Tenderloin and Civic Center, so literally the area between Van Ness Avenue, Market Street and the Waterfront.
Downtown, SoMa (South of Market), Waterfront and Chinatown are the most visited parts of San Francisco. But I strongly recommend you to go beyond these areas and visit other neighborhoods.
Haight-Ashbury used to be the most famous neighborhood in the 1960s with the flower-power movement. Today you see a significant upturn, the prices have increased, however you can still figure that it is a hippie-place.

Haight-Ashbury

Pacific Heights is the posh area of San Francisco with beautiful boutiques and cafés, expensive restaurants and awesome mansions with luxury cars parked outside.
Castro is also known as the gay capital of the world. Murals, fabulous architecture and a small-town atmosphere characterize Castro Village.

Castro

Mission District is the Mexican-Latin heart of San Francisco and meeting point of artists and hipsters.
5 – Safety
San Francisco has treated me very well and I personally had the feeling to be safe at any time. I walked through the city with my huge camera in my hand and never came into any trouble or unpleasing situation. However, San Francisco is a big city and as such has the common problems with crime and theft. The highest risk is most probably the pickpocketing risk in the touristic areas and the F-Market streetcar line. Tenderloin around Turk and Taylor Street are said to be the areas with the highest criminality. Be careful there and avoid going out alone at night. Use your common sense, don't wear expensive jewelry and be careful when you withdraw money from an ATM.
San Francisco has a very high number of homeless people. In particular, around Union Square, you see a lot of homeless people of all ages and races. I was not afraid at all, but it shocked me. I loved the city in all aspects, but seeing so many people living on the streets was quite a problem for me.
6 – Do's and Dont's
Tipping is not included in the wages and very much appreciated. You are expected to tip 15-20% of your bill in restaurants, bars or for services (taxi). Chambermaids usually get $2 per day.
Smoking is not allowed in public buildings, on squares, in bars or restaurants.
Alcohol is not served to people below 21 and may not be consumed in public.
I hope my beginner's guide to San Francisco was helpful for you. Now it's time to enjoy your trip. Here are your top free things to do in this fabulous city.
MerkenMerken
MerkenMerken