Covering the 3rd and 4th arrondisements, one of the neighborhoods I enjoy meandering around the most in Paris is the Marais. The dining and shopping here is some of the best in the city, not to mention the winding cobblestone streets and its architectural charm. Centrally located along the right bank of the Seine, here you will find a wide range of hip designer boutiques (both vintage and new) as well as art and great dining. In addition, while not every single shop or eatery stays open on Sundays, most do, making it a lively destination while other parts of Paris are quiet on Dimanche (Sunday). Here's a short Marais district guide.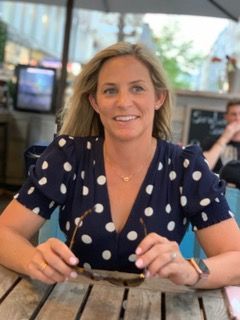 Hello and Bonjour! My name is Glory and I am delighted to bring you stories about Cultural Travel, Art and Architecture. Now based in Los Angeles, my inspiration comes from many years living in Paris and earning my Master's in Architecture from SCI-Arc. For more adventures, follow me on Instagram and Twitter.
A perfect day in the Marais starts early in the morning. Paris is very crowded these days but in the early morning light, with violet and pink hues casting a peaceful glow over the rooftops, it is just you and the shop vendors setting up for the day.  
Where to find the best coffee/tea/pastries
A first stop might be Poilâne, an excellent collection of French bakeries.  My favorite pastry is the pain au chocolat (chocolate croissant) but if you are feeling quite indulgent, you can go for the tarte aux pommes (apple tart).
38 Rue Debelleyme, 75003 Paris
Not only do you find delicious desserts and pastries at Bontemps, but you can enjoy them in the "secret garden" which is located behind Bontemps Pâtisserie. Some of the favorites here include their sablés and lemon cake.
57 Rue de Bretagne, 75003 Paris
This was my go-to lunch spot when I lived here years ago and it is still just as beloved today. Open since 1996, Le Loir dans la Théière  – "the dormouse in the teapot", named after the story from Alice in Wonderland –  is decorated with mismatched arm chairs, sofas, old posters and flea market items. It is especially cozy on those cold winter Sundays and it is reasonably priced, with warm, comforting food and outstanding desserts. 
3 Rue des Rosiers, 75004 Paris
Shopping plus eating combine in this ultra-cozy literary-inspired café Le Used Book Café, connected to the trendy concept store, Merci.  10,000 books surround you as you enjoy your lunch with a selection of soups, salads, terrines and cheese plates.
111 Boulevard Beaumarchais, 75003 Paris
Formerly the local meeting spot for Russian, Jewish workers at the beginning of the 20th century, "Les Philosophes" became a restaurant during the 1920's.  Meals are prepared fresh, with high quality ingredients and affordable prices, making this French café a local gem among other overpriced, low-quality options. 
28 rue Vieille du Temple, 75004 Paris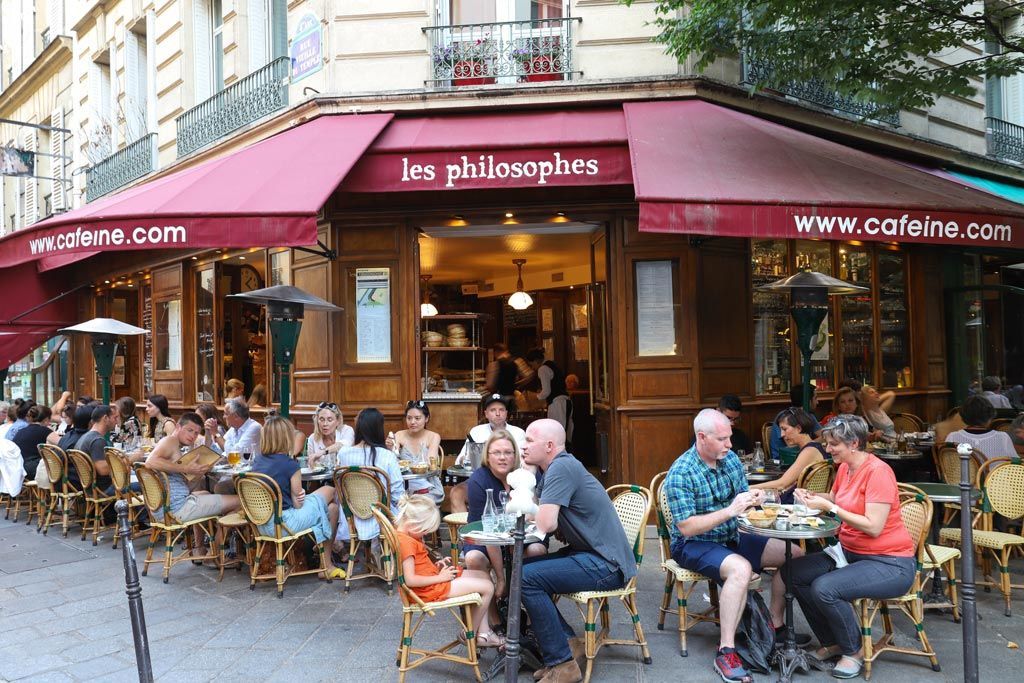 No trip to the Marais is complete without a tour through the Jewish neighborhood and no trip to the Jewish neighborhood is complete without a trip to L'As du Fallafel. This popular spot is the most celebrated falafel place in the Jewish quarter of the Marais and is a must taste!
32-34 Rue des Rosiers, 75004 Paris
Things to do in Marais: Art
Musée National Picasso-Paris (Picasso Museum)
Housed in a 17th century mansion, the Picasso Museum in Paris is located in the Hotel Salé, which has been described as "the grandest, most extraordinary, if not the most extravagant of the grand Parisian houses of the 17th century".
Containing over 5,000 works and tens of thousands of archived pieces, the Musée Picasso Paris is an astonishing collection of the artist's life works.  According to the museum website, "This collection is the only one in the world to present both Picasso's complete painted, sculpted, engraved and illustrated oeuvre and a precise record – through sketches, studies, drafts, notebooks, etchings in various stages, photographs, illustrated books, films and documents – of the artist's creative process."
5 rue de Thorigny 75003 Paris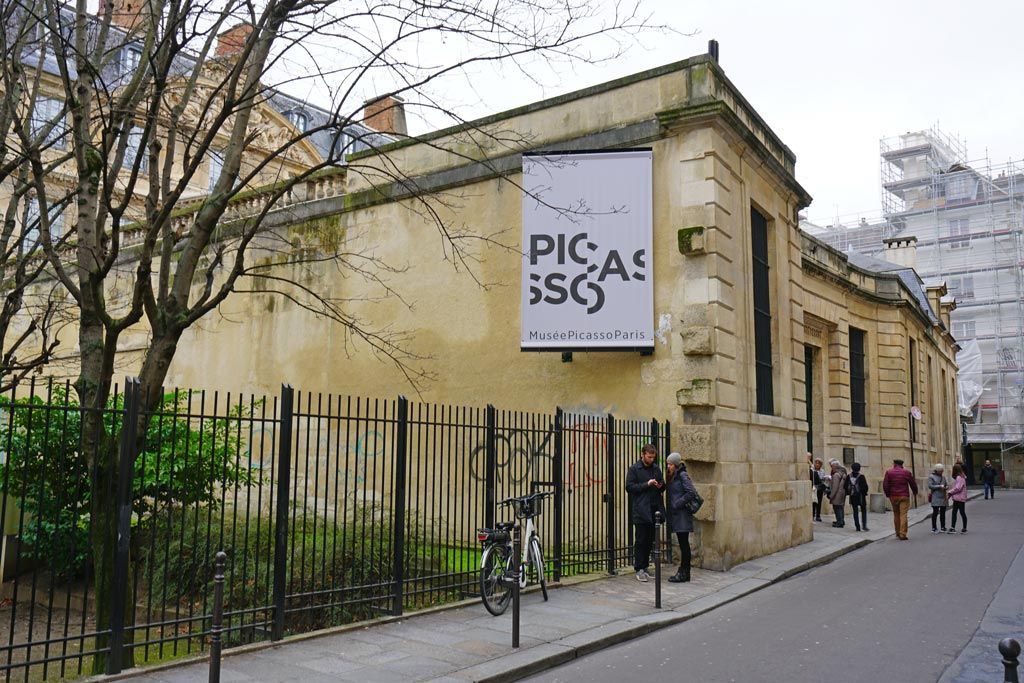 Initially set up in the Palais de Tokyo in 1947, the core of the collection, consisted of masterpieces by Henri Matisse, Pierre Bonnard, Robert Delaunay, Georges Braque and Pablo Picasso.  
The current Centre Pompidou opened in 1977.  Designed by architects Renzo Piano and Richard Rogers, the collection began to expand to pieces of contemporary art from all over the world. Major figures in modern art previously absent from the museum now entered the collection, including Giorgio de Chirico, René Magritte, Piet Mondrian and Jackson Pollock, alongside key names in the international contemporary scene, like Joseph Beuys, Andy Warhol, Lucio Fontana and Yves Klein.
And don't forget to check out the the nearby Stravinsky Fountain (also called the Fontaine des automates), on Place Stravinsky, which features 16 whimsical moving and water-spraying sculptures by Jean Tinguely and Niki de Saint-Phalle.  I have fond memories of the video footage of the fountain in my "French in Action" courses from college!
Place Georges-Pompidou, 75004 Paris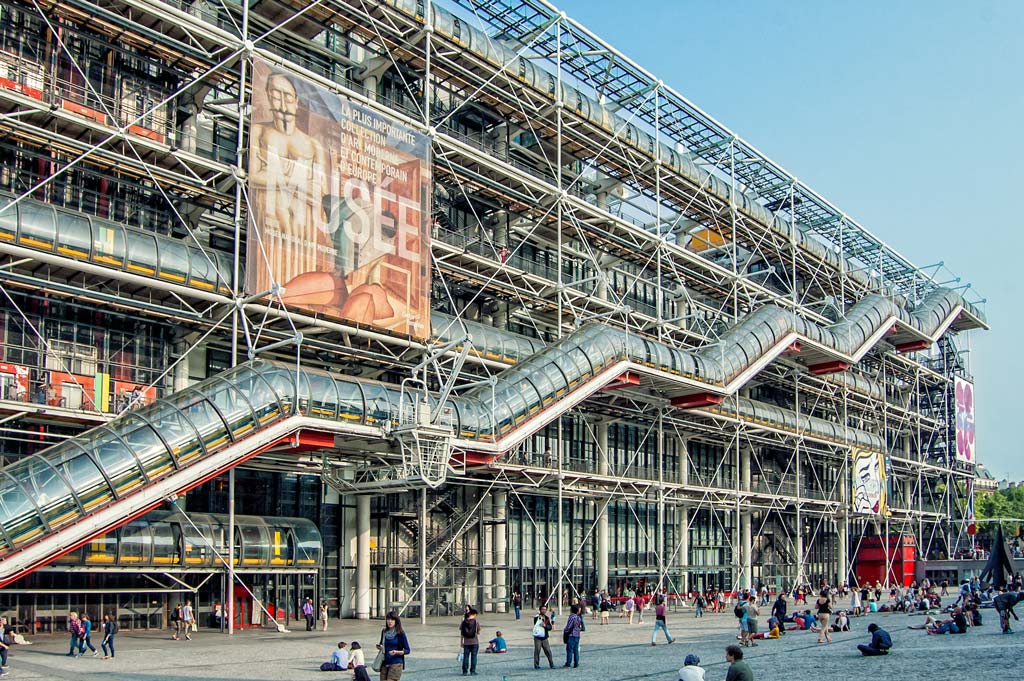 Opened in March of 2019, Lafayette Anticipations combines Art and Architecture in a new addition to the contemporary art scene in Paris.  The famous department store Galeries Lafayette commissioned Dutch architect and Pritzker Price recipient Rem Koolhaas to create their fondation. Tasked with creating an art center which could host three to four annual shows, plus performances and workshops, the architects had to create a flexible, modern, accommodating space.
9 Rue du Plâtre, 75004 Paris
Shopping in the Marais is absolutely heavenly. There is no shortage of small, wonderful boutiques offering new or vintage items. There are too many shops to list here but here are a few of my favorites:
Merci
Housed in a beautifully reconfigured 19th-century fabric factory, Merci is a three story concept store tucked into the heart of the Marais. Here you will find furniture, jewelry, stationary, men and women's clothing, household items and more.  To top it off, all of its profits go to charity.  You can enter either through the literary café or directly through the courtyard into the vast main lobby, full of decidedly delightful items for your shopping pleasure.
111 Boulevard Beaumarchais, 75003 Paris
Vintage Désir
With its misleading sign on the outside which reads "Coiffeur" ("hairdresser), this adorable boutique is one of the neighborhood's most well-known vintage clothing stores. Overflowing with dresses, skirts, shirts, denim and leather jackets, coats, pants and an assortment of accessories, there is plenty to look at here. Items are relatively inexpensive and new items arrive daily so you won't go home empty handed. 
32 Rue des Rosiers, 75004 Paris
Vintage Paris 
At the higher end of the scale is Vintage Paris, which offers a tremendous selection of luxury vintage accessories.  A family business, their stylists travel around the world to source elegant and chic collection of vintage luxury pieces in exceptional condition. And if you can't make it to the flagship store in the Marais, you can visit one of its other locations in Tokyo, Shanghai, New York or Los Angeles.
97 Rue Vieille du Temple, 75003 Paris
Finally...Place des Vosges
A wonderful way to spend your time after a day of shopping and eating is strolling around the fountains of the Place des Vosges, formerly Place Royale, the oldest planned square in Paris.
Numerous metro lines stop in the Marais and the best option depends where you want to start your day. Take the 1 for the south Marais near the Seine, the 8 for north and east along Boulevard Beaumarchais, and the 3 or 11 for the west.
Where to stay in Marais, Paris?
Feeling like a Parisian for a weekend in this lovely furnished apartment*. Or have the luxury of a hotel with served breakfast? Check out 9Confidentiel*…
Disclaimer: This article contains affiliate links marked with *. It means I will get a small commission if you book/buy via my link. This is at no extra cost for you.