Fall is one of my favorite season, if not my most favorite. Temperatures fall, the air gets clear and clean and the colors of the leaves change into warm and cozy red and orange hues. I asked some fellow travel bloggers to share their favorite fall destinations all around the world. Get a cuppa and let us give you some travel inspiration for your October holiday:
Bosnia is one of the best destinations in Europe to visit in the fall. The worst heat of the summer is over, but temperatures are still pleasant and the trees already start changing colors making Bosnia's incredible nature even more beautiful. On top of that, you will have a quiet and peaceful experience as the high season comes to its end and the number of tourists will be less.
Ellis found lots of things to see in Bosnia. The wonderful capital of Sarajevo is a lovely city with its old bazaar and excellent restaurants serving delicious Bosnian specialties like cevapcici, burek and dolma. It is also a great base for some day trips into the mountains. Take the cable car to the abandoned bobsleigh track left behind after the winter Olympics in 1984 or visit the tunnel museum that provided the only way to smuggle goods in and out of the city during the siege in the Bosnian war.
Another highlight is the old town in Mostar. The old bridge in Mostar that was destroyed in the war is now newly renovated and with a bit of luck, you can witness some guys making the long dive in the river below. The scenic road from Sarajevo to Mostar makes this trip worth it on its own and lets you travel through the rolling hills that are the heart of Bosnia.  
Porto in the North of Portugal has so much to offer all year round but its mild fall temperatures, make it an even better destination for a fall weekend getaway. The less crowded months are perfect for discovering the cobbled alleys and colorful streets of the charming Ribeira neighborhood which is the heart of Porto's Historic Center (a UNESCO site). There are so many impressive historic gems to discover such as the Porto Cathedral, Clérigos Tower, Palácio da Bolsa and many more and of course the wonderful São Bento Station – an actual train station that is also a work of art. Its walls are covered with the famous blue and white azulejos (ceramic tiles) that depict the history of the city.
When you get tired of discovering the wonderful and rich history of Porto, May and Sari suggest to go strolling along Flores street and find the best local delis, cool boutiques and street art. If it happens to be raining, you can always visit the Museum of Contemporary Art of Serralves, listen to a concert in Casa da Música (the building itself is a work of art) or go wine tasting in Vila Nova de Gaia (one of the best viewpoints to see Porto in all of its glory). Best of all, there are many events during the fall months such as the wine festival, Red bull races and Porto Jazz festival in September, the Francesinha festival (a huge sandwich with layers of ham, sausage and steak, covered with melted cheese – it's the signature dish of Porto) in October and the Porto Marathon in November so you'd better start planning your Porto fall vacation ASAP.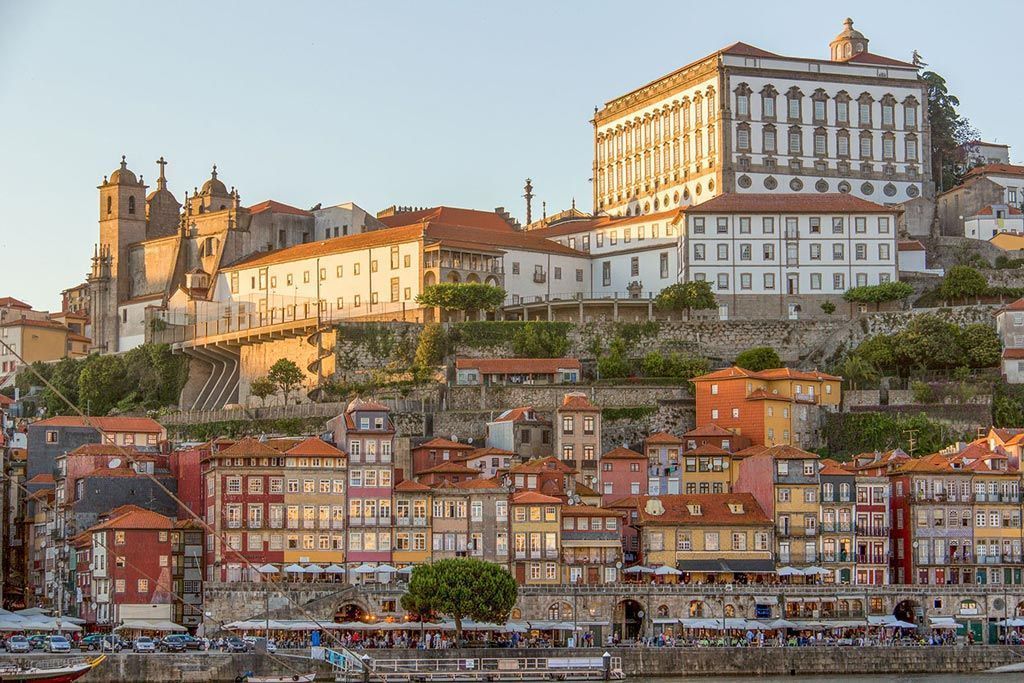 Budapest during fall is magical! Summertime in Hungary is hot, which makes sightseeing exhausting. Fall is a much nicer time to really explore the city – the sun is shining but you don't have to deal with the excruciating heat. Also, there are way fewer tourists so you can get some of the sights almost to yourself. My favorite things to do in Budapest include admiring the beautiful city view from the Fisherman's Bastion and the Buda Castle, climb up to the top of St. Stephen's Basilica for another great city view (I'm a big fan of views), eating delicious cakes at Café Gerbeaud, walk around the green oasis of Margit Island (Margitsziget), visit the beautiful House of Parliament*, and go on a cruise on the Danube river.
Fall in Budapest is full of fun festivals like a chocolate festival, wine festival, pálinka (local spirit) and sausage festival, and even Octoberfest. They also have parties (or Sparties – pun intended) at the Szechenyi Bath – how cool is that?! So, skip Budapest during the summer time and plan for a fall getaway to the city that in my opinion is one of Europe's most beautiful capitals.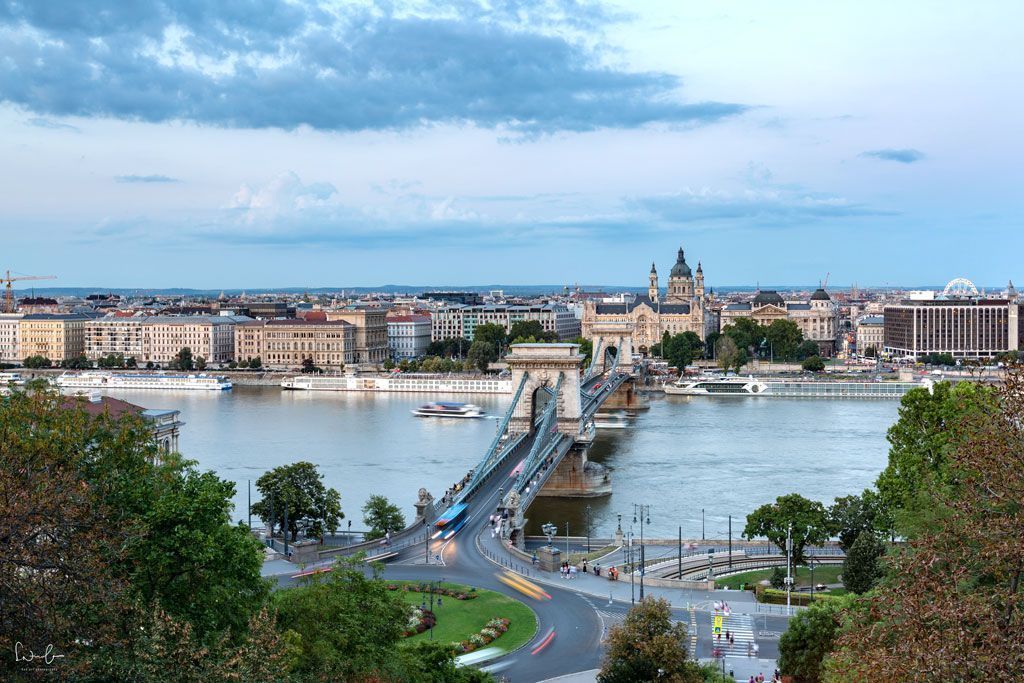 There's no doubt that fall is the season Koreans look forward to most. It's not just because the monsoons, choking humidity and unbearable heat of summer has passed. No, it's because, in autumn, we can look forward to clear, pollution-free blue skies, comfortable temperatures and a country absolutely saturated in a brilliant kaleidoscope of mellow yellows, burnt oranges and vibrant reds.
Seoul's technicolor autumn is all the more striking if you remind yourself that just 65 years ago, the country was reduced to total rubble by the Korean War. To see the triumph of Mother Nature, where there once was no trees, plants, flowers, or even food, is especially stirring – especially for older Koreans alive today, who still remember that extremely difficult time in their homeland.
Plan your visit to Seoul for mid-October to see the absolute best of fall's foliage. Incredible color can be seen all over the city then, but for panoramic views, hike up to the top of Gwanaksan Mountain, which is accessible via Seoul subway. For a day trip near the city, head out to Nami Island, which is famous for its tree-lined roads and total absence of telephone poles (all electric wires are underground to preserve a natural feeling). To take a step into Korea's traditional past, follow in the footsteps of kings and queens in Changdeokgung Palace's Secret Garden, which has over 26,000 gloriously changing trees to admire.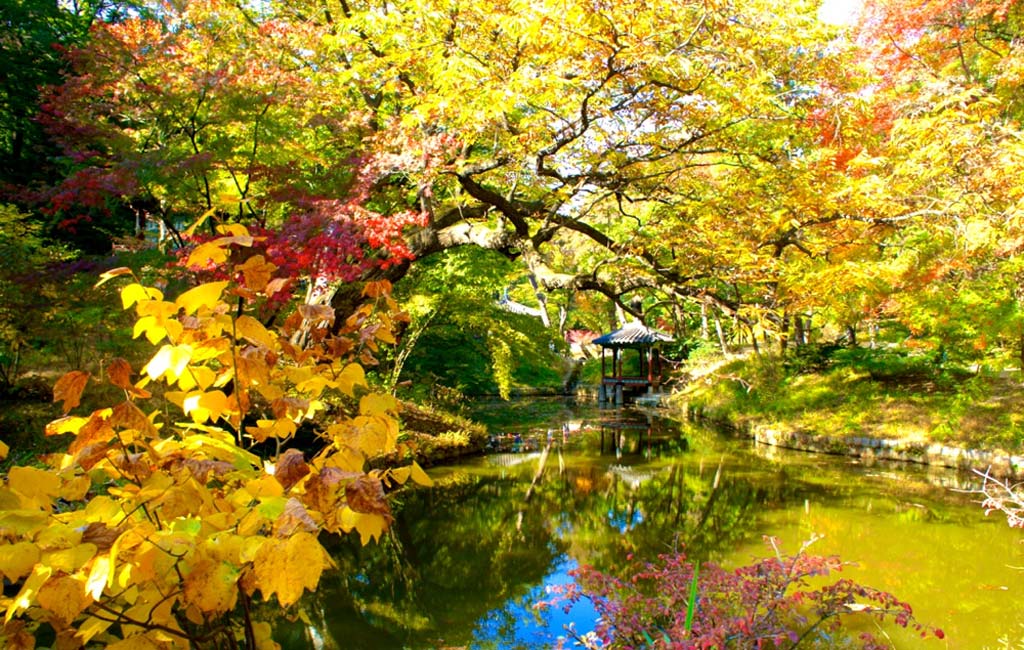 Arkansas is one of the most underrated fall destinations in the US. While people flock to New England for its fall colors, Arkansas offers the same experience without the crowds. Known as the Natural state, Arkansas's many forests, national parks, scenic drives, and natural areas are breathtaking with abundant colors throughout fall. 
One of our favorite ways to experience the vivid foliage in Arkansas is to drive the Talimena Scenic Drive in fall. This route starts in Mena, Arkansas and goes all the way to Talihina in Oklahoma. This highly scenic fall drive follows the peaks of the Ouachita mountain ranges and has great views of the colorful mountains from its lookout points. 
While the drive can be completed in a few hours, we suggest stopping at the many lookouts and hikes along the road to experience the fall colors up close. Other great places to see fall in the state, apart from the Talimena drive, including Hot Springs National Park, Buffalo National River area, and the beautiful Ozark mountains. 
Fall is easily the best time of year to visit Boston; the summer humidity has dissipated, the winter snowstorms haven't yet struck, and the changing colors are vibrant. The whole region of New England is famous for its fall colors and leaf-peeping trips, and Boston is a great base from which to explore some of the more rural areas of Massachusetts, Vermont, and New Hampshire, where the colors are the most striking. Plus, many orchards within a short drive of Boston offer apple picking, the quintessential New England fall activity.
Visiting Boston in the fall also means you might be able to catch a Patriots, Bruins, or Celtics game, and if your trip is in mid-October, don't miss the Head of the Charles Regatta – it's one of the biggest events of the year. And of course, October is also the best time for a day trip to Salem, where there are multiple events going on every day.
The cool fall weather also makes Boston's many outdoor activities much more pleasant. Stroll along the Charles River or around Jamaica Pond, cycle the Minuteman Bikeway or the Emerald Necklace, or go hiking the Middlesex Fells or the Blue Hills. If it gets too chilly, pop into one of Boston's many breweries for a seasonal beer or one of its even more numerous coffee shops for an apple cider or a pumpkin latte.
The city of Berlin turns stunningly beautiful in fall. Be it the Tiergarten or just the trees in different neighborhoods, autumn foliage is quite spectacular everywhere in the city. 
A walk crossing the main attractions in the city – Brandenburg Gate, Reichstag, Tiergarten, Jewish memorial – is a must-do in Berlin. I have visited Berlin in the summer and was pleasantly surprised that there were no long queues at popular museums in the Museuminsel. So, if you are into history and culture, spending a day at the 5 museums – Pergamon, Bode, Atles to name a few – is quite good. A visit to the Berliner Dom or Berlin Cathedral with its striking architecture is interesting. If you are traveling with your kids, I highly recommend the Berlin zoo and aquarium. I spent half a day walking around Berlin Zoo with my daughter, the autumn foliage and the cool temperature made it a really pleasant day to be outdoors. See my travel guide to Berlin for a more detailed itinerary.
Sightseeing apart, the city also has some cool cafes in courtyards of old buildings. Sitting here with your favorite cup of coffee is a pleasant way to spend an afternoon. Cool (but not cold) climate, no summer crowds at main attractions, eye-catching warm hues of nature everywhere, fall is a great time to visit Berlin.
The beautiful city of Ljubljana turns into a magical wonderland in the fall. With parks and trees sprinkled throughout the city, you will be blown away by the colors and the leaves. Located close to the coast, the weather is still nice until mid-November so you can be sure to explore the Old Town with its coffee shops and restaurants. If you would like to enjoy nature, you can hike up to the castle or walk in Tivoli Park, along with the locals.
If you are there for a bit longer, you can enjoy the nature around such as the beautiful lake of Bled. If you would rather stay in the city, you can take a look at Mestni Museum to enjoy some of the local art and their constantly rotating exhibits. Do not miss the Dragon Bridge located at the end of the old town, one of Ljubljana's most important symbols. Overall you will be sure to have a great time here since the people are friendly and the city is gorgeous. 
If you don't visit Vermont during foliage season did you really visit Vermont? The answer is no, no you didn't. Fall is when Vermont shows it's true colors, pun intended. The Green Mountain, which goes straight up the center of the state explode with reds, yellows, and oranges.
Living in Southern Vermont myself, I'd suggest making Manchester, Vermont your home base for exploring. It's an easy drive from New York City and New Jersey with only an hour drive from Albany International Airport.
While you're visiting the area you'll want to explore on foot. Hiking is a must for a visitor, so you can get up close and really experience fall. The Long Trail is the oldest long-distance hiking trail in the United States and can be found just outside of town. No, you don't need to hike all 272 miles of it, but summiting Bromley or Stratton Mountain will give you amazing views of the area.
I'd also recommend getting a maple creemee. In most places, you'd call a creemee soft serve ice cream, but these little babies are so good they need a name all their own. Flavored with real Vermont maple syrup, I could eat one every day! See y'all in beautiful Vermont.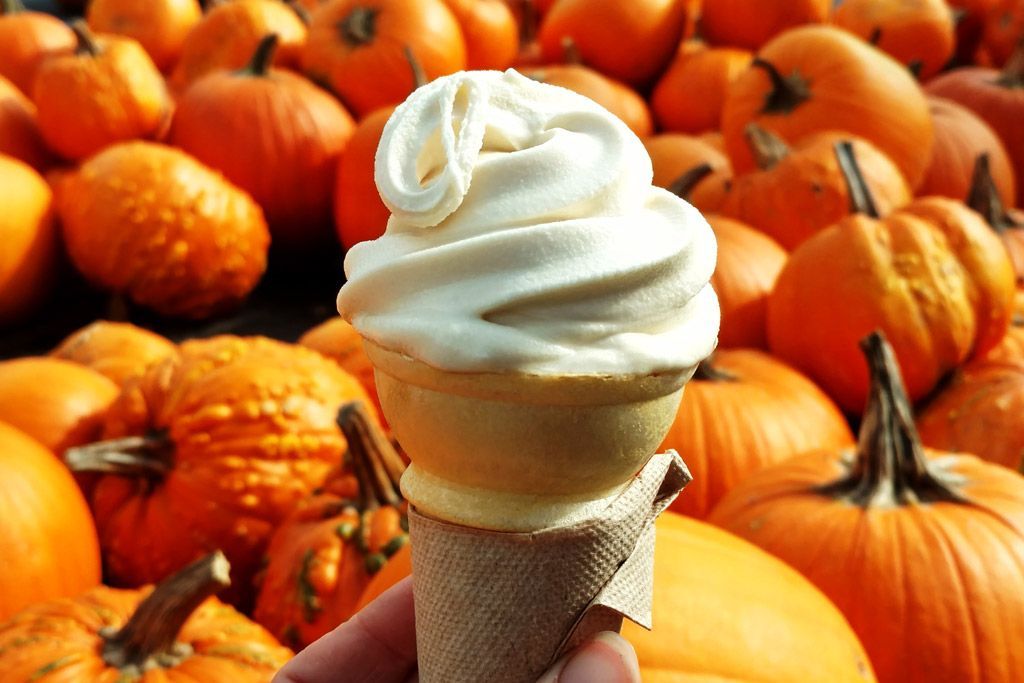 Last but not least, I am recommending my hometown Vienna as one of the best fall destinations. Despite being a place for every season, fall is my favorite one. I enjoy the mild temperatures and the fresh air before the fog, wind and cold hits the city in November and only disappears in the spring. 
Vienna is a green city with lots of parks turning into a colorful paradise. The Prater is the biggest park and you absolutely do not feel the city vibes but rather think you're far away from any town. From the giant Ferris wheel, you've got a great view over Vienna. After your walk in the park, head to one of Vienna's famous coffee houses. Coffee is a celebration in Vienna and lots of writers and artists turned their favorite café into their workplace. You might get stuck with your order, get some help of how to order coffee in Vienna here.
The vineyards around Vienna invite for a stroll and having a glass of wine in the late afternoon sunshine. Enough of being outdoors? Vienna is a great place for culture and music. How about a classical concert with the Mozart Orchestra in the glorious Brahms Saal? Find your ticket here*.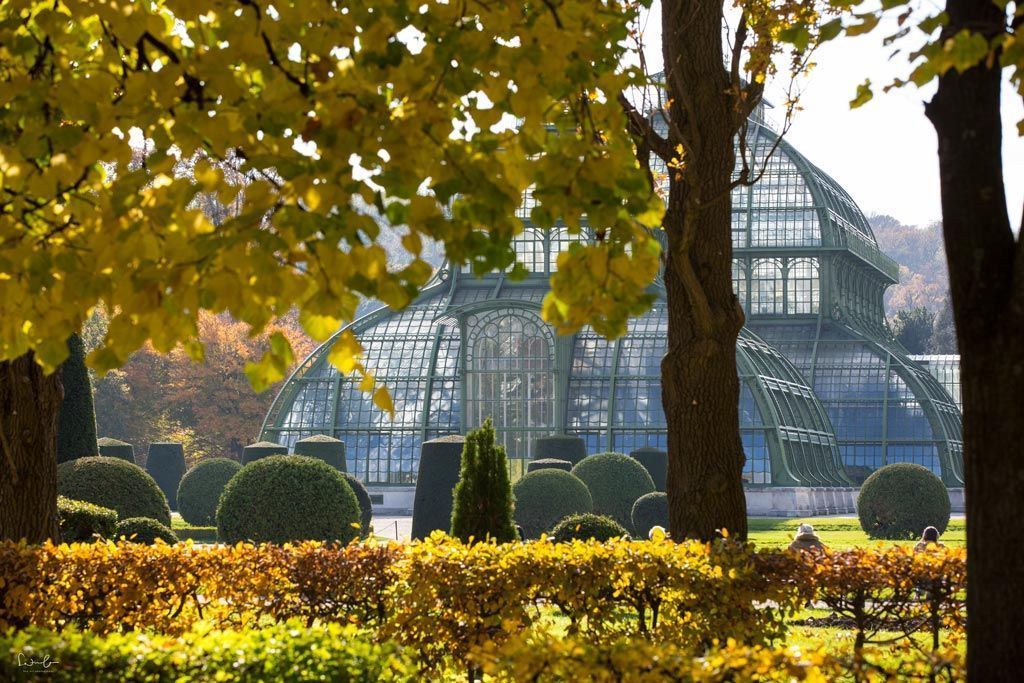 Disclaimer: This article contains affiliate links* which means I will earn a small commission if you purchase/book through my links. This is without extra costs for you. Thank you for considering booking through my links.