Marrakech is a colorful destination with fascinating and diverse facets. I had it on my bucket list for a long time and finally made it to Morocco's hip and chic spot. There are a few highlights I certainly recommend you to visit, but apart from those, my advice is to let yourself in and don't plan too much.
Before you plan your trip please read this Marrakech first-time visitor guide which gives you some useful tips and insights about when to go, what to wear and many more.
These are my personal highlights of Marrakech:
1 – Jardin Majorelle
I'd also call it the Instagrammer's heaven. Majorelle Garden is a beautifully arranged garden in the new town of Marrakesh. The main attraction of the garden is the blue art deco building, the Berber Museum, with its yellow windows and sunshades that make a wonderful shadow. Needless to say, you should be there really early. It gets very crowded and the house transforms to an Instagram photo spot where everyone spends quite a lot of time until the perfect selfie or couple shot has been taken. Insta mass-processing so to say.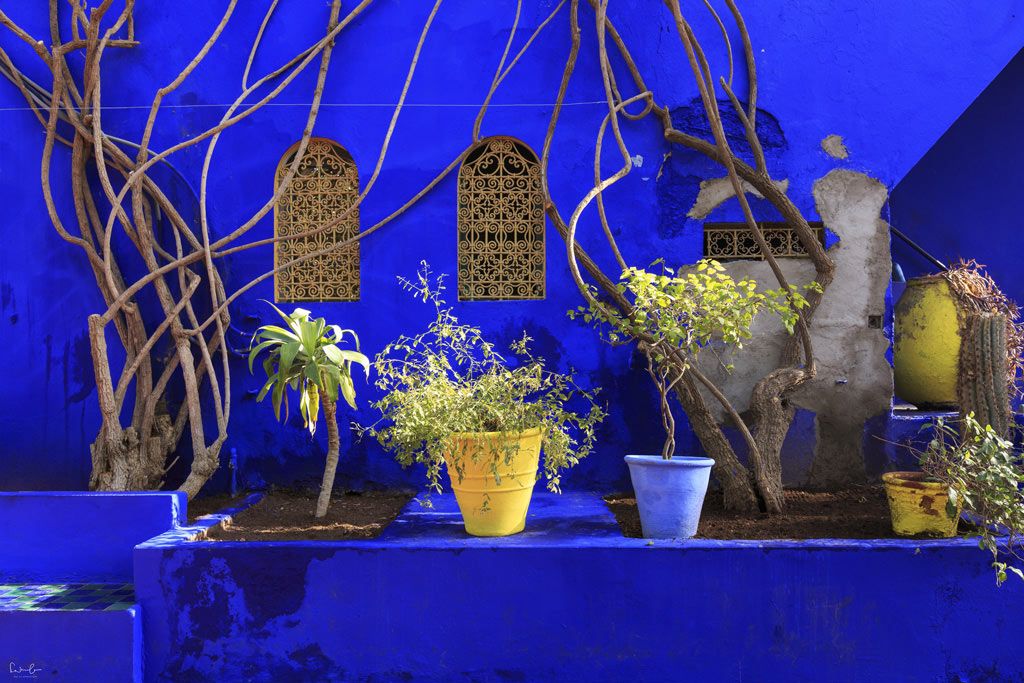 The Berber museum is showing Berber art and culture based on the Imazighen which are among the original peoples of North Africa. The culture of the Berber is characterized by a strong connection with their land, hospitality, a sense of spirituality and community. The museum showcases items produced by the Berber, ornaments, jewels and costumes.
The modern Yves Saint Laurent museum next door houses the fashion designer's work including more than 5000 haute couture pieces, sketches, worksheets, photographs and videos, press clippings and many more. The gallery displays the work of a photographer who worked with Yves Saint Laurent and changing exhibitions makes this museum a remarkable place you should add to your Marrakech activities.
Address: Rue Yves Saint Laurent
Admission: 70 Dhs (garden only), 30 Dhs Berber museum, 100 Dhs YSL Museum
Open: every day from 8 am to 5.30 pm (depending on the months, check hours before)
2 – Saadian Tombs
If mausoleums and tombs are not your kind of fun, you should still visit Saadian Tombs. If only because of the beautiful tiles the tombs are covered with and the amazing architecture. Need some insights? The sight used to be a burial ground for famous citizens and sultans before they were sealed in late 1700. In 1917 the Saadian Tombs were rediscovered and are now open to public visitors. Note that you are not allowed to enter the mausoleums.
Tip: Be there early in the morning because the site gets really packed. If you want more than just photographing the tiles and the mausoleum, book a guide to learn some interesting facts from the history of the Saadians.
Address: Rue de La Kasbah
Admission: 10 Dhs
Open: every day from 9 am to 5 pm
3 – Ben Youssef Madrasa
I made a very small list of things I really wanted to see and this one was on top of it. Founded in the 14th century the Madrasa with its tiles and mosaics is one of the most beautiful sights if in Marrakesh. Up to 900 students have lived there and studied law and theology in the Islamic college. It's a shame I couldn't visit this unique highlight of Marrakech because they closed the site down for construction work and I heard it will be closed for the next two years. (Status Dec. 2017).
Address: Northern medina, take the route through the souks and watch out for the sign Madrasa.
Admission: 40 Dh
4 – Maison de la Photographie
As a photographer with passion, there was no way of skipping this spot. The museum shows photographs from Marrakech and Morocco from the end of the 19th century. Wonderful portraits and street scene photos decorate the walls on three floors. At the end of your tour, you will reach the rooftop terrace where you can sit down, have a cup of Moroccan tea and enjoy the view of the medina and the Atlas mountains.
Address: Rue Ahl Fes, close to Ben Youssef Madrasa
Admission: 40 Dh
Opening hours: Daily from 9.30 am to 7 pm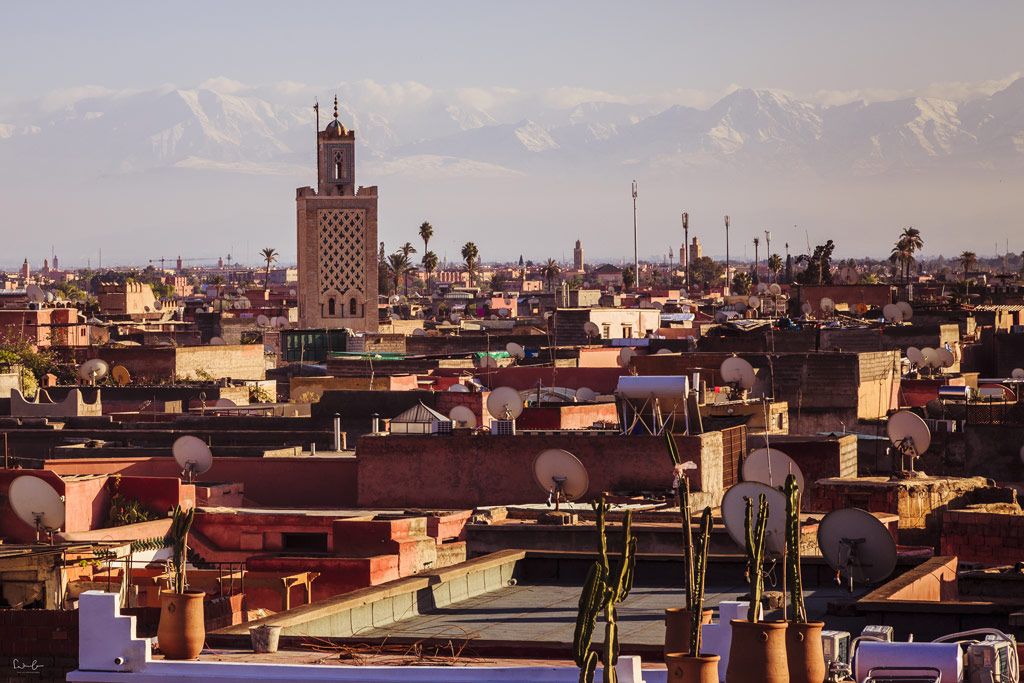 5 – Bahia Palace
The architecture of the palace is amazing, a true masterpiece of symmetries. It used to be the most luxurious palace of Morocco in the years of 1800 and is now open to the public to visit but also offers concerts and art exhibitions. Because it is listed in all tourist guides as a must site, it gets really crowded, too. But it is still worth a visit and you can have a seat in the huge patio and just enjoy the sun. If you want to hear a bit of its history, I recommend you to book a guide.
Bahia Palace is not to be confused with El Badi or Badia palace, the ruined stone palace.
Address: Avenue Imam El Ghazali
Admission: 10 Dh
Opening hours: Daily from 9 to 5
6 – Placa Djemma El-Fna
Djemma El-Fna is fascinating and frightening at once. Fascinating because of the atmosphere, the crowds and the life on the main square in Marrakesh. Moroccans selling their souvenirs and food, playing music, miracle healers, artists, Henna painters, fortune teller, snake charmers, monkey trainer. Please read my first-time visitors guide on animal tourism. The square not only was fascinating but also somehow frightening. I can't really explain why I had mixed emotions, I guess somehow the sound of the Pungi and the fact that there are snakes (which I am super scared of) caused it. Plus, I read a novel the other day about a scary story featuring a snake bite on Djemma El-Fna… Anyway, you should definitely not miss the heart of Marrakech and watch the life from one of the panorama cafes.
7 – The souks
The souks of Marrakesh are a maze of narrow alleyways in which you can wander hours and hours exploring and discovering and haggling. From the covered market (Kissaria) in the center, you can reach all the souks: Souk Smarine is the souk for fabrics, clothes, carpets and antiques. Souk el Kebir is the leather souk, Souk el Attarin leads through the Souk of Babouches, the soft Moroccos slippers. Don't miss the Souk des Teinturiers with the colorful wool hung up to dry. In the Souk al Fes you can buy these beautiful Moroccan lanterns and traditional crafts while the blacksmiths beat and hammer iron for the lamp and furniture stands in the Souk Haddadine. The best thing you can do is to let yourself in and enjoy the different sounds and smells and marvel at the beautiful crafts. If you want to buy something, haggle.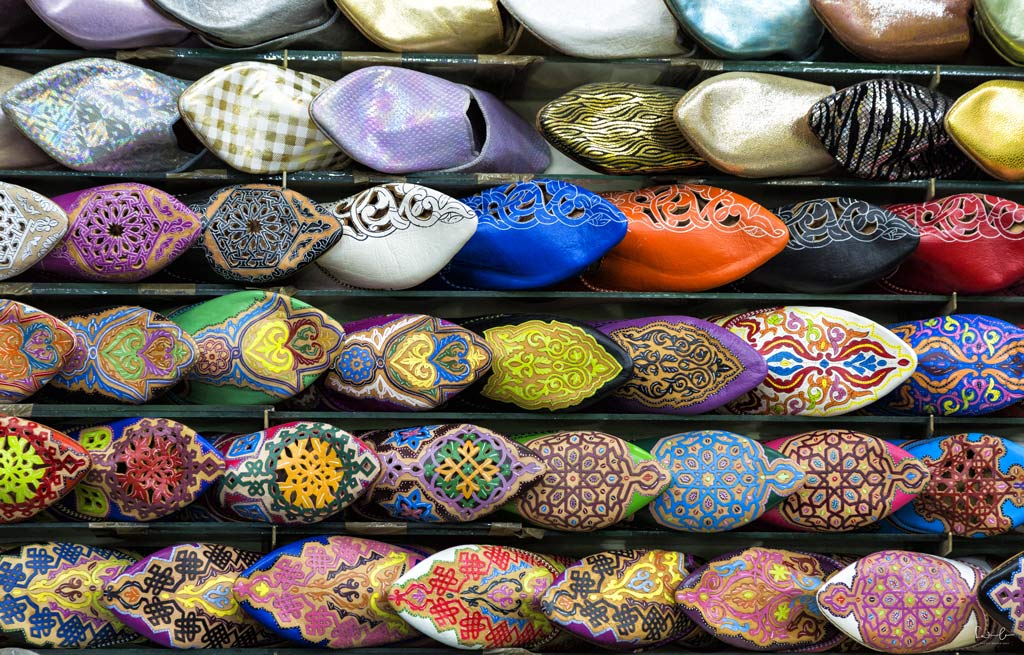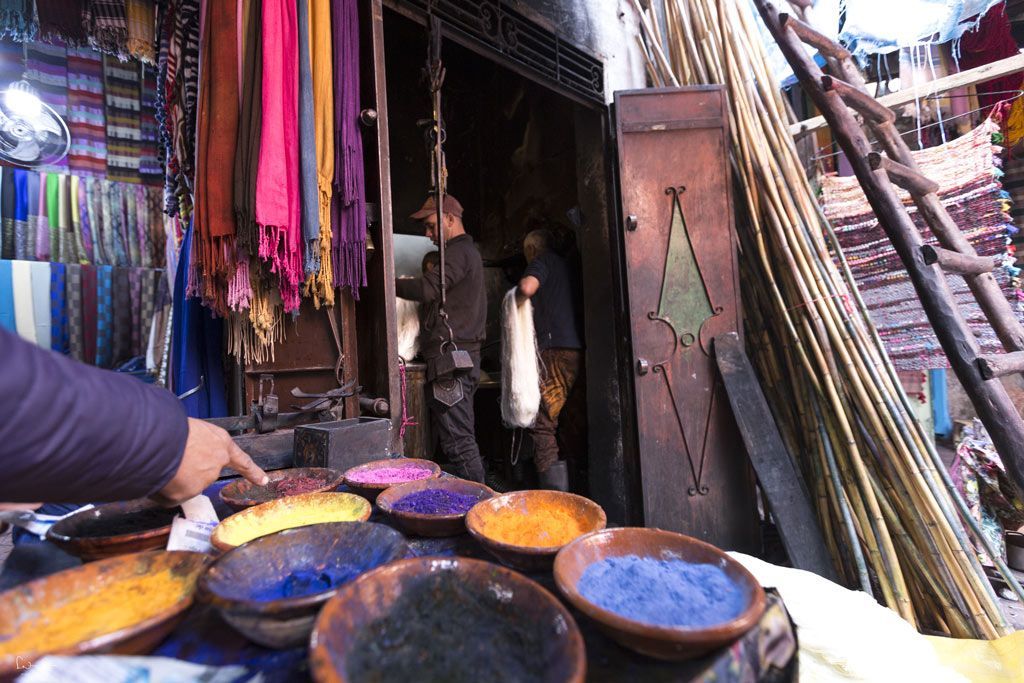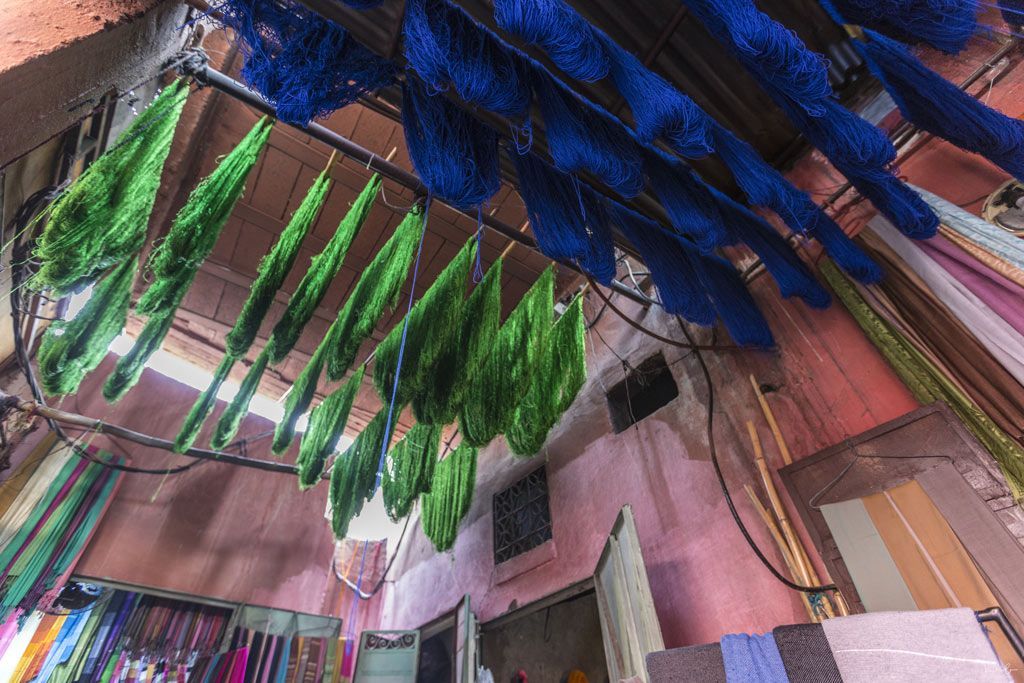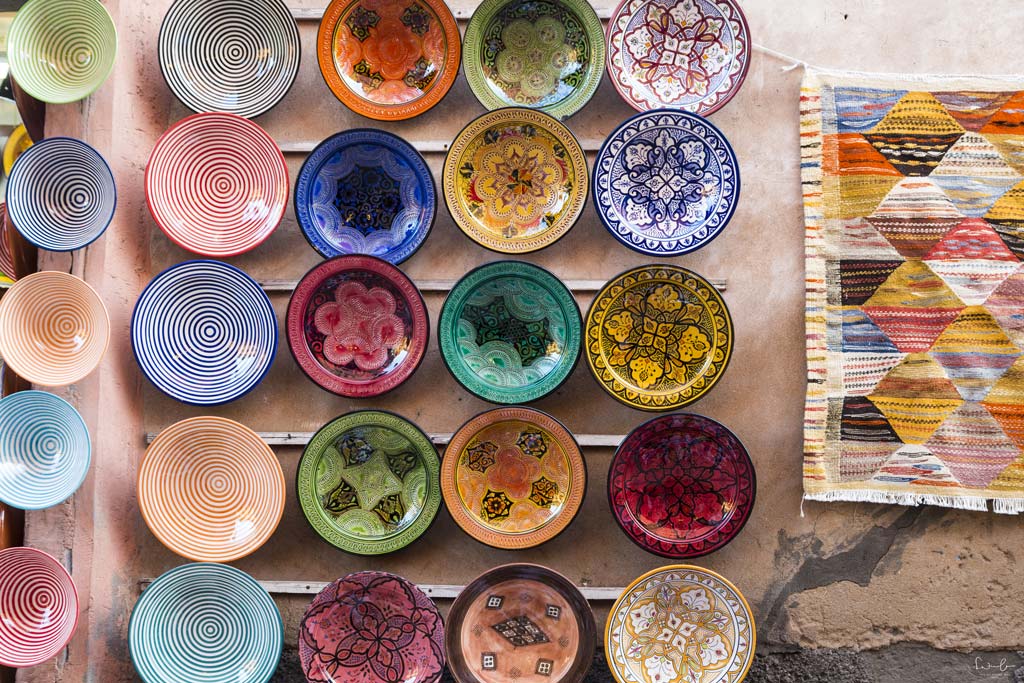 8 – Knock on Riads
Expect the unexpected and find beautiful surprises behind the walls. Wander along a shitty dark alley and find a lovely patio with beautiful interior design pieces and colorful tiles behind the door of a Riad. Go round and knock on the doors. The owners are happy to show you their treasure and let you take photos. Most of them even offer you to sit down and have a glass of tea. This is Moroccan hospitality.
Looking for a nice Riad in Marrakech? Check this one out*
Cross out from Marrakech bucket list: a trip to Gueliz, the new part of Marrakech unless you visit Jardin Majorelle. Besides the cool architecture of the main station, this part of the city is rather unspectacular and there is not much interesting to see or discover.
The admission fees for the sites mentioned are really low compared to other famous ones all over the world. 10 Dirham is 0,90 Euro!
What are your favorite things to do in Marrakech? Which other highlights have I missed? Definitely a day tour into the desert, the Atlas Mountains and the Berber Villages which gives me a reason to go back.
Are you looking for some more inspiration? You might find these articles helpful:
15 awesome things to do on a Morocco road trip 
A 3-day desert tour in Morocco
Disclaimer: This article contains affiliate links which means I will earn a small commission if you purchase/book through my links. This is without extra costs for you but it helps me to keep this blog afloat. Thank you for your support.