Have you ever wanted to take some kickass photos of the Golden Gate Bridge? Photographs that stand out on your social media timeline? Friends asking "You've taken this photo? Wow"!
I found 4 brilliant Golden Gate Bridge viewpoints with the best view on San Francisco's landmark.
To me, there is hardly any other impressive icon than the Golden Gate Bridge.
Have you ever seen photos of a place and started dreaming about it? I'm sure you have.
One of my biggest dreams was to do a road trip from LA to San Francisco and drive over the Golden Gate Bridge with open windows, great music and my hair blown by the wind. In my dreams, I was feeling freedom and happiness. And my dream came true.
Ok, there was a traffic jam on the bridge when I arrived which wasn't exactly what I had in mind. But never mind… When I first saw the Golden Gate Bridge in real, my fascination was endless and I could not stop looking at her. Scott McKenzie and the American Dream said hello to me. Tears of happiness were streaming down my face. I've arrived at the Belle of the Bay and couldn't wait to grab my camera and find the best spots to capture the icon.
These are my favorite 4 Golden Gate Bridge viewpoints for impressive bridge photos:
1 – Marshall's Beach
I arrived in San Francisco with the rental car and before I returned it, I drove over the bridge and then stopped at a car park at Presidio (GPS data 37.803217, -122.476164 parking space) on Lincoln Blvd. You will get there on public transport, too. I suggest you use the route planner of SFMTA.
From Lincoln Boulevard watch out for the Battery to Bluffs trail that leads you straight down to Marshall's Beach. From there you can capture the bridge and use the beach and some rocks as foreground. You can also take some beautiful pictures on your way down to the beach. There are some vantage points from where you have a wonderful view, too.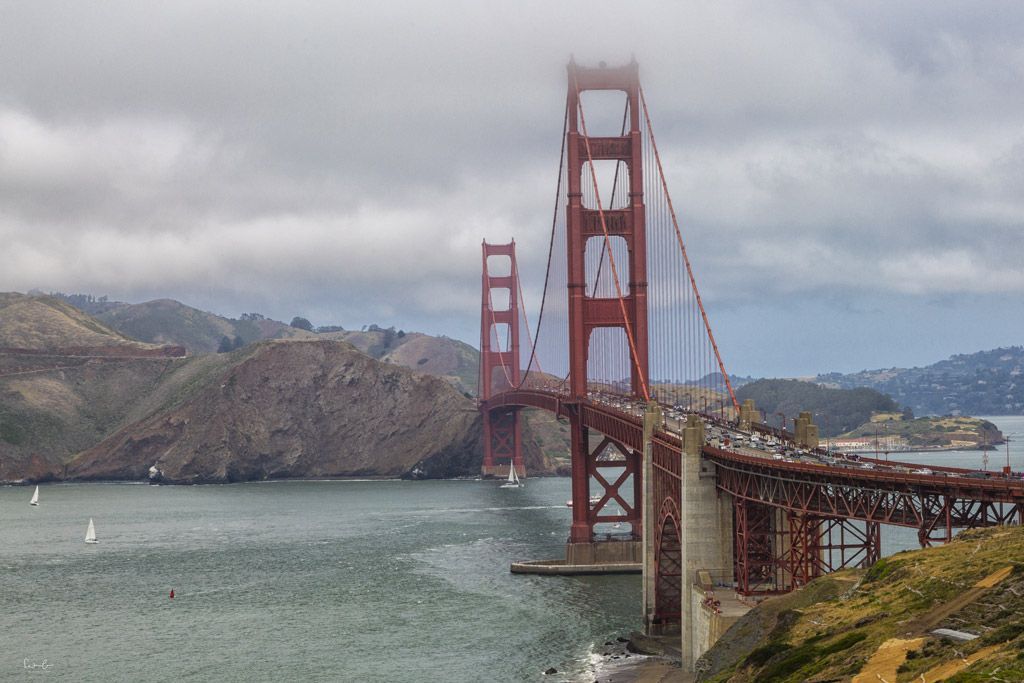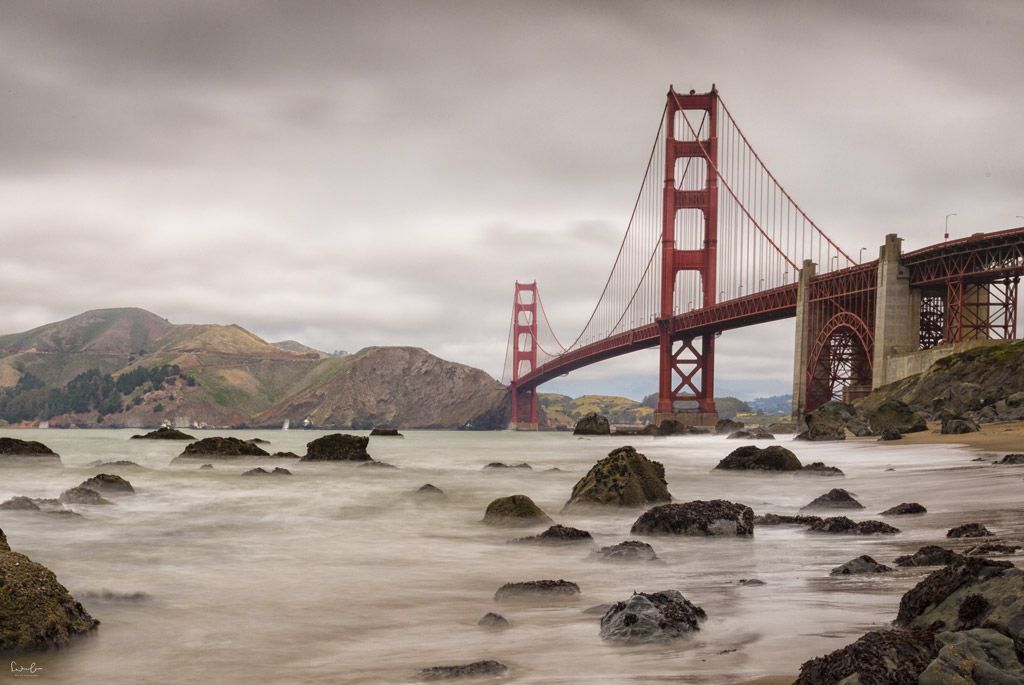 2 – Marin Headlands Vista Point
Marin Headlands Vista Point on Hawk Hill is on the other side of the Golden Gate Bridge. I was lucky because a friendly photographer from San Francisco took me there with his scooter. It is possible to get there with public transport, it just takes a bit longer from downtown. You could invest in a taxi on your way back, especially if you shoot in the blue hour – which I strongly suggest – and it's dark when you've finished. From Hawk Hill, you see the Golden Gate Bridge from all its glory in a distance with the beautiful skyline of San Francisco in the background.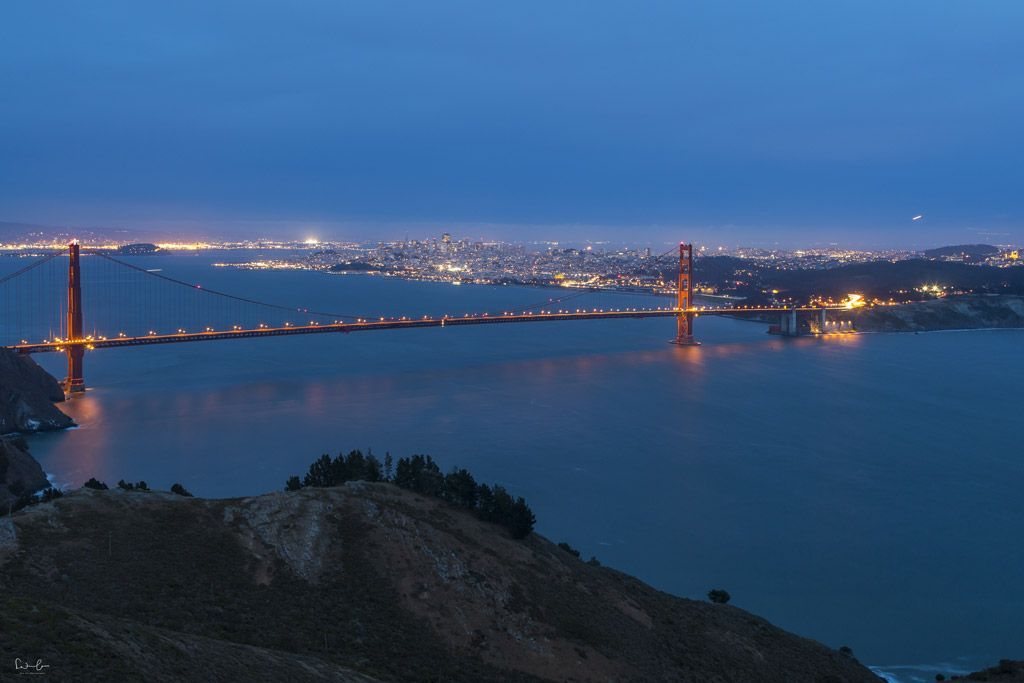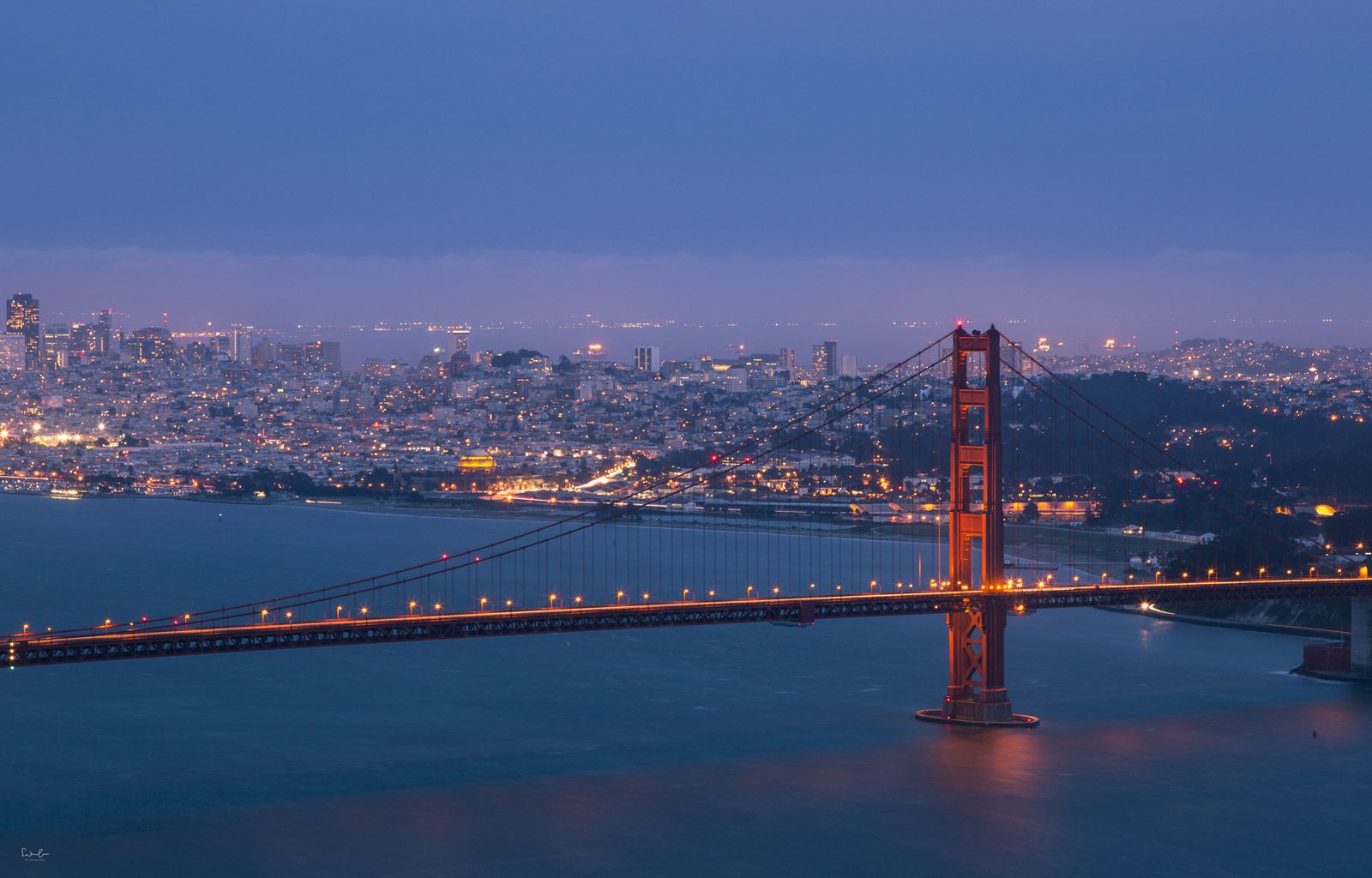 3 – Battery Spencer Golden Gate Bridge Lookout
This viewpoint is also on the other side of the bridge, but lower than Hawk Hill. You can easily combine both viewpoints Marin Headlands and Battery Spencer. Start on Hawk Hill with your first shots and then walk 30 minutes downwards to Battery Spencer. The view from here is breathtaking and you can capture great close-ups from the structure of the bridge. The bridge is in the center and foreground of your image, the skyline moves back and is a tiny detail in the background of your photo whereas from Marin Headlands the skyline is much more on the spot.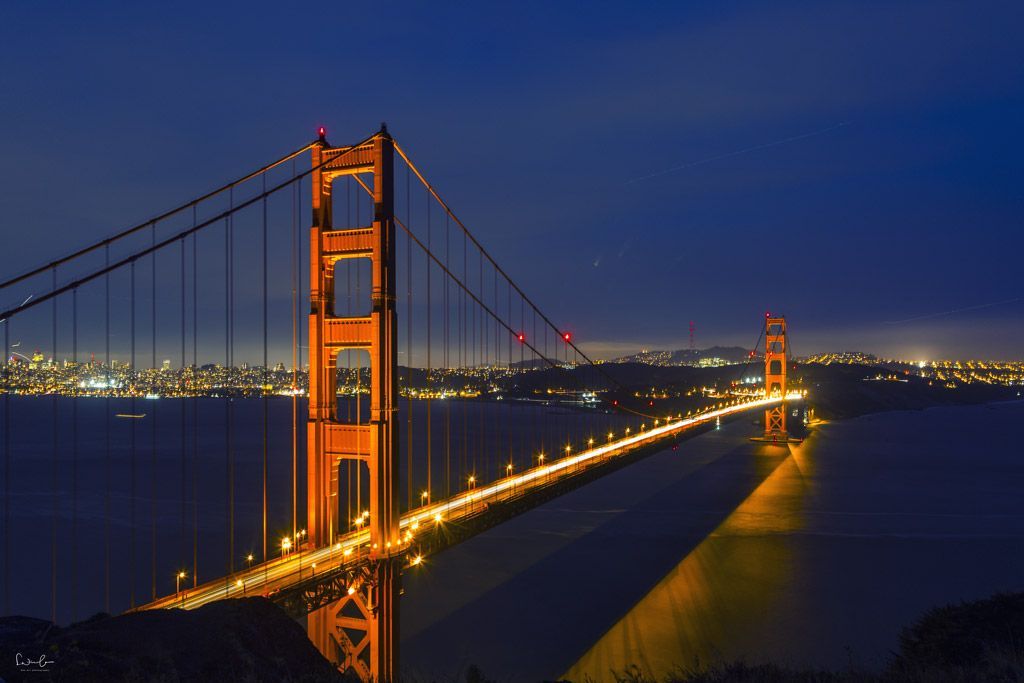 4 – Fort Point
Back on the San Francisco side of the bridge at Presidio, there's Fort Point just around the corner of Marshall's Beach. Fort Point is very easily reachable by public transport. Again, use the trip planner – it is so useful. The area at Fort Point is very nice for a walk along the waterfront. You can find your perfect viewing spots on the way towards Fort Point National Historic Site right at the end.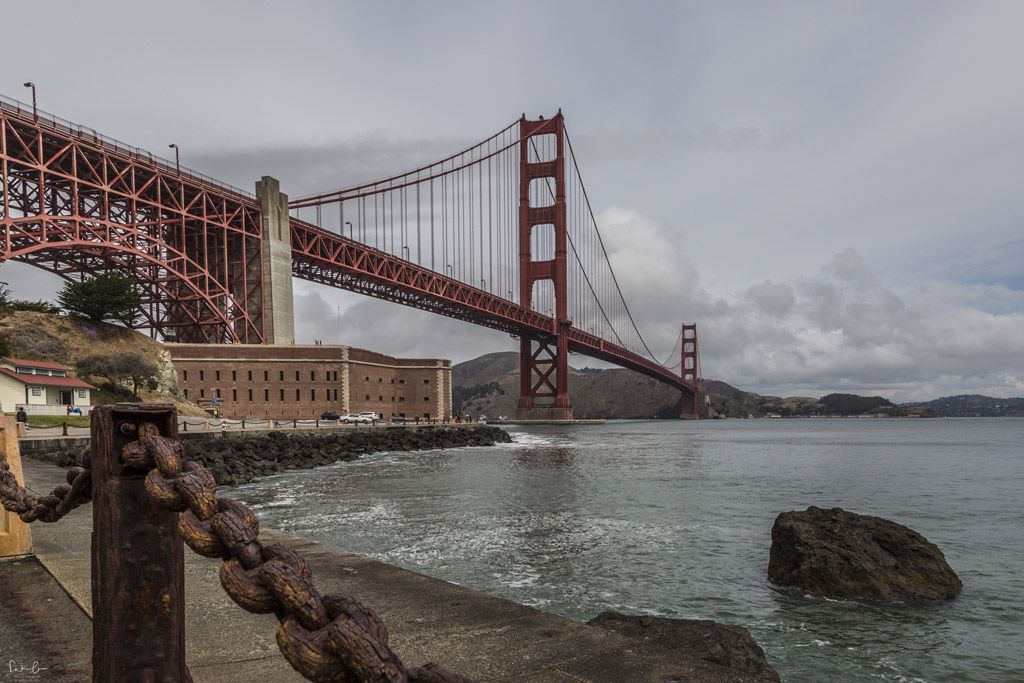 Just one more thing to add: Take your tripod as well as an ND and graduated filter with you. Especially if you shoot during the blue hour you will need a tripod if you wish to get amazing photos without noise. Take long exposure shots with the ND filter,  a graduated filter helps you when the sky is very bright.
Writing about the Golden Gate Bridge makes me wanna go back there in this very second. Have you seen my Beginner's guide for San Francisco yet? If you plan a trip, make sure to read it. And I've got 10 free things to do for you in San Francisco. Check them out, too.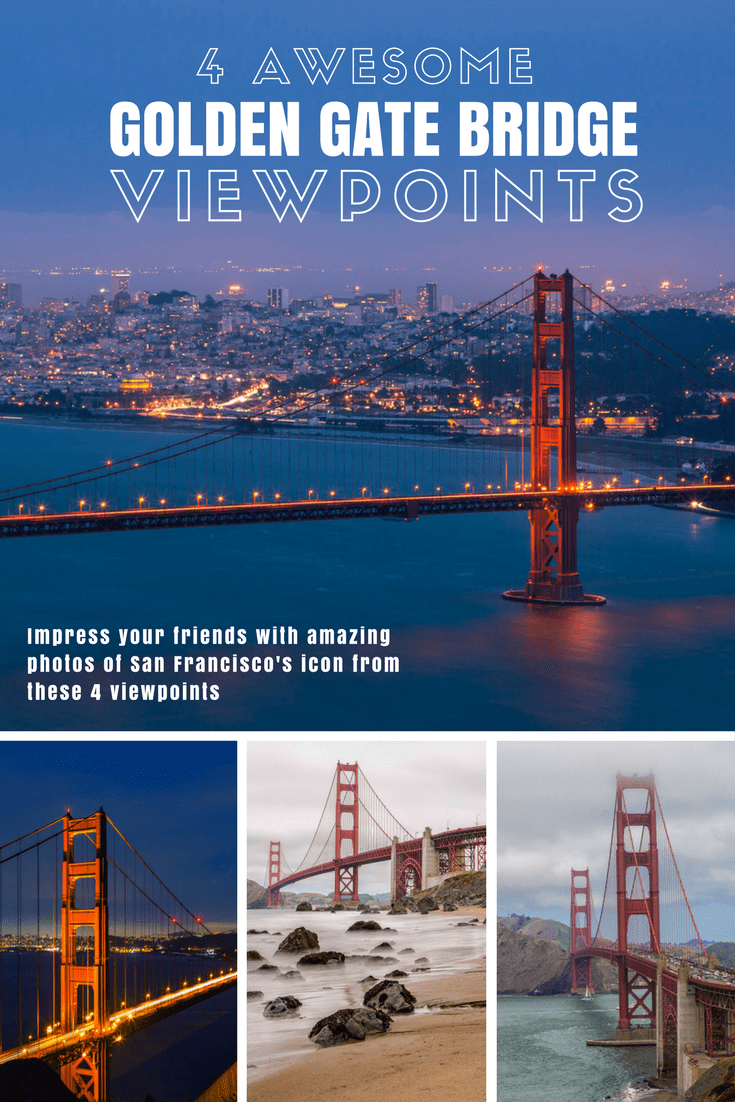 MerkenMerken
MerkenMerken
MerkenMerken
MerkenMerken
MerkenMerken