Actually, I'm more of a text type – I devour books and love puns. I have made my passion for grammatically, orthographically correct texts for my profession, and I am happy to find little stumblers here and there.
Besides, I am an aesthete – my heart beats for a beautifully arranged garden, the play of colors of the flowers in the different seasons, for various landscapes, special architectural elements, always new decorations in our home, and especially for acrylic painting.
How nice when you can capture these beautiful things in a picture!
A garden is transient, landscapes change, impressions fade with time … pictures stay.
Originally from the Cologne area, I landed in Austria via the stopover Budapest back in 2010. I live with my son in Vienna, which has become my favorite city. I spend most of my professional life in the home office, I find perfect balance in nature, gardening, acrylic painting and especially, since the beginning of 2020, in photography. My main subjects stand, hang, lie and fly in our garden. Visit my Instagram profile
A photo can
– tell a story at a glance – often much more catchy than the most exciting text.
– lead you into a world of illusions – suddenly you see trolls peeking out from behind the rocks in Norway's fjord landscapes before your inner eye.
– depict supposed small things in a big way and thus show a new world – have you ever "crawled into" an Allium blossom?
– trigger emotions, capture the highlights of life, bring a smile to your face – even after decades you still remember the unreal "first time" feeling when midnight sun happens to you.
None of that. My photos were… nice.
They had pretty good cropping and my landscape photos had a foreground. Thanks to my steady hand they were mostly sharp. Typical vacation snapshots, good enough for a souvenir photo book.
In difficult lighting conditions, however, a photo was quickly over-or underexposed. Taking a picture of our son playing soccer in action? It was more of a coincidence that he was in the picture at all…
I don't think I need to tell you any more – you know exactly what I am talking about.
Though having a good camera with all the necessary settings, I have photographed so many years in auto mode. Why? Because the manual was far too vague and above all too incoherent. How does it help if I know how to set the exposure time but have no idea what it actually does? And what is an exposure triangle? It was all too sober, too technical, too boring. My love for the written word did not go that far after all! So I continued in auto mode …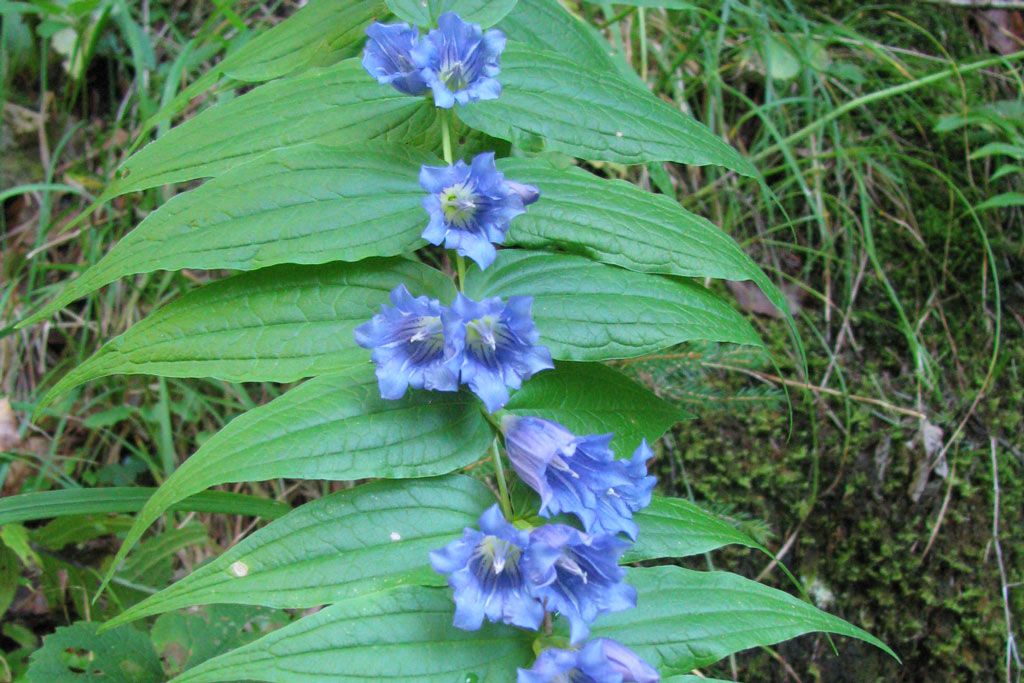 And then: my "breakthrough"!

A Facebook ad literally jumped at me in winter 2019: "In 5 days to better photos" was promised. The focus was more on image composition, integration of light … and all this for beginners without much previous knowledge. The technique would stand in the background in favor of the basic understanding… 
The name Suitcase and wanderlust promised photography as an expression of creativity, not technical high-performance sports with the camera functions.
A 5-Day-Challenge convinced me that I, too, was able to take the photos that I had always only seen with others. I also took part in the next course and was thrilled. I had caught fire …
"Thanks to Covid19" a course in Vienna, for which I had already registered, was canceled. Luckily, Nicola from Suitcase and wanderlust offered an 8-week online individual coaching instead: Step it up!
After a discovery call, I was convinced – the journey began: Hour ZERO for my newly awakened passion for photography.
Step it up! – 8-week individual photography coaching
Most important gear
Camera, recharged batteries, memory cards, a computer, storage space for many many practice photos, humor, patience, the belief that in the end, everything will be fine
The structure and content
For me, the structure of the coaching was perfect: I was able to look at the weekly tutorials for the individual topics at any time and then do the corresponding practice. The tutorials always cover a topic such as exposure triangle, finding photography subjects, use of light, etc.  And … they are always available even after the coaching has been completed! Nicola also provides small "cheat sheets" that can be downloaded to your mobile phone.
Twice a week there was a videocall with Nicola, in which we discussed the photos, and questions were answered. That sounds sober, like a term paper? It was not! I had a lot of fun in the calls (partly involuntary in view of my pictures) and after each time I went back to the next tasks and tutorials fully motivated.
I was so very happy about my first (intended!) panning photo from my son on the bicycle! And on vacation I implemented it successfully on the go-kart: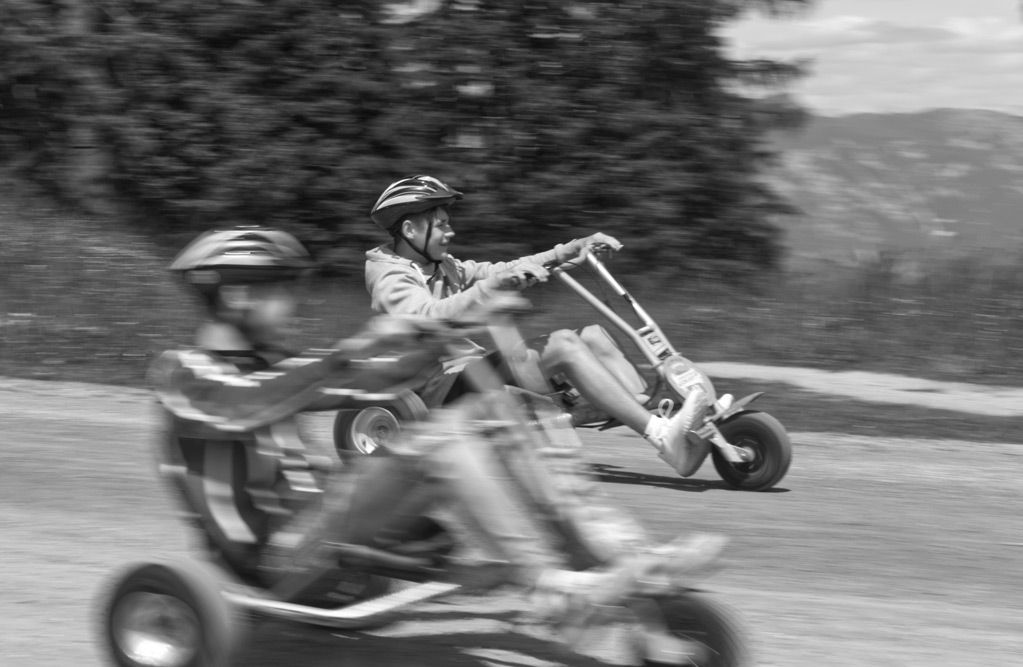 Goodies
The tutorials are not only about the basics of photography, but Nicola also offers special "goodies": Learning about focus stacking is as much a part of it as bracketing, a technique used in different lighting conditions.

Rule of thirds or golden ratio? This is also explained in detail. Most pictures are more harmonious if you compose them according to this rule.
And did you know that on sonnenverlauf.de you can see exactly when and where the sun rises or sets and then choose your photo spot? With the tutorial for photographing the sunset, it becomes a complete package to follow. Good weather provided!
My personal icing on the cake: In a multi-part tutorial Nicola shows very clearly the workflow in the image editing programs Lightroom and Affinity Photo. Affinity Photo? Never heard of it before. Nicola gave me the tip that the software was cheap to buy at the moment and I have not regretted it. Since then I have been using the program to edit the photos that are important to me or that I publish. It goes without saying that since the first challenge I take all photos only in RAW format. As Nicola always says: "You can get a lot out of that with image editing". Correct!
The graduation photo
In week 4 I was asked to think about my graduation photo, create a mood board, decide about what I wanted to photograph. Retrieve what I had learned and combine it into a complete work. Very exciting! 
In the end, I captured my favorite spring flower, an Allium giganteum. For this, I chose a background that was supposed to capture the woody parts of the plant and changed its color to emphasize the glow of the flower in the finished picture. My son was hired as a stage design holder. We waited for the perfect moment of blossom and suitable lighting conditions (the Golden Hour). A real "staging"! 
Then … a windless moment (rather rare in our area!) … and CLICK! Not only once, but maybe 30-40 times.
After an Affinity Photo editing I could present my final photo: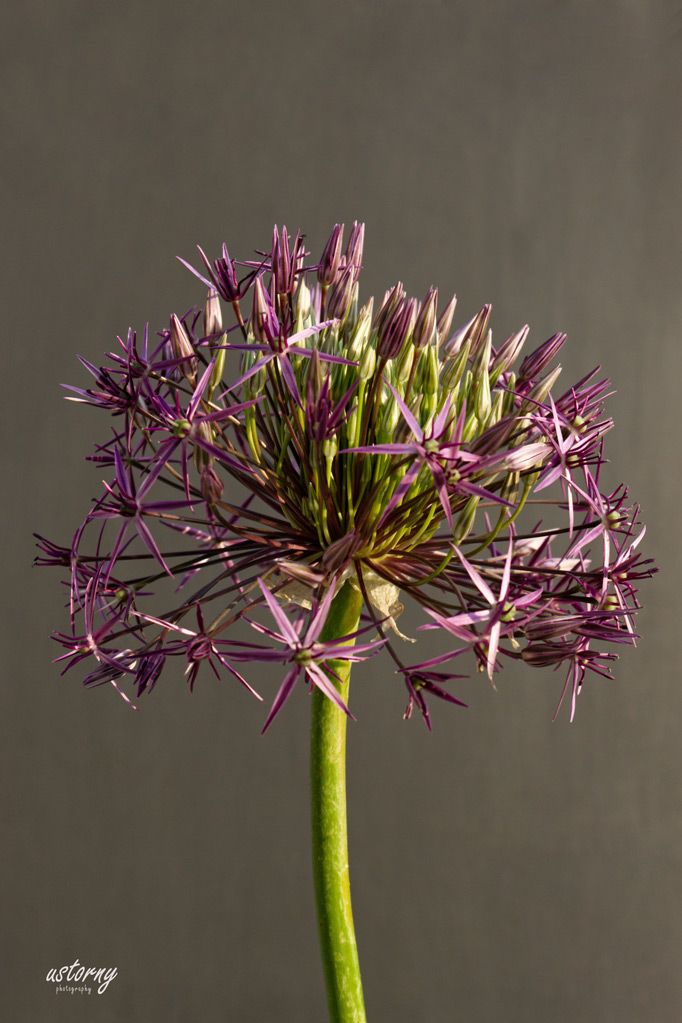 Already since I participated in the 5-Day-Challenge I haven't used the auto mode. Occasionally, I am using aperture priority mode. Even manual focusing works much better now. I'm not always satisfied, and sometimes it doesn't work at all, but most of my pictures I find really GOOD by now!
For me, photography is a creative balance to focused screen work on texts and allows me to communicate in a different way. Obviously, most people perceive their environment primarily visually. And it makes me look much closer, much more detailed, and see my environment through different eyes.
I have only discovered a small part of photography for me, I prefer macro shots of flowers with the close-up lens of NiSi.
Good landscape and architecture shots are my next step. My dream is to visit other countries, to get to know people in their surroundings, and to bring home the impressions not only in my heart but also "captured" in the picture.
I have taken a big step in this direction with the Step it up! Coaching program.